Program Description
Tourism is a highly dynamic, continuously expanding and developing phenomenon. It has experienced remarkable growth in recent years, and the tourism sector is nowadays one of the industries that generate the highest levels of employment. Moreover, the number of tourist arrivals, as well as the receipts from international tourism, are constantly rising.
Tourism, therefore, needs managing. Activities in strategic planning, market research, e-commerce, project management and other specific management functions are becoming more significant all the time. All these activities demand an international and intercultural approach. The Master Programme in International Tourism Management prepares first-degree graduates for a successful career in this vibrant and dynamic sector.
MA in International Tourism Management
The MA International Tourism Management comprises three major stages.

The foundation stage in semester 1 familiarizes students with the fundamental issues of International Tourism Studies, Research methods as well as Business Management and its international aspects. Additionally, they assess their current level of subject knowledge by participating in a Business Simulation game.

Semester 2 offers advanced studies. Taking a cross-disciplinary approach, this phase provides an opportunity to deepen the participants' expertise in Business Management and Research Methodology. In addition, the students specialize in International Tourism Management by participating in a comprehensive tourism project.

Semester 3 is the Master Thesis stage which requires in-depth empirical research in the student's chosen area. Ideally, the thesis is based on real situations in international tourism companies or organisations.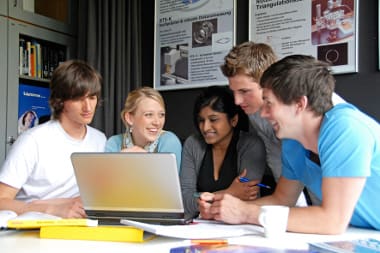 The MA International Tourism Management programme aims to develop graduates who:


can demonstrate a critical understanding of the principles and methods of working appropriate to the Tourism industry,
have developed the cognitive abilities of critical evaluation, analysis and synthesis,
can demonstrate practical management skills relevant to the Tourism sector,
are self-reliant, self-disciplined learners capable of working in an interdisciplinary environment
are able to meet the challenges presented by a career in a national or international environment,
Objectives


The objectives of the MA International Tourism Management programme are to develop tourism managers who can operate effectively in international or cross-cultural business environments. The programme is designed to enable students to define, investigate, analyse, evaluate and respond to tactical and strategic issues of concern to tourism and hospitality in a variety of practical contexts within international Tourism.

Benefits and Assets


Lectures delivered entirely in English
A clearly structured, time-efficient schedule (3 semesters, full-time programme)
Multidisciplinary content
Innovative teaching and learning strategies
A favourable student/lecturer ratio
An international learning environment
Aligned with the needs of the labour market.
Entry Requirements

An excellent or good European first degree in Business Studies or in a business-related discipline (210 ECTS* credits and a German average grade of 2.5 or better) or an equivalent international qualification.

A high level of proficiency in English corresponding to:
IELTS min. 6.0 points (in all categories)
TOEFL paper-based test min. 550 points
TOEFL computer based test min. 213 points
TOEFL internet based test min. 79 points.
Native speakers of English are exempt from this requirement.

The TOEFL code of Heilbronn University is 2751.

Applicants holding a degree with only 180 ECTS have the opportunity to obtain the missing 30 ECTS within the Master Programme by attending additional courses in the Bachelor Programme Tourism Management offered by Heilbronn University.

Applicants who have been trained in course-related jobs or have successfully studied abroad may receive bonus points that will facilitate their admission to the Master Programme.

Next application deadline: 15 July 2014

* ECTS = European Credit Transfer System
Semester contribution

All students will have to pay a fee for the enrollment (administration fee – 60 €) and a social contribution for the student services (43 €). The payment to the student services (Studentenwerk Heidelberg) is used as a contribution to cover the costs for the student facilities like Mensa, Cafeteria, Student Halls, and a contribution towards the Semesterticket.

Costs of Living

The costs of living for a student are about 720 Euro per month. These costs of living per month cover on average expenditures as follows*:


Rent and additional charges: 281 €
Food: 159 €
Clothing: 51 €
Textbooks and supplies: 33 €
Car, public transport: 76 €
Health Insurance, medicine: about 59 €
Communication (telephone, Internet etc.): 35 €
Recreation, culture, sport: about 32 €

* Source: German Student Services (19th Social Survey of the Deutsche Studentenwerk, 2009)
Health Insurance

Admission to Heilbronn University is only granted if proof of proper health insurance can be provided. Student health insurance is available for approx. 80 EUR per month with the AOK (a German health insurance company).
Last updated Jan 2018
About the School

Heilbronn University ranks amongst the major institutions of Higher Education in the state of Baden-Württemberg where it caters for almost 8,000 degree-seeking students on four campuses, namely Heilbr ... Read More
Heilbronn University ranks amongst the major institutions of Higher Education in the state of Baden-Württemberg where it caters for almost 8,000 degree-seeking students on four campuses, namely Heilbronn – Sontheim, Heilbronn – Am Europaplatz, Künzelsau and Schwäbisch Hall.The university is a family-friendly, vibrant institution which is committed to innovative and interdisciplinary knowledge transfer. It works closely with its many partners in business, industry and the local community to create a sustainable and ethical learning environment for its students.
Read less