MA in Human Geography: Globalization, Media and Culture
Home ›
MA ›
MA in Human Geography: Globalization, Media and Culture
Read more about this program on the school's website
Program Description

Overview
Are you looking for a programme open to students from different social and cultural science disciplines? Are you passionate about exploring the world through the lenses of Human, Cultural and Media Geography? If the answer is "yes", you should
apply for a place to study Human Geography in a forward-looking programme combining the topics of globalisation, media and culture in an interdisciplinary approach,
delve into exciting phenomena of an entangled globalised world in an international academic context from both a theoretical and a practical perspective,
develop skills that enable you to take a critical view on important issues of our time and contribute to the understanding of cultural and social issues in a globalised world,
profit from a broad range of applied learning methods, including the production of short films, podcasts and blogs,
design your own research approaches and implement them in our international research workshop,
learn from the best as international visiting scholars and experts regularly complement our team of academics and lecture on their current research in our weekly lecture series, and
improve your career opportunities by studying a semester abroad or doing an internship in a professional field of your choice.
Why choose this course?
You will gain an interdisciplinary perspective on geographical relations between culture and society in globalisation processes. The focus is on the connections between culture, society, space, and media highlighting the resulting political and social challenges.
In the first semester, you will learn the theoretical foundations of the connection between geography and globalisation, media, and culture. From the second semester on, you can choose from elective modules of complementary disciplines .
A unique element in our programme is your active use of relevant media technique. It helps you to complement your interdisciplinary academic qualification with versatile academic skills. We apply a broad range of learning methods, including the production of short films, podcasts and blogs. In a research workshop, you will obtain thorough knowledge of scientific theory-based research and sound training in comprehensive empirical fieldwork.
Researchers from human and cultural geography will give you insights into exciting research areas. In our weekly lecture series, leading scholars from different geographical fields report on their current research projects. Furthermore, our team in Mainz regularly invites guest teachers from international universities as well as experts from the world of practice.
Spend a semester abroad to gain international study and research experience inside and outside of the university context. We can support you with contacts to many universities we cooperate with worldwide. If you are more interested in professional experience, acquire practical skills through an internship of your choice.
A scientifically founded, critically reflected culture- and media-geographic education lies ahead of you. Graduate as a critical thinker and you will be able to approach and envision social and cultural issues and challenges of our globalised world.
Study areas
In our exciting programme, you will approach questions of globalisation, media, and culture at different levels (e.g. social, cultural, geo-political, economic) and develop in-depth knowledge on topics such as
Arrangements between culture, space and society
New spatialities for virtual and physical-world exchanges
Sociocultural diversity, cosmopolitanism and potentials and challenges of a borderless world
Entanglement between the global media industry and everyday life
Critical awareness towards digital culture and social media contents
You will focus on three study areas:
Globalisation and Cultural Geography: Learn about globalisation processes and transnational, cultural phenomena in order to understand the re-negotiation of the (power) relation between space, society, and culture in the current era of late post-modern globalisation. Which are the socio-cultural challenges of our world? How can these problems be addressed? How can we deal with new complexities and entanglements of global dynamics?
Media Geography: Study the interactions between media, society, space and place through the lens of media geography. This is a key in times when digital technologies permeate all spheres of our lives. Achieve new geographical perspectives on an increasingly mediatised world. Participate in practical workshops in media production. Delve into interesting subjects, such as the production steps from an introduction to an audiovisual film, working on Campus Radio projects and creating social media content and blogs. This field opens significant new opportunities to broaden your expertise.
Empirical Research: Acquire an extraordinary combination of competences for theoretical and empirical research. At the same time, gain experience in the practical use of media technology. This applies not only to conventional geographical topics, but also to the innovative field of digital geography and the geography of social media. Undertake a research project in an internationally oriented research workshop. Explore the world and go on field trips to exciting places around the globe.
Possible Career Outcomes
After having completed the Master's programme you are qualified for different career fields on the (inter)national job market. Graduates are employed in many fields of the public service as well as in private companies. Here are just a few examples:
journalism and public relations
media companies
local or municipal authorities and consultants
political institutions and NGOs
Some of our graduates also opt for an academic career at research institutes or universities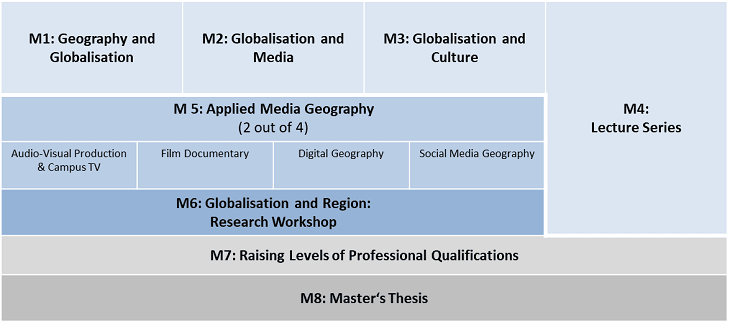 Last updated May 2020
About the School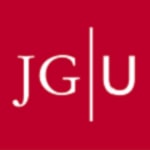 With around 31,500 students from over 120 nations, Johannes Gutenberg University Mainz (JGU) is one of the largest and most diverse universities in Germany. JGU unites almost all academic disciplines ... Read More
With around 31,500 students from over 120 nations, Johannes Gutenberg University Mainz (JGU) is one of the largest and most diverse universities in Germany. JGU unites almost all academic disciplines under one roof with its University Medical Center, the Mainz Academy of Fine Arts, the Mainz School of Music, and the Faculty of Translation Studies, Linguistics and Cultural Studies in Germersheim. In over 150 institutes and clinics, 4,400 academics, 560 of whom are professors, teach and carry out research. With 75 fields of study and more than 260-degree courses, JGU offers an extraordinarily broad range of courses.
Read less