Read more about this program on the school's website
Program Description
This programme examines political, economic, and socio-cultural transformations in the Global South and interrogates the dynamics, challenges and opportunities confronting its societies.
You'll learn about the experiences and viewpoints of people and nations of the Global South regarding development issues, as well as the inter-relationships between global, national and local actors in contested strategies for development.
You'll also review strategies, programmes and policies in development, including organisations and donors promoting development, and assess the progress made by different development actors towards key international development goals.
You'll explore debates and controversies at the centre of contemporary development challenges and analyse both the theories and realities of development, to understand the different approaches, practices and discourses involved.
Optional modules will also allow you to specialise in aspects of development that suit your interests.
We also offer specialist pathways for those wanting to focus on a particular area of development such as education, Africa, gender or the international political economy.
Research insight
MA Global Development has a close working relationship with the Global Development research group that aims to examine central debates within the field of global development from an interdisciplinary perspective.
The Global Development research group is also actively involved in the Centre for Global Development, a university-wide network that promotes cross-disciplinary approaches to the field, and the Leeds Centre for African Studies.
Experience opportunities
All students on all our degree schemes, including international students, have access to hundreds of volunteering opportunities through the Leeds for Life scheme. In addition, our dedicated careers team and in-School employability champions can work with you to attain work experience opportunities during and after your course.
Course content
Core modules examine key issues surrounding global development, such as markets, inequality, democratisation, gender, health, education, human rights, conflict, violence and crime. You'll also learn about various aspects of development practice, like the theoretical and analytical principles of Project Cycle Management. Additionally, you'll hone your research and writing skills and then showcase them in your compulsory dissertation – an independent piece of research on a topic of your choice.
These modules will equip you to analyse, understand and discuss the major changes, problems and opportunities facing societies and people in the Global South. You'll study some of the broader social, political, and economic causes of the problems, and the achievements and setbacks that people have experienced in their efforts to tackle them at the global, national and local levels and improve their societies and lives. You'll learn to analyse, understand, and discuss development in the Global South in the 2010s in all its dynamism, complexity and significance.
The wide-ranging list of optional modules means that you can explore a diverse range of related subjects of interest to you, including natural resources struggles, global health, gender and globalisation, education, international political economy or issues related to Africa and China.
If you are a part-time student, you can choose how to spread your studies across two years. However, we recommend that you at least take your compulsory modules in your first year, and you have to take the compulsory dissertation module in your second year.
Course structure
The list shown below represents typical modules/components studied and may change from time to time.
Modules
Year 1
Compulsory modules
Global Inequalities and Development
Research & Project Skills- Experiential Learning
Dissertation
Optional modules (selection of typical options shown below)
You will choose 60 credits from the below:
Engaging the Modern City: The Civic Researcher
Global Politics of Health
Africa in the Contemporary World
Conflict, Complex Emergencies and Global Governance
Education in Development
Gender, Globalisation and Development
Political Economy of Resources and Development
The Rise of China
The Politics of the Israel-Palestine Conflict
International Political Economy
Popular Culture: World politics, Society and Culture
Terrorism
Global Justice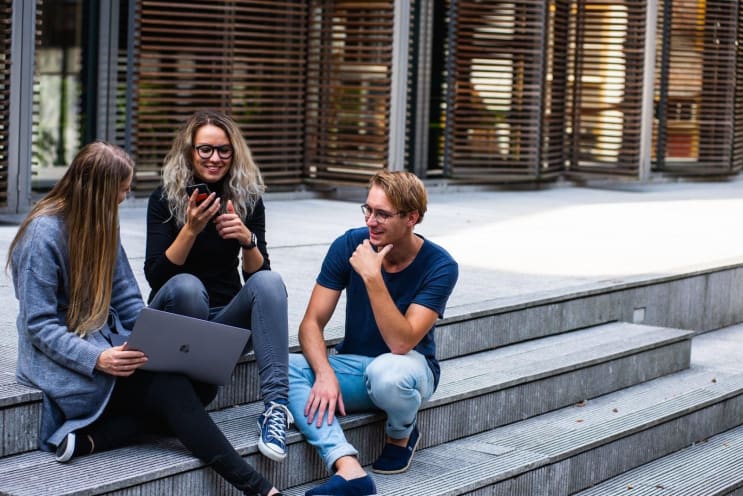 Buro Millennial / Pexels
Learning and teaching
Modules are conducted through a mix of lectures, seminars and workshops. Tutors also provide you with individual advice on written work and you should begin to develop expertise in improving your work through face to face discussion with your tutors, formative assessment and through detailed feedback. You'll be expected to carry out a good deal of independent, detailed and considered study.
All part-time students attend exactly the same classes as full-time students which usually take place between 9 am and 5 pm; there are no evening classes.
Assessment
Each module is assessed separately, through assessments that range from long essays to projects and assignments, offering you the opportunity to work in your particular field of interest within each topic area. You will also carry out a dissertation into a research area of your choice.
Entry requirements
A bachelor degree with a 2:1 (Hons) or a non-UK equivalent in social science, humanities, or another related discipline. Relevant experience will also be taken into account.
English language requirements
IELTS 6.5 overall, with no less than 6.0 in any component.
Improve your English
International students who do not meet the English language requirements for this programme may be able to study our postgraduate pre-sessional English course, to help improve your English language level.
This pre-sessional course is designed with a progression route to your degree programme and you'll learn academic English in the context of your subject area.
How to apply
Application deadlines:
UK/EU students: 31 July
International students: 31 July
If you intend to apply for funding, you should submit an application for a place on your chosen course at least one month before any specific scholarship deadline.
Fees
See our website for the latest fee information.
Additional cost information
There may be additional costs related to your course or programme of study, or related to being a student at the University of Leeds. Read more about additional costs
Scholarships and financial support
If you have the talent and drive, we want you to be able to study with us, whatever your financial circumstances. There may be help for students in the form of loans and non-repayable grants from the University and from the government.
The School usually offers a number of scholarships each year.
Career opportunities
You'll gain a wide range of professional skills on top of your subject knowledge. You'll have an understanding of project design and management in a development context, as well as being able to analyse quantitative and qualitative data. You'll be able to construct clear arguments, critically assess different options for action, analyse policy documents, write research reports and give presentations. You'll also be trained to make decisions in complex and unpredictable situations.
Our programme equips you for various career paths. Compatible careers include working in international development agencies, international organisations, governments, politics, NGOs, research organisations, policymaking, companies, media, and academia.
Recent graduates have gone on to work in the UK and overseas in various organisations such as Greenpeace; Wateraid; the Department for Environment, Food and Rural Affairs; the Italian Embassy and beyond. Many also pursue further study by commencing PhD research.
Throughout your time with us, we will encourage you to seek practical work experience in the international development field, and we will advise you on how to go about it.
Careers support
The School of Politics and International Studies has a dedicated Careers Consultant who is on-hand throughout the year to support and advise you in regards to your career. The School also arranges a number of guest speaker events where you are able to engage with prospective employers, and hear from leading figures in the field.
In addition to the School-specific careers support, you will also have access to the University's award-winning Careers Centre. The Careers Centre offers one-to-one appointments, advice on starting your own business, careers events, mentoring schemes and support with your CV, applications and interviews.
Last updated Jun 2020
About the School

Our wide range of research-informed courses encompass undergraduate, taught postgraduate and research degree programmes, as well as online and professional development courses.
Our wide range of research-informed courses encompass undergraduate, taught postgraduate and research degree programmes, as well as online and professional development courses.
Read less