MA in Garden and Landscape History
Home ›
MA ›
MA in Garden and Landscape History
Program Description
The MA in Garden and Landscape History at the Institute of Historical Research will provide an academically rigorous environment in which students will develop their academic research and writing skills, and gain a profound understanding of gardens and landscapes spanning the globe and the centuries.
This course will be particularly useful for graduates who have completed a first degree in a related subject, as well as for architects and landscape gardeners looking to deepen their subject knowledge or add an edge to their curriculum vitae.
Teaching will occur at the Institute of Historical Research, with a strong emphasis on tutor-student interaction in class. There will also be an emphasis on practical training, with sessions at museums and libraries, and visits to gardens in London.
The course includes an optional field trip to Rome and Tivoli in the spring, with visits to the Vatican, Villa Borghese and Villa Adriana, amongst a number of other magnificent historic cultural sites.
Course structure
The course will be run on a full-time basis over one year. Teaching will take place on Thursdays from 10:00 to 17:00 and will be divided between two terms. The third term will be dedicated to dissertation preparation and writing.
Students must complete core module 1, core module 2 (selecting three options from the seven provided), and core module 3 – a 15,000 word dissertation in order to be awarded the full MA. However, there are a range of options available for flexible study:
Those wishing to pursue this course on a part-time basis can complete Modules 1 and 2 (the taught elements of the course) in their first year and Module 3, the dissertation, in their second year.
Module 1 can be undertaken as a standalone unit leading to a diploma, the credit for which can be banked should the student wish to complete the MA at a later date (within a prescribed time frame) Please enquire for further details.
Assessment
The MA is assessed through essays and examinations and through innovative forms of assessment based on practical work reflective of that undertaken in the human rights field, including legal reports, a media project, and a mock funding proposal. Class participation also forms an element of the MA assessment.
Funding
Coffin Fund for Promising Students
The School is able to provide two SAS Studentships via the Coffin Fund for Promising Students. In 2015-16, the awards are £12,500 to cover tuition fees and contribute towards maintenance costs (where applicable) and will be awarded to two students who have demonstrably excelled in their undergraduate degree.
Eligibility: The primary criterion on which applications are judged is academic merit. The successful applicant will be of exceptional quality, evidenced by previous academic achievement at undergraduate level, with an outstanding mark achieved in the final-year project/dissertation. Successful applicants will have a genuine and demonstrable interest in undertaking a master's degree at the School of Advanced Study. In addition, awards are open to students who are:
Self funded and domiciled in the UK, European Union (EU) or overseas;
Studying full time or part time for a maximum of two years;
Undertaking masters courses in any subject (excluding MRes, Distance
Learning, PGDip and PGCert).
In order to apply for a SAS studentship (Coffin Fund) at the School, you must have applied to study here. For further information on SAS postgraduate studies, please see Master's degrees or the Institute websites, and then the information on how to apply.
Last updated May 2019
About the School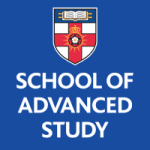 The School of Advanced Study (SAS), University of London brings together 9 internationally-renowned research institutes to form the UK's national centre for the support and promotion of research in th ... Read More
The School of Advanced Study (SAS), University of London brings together 9 internationally-renowned research institutes to form the UK's national centre for the support and promotion of research in the humanities.
Read less