Program Description
MA in Finance and Investment
The rise of cryptocurrency and increasing digitalization is changing the way the financial sector operates. Learn the skills you need to get ahead of the game with the MA in Finance and Investments at Berlin School of Business and Innovation, taught and created by industry practitioners at our central Berlin campus. Develop your skills with this innovative and exciting masterâs program by learning how to maximize value, how to interpret business financial statements and how to use financial structures and instruments to generate money. Youâll learn from a range of expert faculty who have not only helped create the curriculum but who also have industry experience which is applied in their teaching. Modules include: Business and Financial Analysis, Mergers and Acquisitions and Private Equity as well as Quantitative Finance and Financial Markets. This program is targeted at aspirational individuals who are keen to develop the skills needed to become a leader in the financial sector. Whether you want to be a manager, team leader or a business owner, you can learn valuable techniques for making an organization profitable, noticeable and successful. Save up to â¬1,000 off the cost of the program when you pay the required â¬2,000 deposit to secure your place before 31 December 2019 (students from the EU will receive up to â¬500 off).
Course Requirements
Minimum age: 21
English language requirements:

IELTS 6.0 (not less than 5.5 in any component), or;
PTE 50 + score or equivalent.

English proficiency requirements can be waived for:

Native English speakers, or;
Applicants who completed their education in English (such as a High School diploma or IB).

Documents: CV and two reference letters.
Qualifications: You must have a 2:2 UK bachelorâs degree (or any equivalent degree which is recognized by NARIC)
If you do not meet the academic requirements, you may be assessed on relevant work experience. To take this route, you must have a minimum of 3 years of management experience.
Berlin School Of Business & Innovation
Want to become an exceptional business leader in your chosen field? Berlin School of Business and Innovation (BSBI) will help you develop the key management skills you need for a successful career.
BSBIâs degree programs have three concepts at its heart:
Enterprise | Leadership | Success
You will:
Improve your business skills through practical teaching methods
Learn about your chosen industry from career-oriented academics at the top of their field
Gain competitive advantages by acquiring key professional tools and techniques
Learn how to apply the concepts to real businesses
Our goal is your success: when you graduate, you will soon be able to enter the job market as a highly qualified professional and upon graduating you will be eligible to apply for an 18-month post-study residence permit* to take advantage of career opportunities in Germany.
While you study your degreeâ¦
Teaching methods
Benefit from career-oriented and practical teaching approach using methods such as:
Case studies
Visits to exhibitions and businesses
Workshops and guest speakers
Group discussions
Presentations
Group projects
Flexibility & online study support
Enjoy a study schedule designed to fit around your professional and personal commitments.
Take advantage of the Virtual Learning Environment (VLE) and access âVirtualâ classrooms meaning you can study from home.
Central Berlin campus
BSBI has created a wonderful study environment, offering a newly-refurbished, modern campus located in the heart of Berlin.
The city was recently ranked the most popular choice for international students looking to study in Europe**.
**Based on an annual survey by ICEF in 2018.
Industry connections and opportunity
As Europeâs start-up capital, Berlin is the perfect place to learn about business and gain valuable experience â the city is a hub for entrepreneurs who flock to Berlin to take advantage of investment and economic opportunity.
Dedicated Career Service
BSBIâs on-campus career experts are dedicated to helping you train for success. Career services are tailored to your particular needs and are designed to develop you into an excellent candidate upon graduating.
After graduationâ¦
Globally recognized degree qualification
You will receive a qualification from Università Telematica Internazionale Uninettuno â BSBIâs main academic partner.
Post-study residence permit
After successfully completing your degree course, you will be able to apply for a post-study residence permit for up to 18 months. This will give you the opportunity to take advantage of economic opportunities across Germany.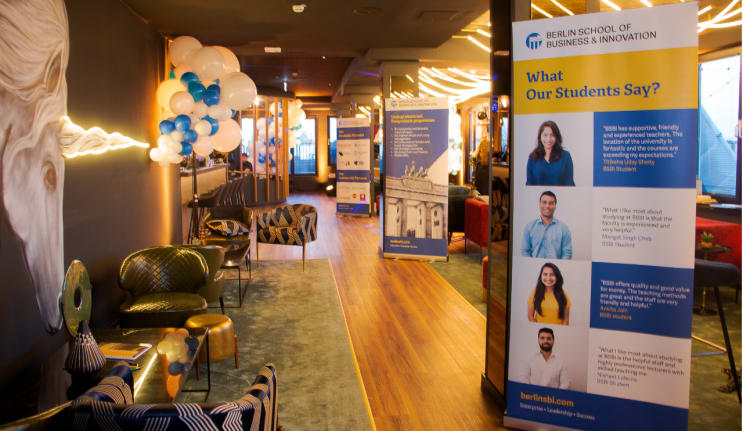 Last updated December 2019
About the School

The Berlin School of Business and Innovation (BSBI) is located in the heart of Berlin. We focus on helping graduates to become exceptional leaders in their chosen field.
The Berlin School of Business and Innovation (BSBI) is located in the heart of Berlin. We focus on helping graduates to become exceptional leaders in their chosen field.
Read less