MA in Energy Politics in Eurasia (ENERPO)
Home ›
MA ›
MA in Energy Politics in Eurasia (ENERPO)
Program Description
ENERPO Master's degree program is the only English-language MA program in Russia that focuses specifically on energy affairs in Eurasia. In the 21st century competition and cooperation over the energy resources remain one of key factors in international affairs.
You will learn and discuss a variety of topics including Russian-European and Russian-Asian energy relations and challenges, LNG and shale gas revolutions, green energy perspectives in Eurasia, the influence of energy sector on politics, economics, and social development in Russia, Central Asia, Middle East, and the Caucasus.
By studying at ENERPO, you will be able to:
Understand and explain how energy markets work (e.g. you will learn whether there is a direct correlation between oil and natural gas prices and why);
Understand the supply and demand trends in global energy markets (e.g. make expert forecasts about the growing demand in China and estimates about supply capabilities of Russia);
Define and elaborate the concept of energy security (e.g. set the priorities for foreign policy of Russia, China, EU, USA, Iran, and others with regards to energy security);
Monitor and analyse energy-related information on a weekly basis (e.g. prepare a brief monitoring report on "How and to whom does Iran sell its oil under the sanctions?");
Examine multilateral trade and cooperation agreements based on international laws and regulations (e.g. make an excellent presentation on interests and challenges of public and private actors);
Delve into the clean energy debates, defend or argue against Elon Musk's Tesla, and see why oil-rich Russia may or must pay attention to renewables.
ENERPO is the only English-language program in Russia that gives you the opportunity to
get an MA in Energy Politics in Eurasia in 1 or 2 years;

select the courses by the leading Russian and international professors and experts in the field;

attend open lectures and special workshops;

conduct your research at the ENERPO Research Center;

contribute articles to our ENERPO Journal;

study in the English language, learn/improve your Russian;

enjoy the life in St. Petersburg - the old imperial capital of Russia;

get an excellent foundation for your career in international energy companies, academia, public service, and mass media.
You will study energy international relations in the most open, independent and cosmopolitan academic environment in Russia with the best conditions to study Eurasian energy politics and getting Russia right.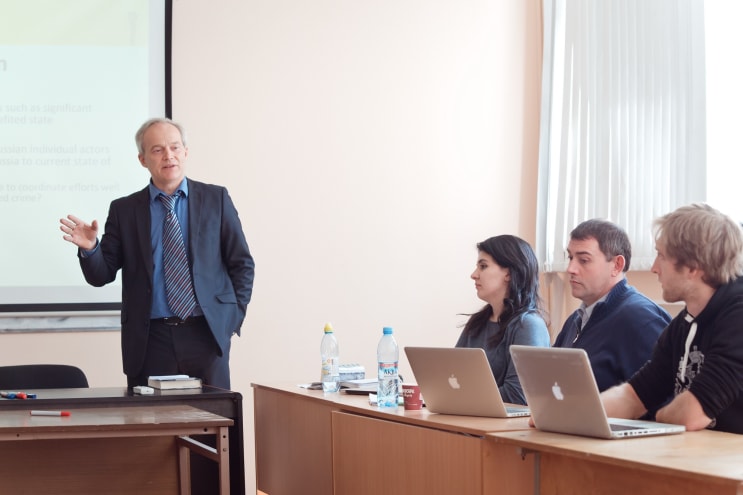 ENERPO has empowered our alumni to make a career in
private and state companies such as S&P Global Platts, Gasunie, Argus Media, Glencore, Gas Plus, Oiltanking Amsterdam B.V., Texas LNG, Elering AS, OSVfinder and Strabag;

government institutions in the USA, UK, Germany, Hungary, and Estonia;

educational institutions in Russia, USA, and EU.
Entry requirements
BA degree. No prior knowledge of Russian needed.
1-year and 2-year tracks
The program is available as a 1-year and 2-year track
Starting dates
You may start 1-year ENERPO program track twice a year in Fall and Spring. 2-year track starts once a year in Fall.
The fall semester starts at the beginning of September. The spring semester starts at the beginning of February. You may choose whichever start date best suits your needs.
Admissions continue on a rolling basis. Early applications are strongly encouraged. Due to a somewhat lengthy Russian Study Visa issuing process, we ask to send the completed application form no later than
May 20, 2020, for enrollment in Fall Semester 2020

October 30, 2020, for enrollment in Spring Semester 2021
In case you miss the deadline, please write to us to discuss the possibility of a late application.
Covid-19 notice: we hope to start the fall 2020 semester in our classrooms, rather than online. We also consider the latter option as our Plan B.
Application procedure
There are 3 easy steps to apply for ENERPO program at EUSP:
Complete the Application form

Send us all the required documents

Receive your Letter of acceptance or notification of rejection
Required documents
Scanned copy of your Passport. Your international passport validity period must be at least 6 months following the date you are planning to leave Russia on completing the program (e.g. if you intend to stay in Russia until June 30, 2021, your passport expiry date shouldn't be earlier than December 30, 2021)

Scanned copy of your Bachelor's degree diploma (or documentation that proves you will receive your diploma this year)

Scanned copy of your Academic Transcript

Your Statement of Purpose (about 500 words, including a statement of goals, research interests and experiences, including the subject of your bachelor thesis)

Two letters of recommendation from academics who are closely acquainted with your academic work. The letters must be e-mailed directly from your referees to international@eu.spb.ru

Your Curriculum Vitae
Last updated Oct 2019
About the School
Founded in 1994 with the active support of the city of St. Petersburg, the European University began operating as an elite graduate school in the social sciences and humanities in 1996.
Founded in 1994 with the active support of the city of St. Petersburg, the European University began operating as an elite graduate school in the social sciences and humanities in 1996.
Read less