Program Description
MA in Economics
The programs in Business School at the Polonia University offer a Bachelor and Master degrees that provide students with knowledge of Business Administration and Economics. The degree is awarded on the basis of core and specialized courses.

WHY SHOULD YOU CHOOSE OUR BUSINESS SCHOOL?


The Possibility to obtain highly recognized qualifications with crucial skills required in global economy, international finance, foreign affairs, international trade or diplomatic service;
Graduates are highly valued by international companies;
Teaching laboratories are very well-equipped (comprehensive technical services)
Special courses for international students, incl. Polish language programs;
Help to find suitable private accommodation;
Situated near the international pilgrimage site, Jasna Góra;
Friendly multicultural metropolis;
Located 200 km from Warsaw, 140 from Kraków, 160 km from Wroclaw.
MA's candidates are asked to submit:


a copy of Bachelor diploma - certified by candidate's school or by a public notary
the original of Bachelor Diploma
a copy of a secondary-school certificate
a CV in Polish version
a written statement that the diploma has not been subject to nostrification procedure at any other Polish institution of higher education
confirmation of fluency in English
a copy of the applicant's passport or ID certified by a public notary
4 recent (size 35mm-45mm) photographs signed at the back
a copy of the health and accident insurance
visa or other document legalizing your stay on Poland's territory
medical certificate confirming lack of counter-indications to study (in Polish or English)
application form
a document confirming payment of the admission fee
Last updated Jan 2018
About the School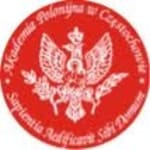 Polonia University is connected with the Studium Generale, a Paulinian university established by a papal edict on April 3, 1671, for the monastery at Jasna Góra. Theological and philosophical doctora ... Read More
Polonia University is connected with the Studium Generale, a Paulinian university established by a papal edict on April 3, 1671, for the monastery at Jasna Góra. Theological and philosophical doctoral degrees were awarded by the Studium Generale, and during the eighteenth and nineteenth centuries, some 120 scholars received degrees. The antiquity of 'The Library' at Jasna Góra lays the foundation for the school's high standards. There are more than 13,000 old, precious volumes, categorized into eighteen disciplines, including among others: Medicine; Mathematics; Law; Literature; History. Unfortunately, from October 14, 1857, during the time of the Later Partitions of Poland, the Studium Generale was suspended. But in 1992, with the advent of the Third Republic of Poland, and in accordance with the Higher Education Act of September 12, 1992, the University of Foreign Languages and Economics was founded. From Jasna Góra, the Paulines' Vice-General became the newly formed institution's, Grand Chancellor. The school had three faculties: Humanities; Economics and Management; Law and Administration. UFLE offered twenty-five different types of undergraduate study and seventeen possibilities for postgraduate study. For ten years, students were graduated from UFLE with BA and MA degrees. Then on July 19, 2001, with the decision of the Minister of Education, the University of Foreign Languages and Economics became Polonia University. Before UFLE became Polonia University, over five thousand students had matriculated and the staff of the various faculties had engaged in both short and long-term research. There was participation in international projects, funded by the European Union and others. Today the development of the international scientific and didactic exchange continues its great expansion, thanks to the well-organized cooperation Polonia University enjoys abroad with seventy-eight institutions of higher learning. Both students and faculty have had signed contracts with universities and colleges abroad. The White Eagle, in the tradition of 1919, became the emblem for Polonia University at Częstochowa. The eagle wears a crown topped by a cross and holds in its talons branches of laurel and palm, the symbols of glory, honor, victory, and perseverance. Emblazoned upon its breast is a representation of our university's patroness, Our Lady of Częstochowa at Jasna Góra. Sapientia Aedificavit Sibi Domum - Wisdom Has Built This House - was taken as the motto for our school; it is the Studium Generale maxim on the vault of the eighteenth-century library at Jasna Góra.
Read less