Program Description
The creative industries sector is vibrant, fast-growing and brings immense benefit to developed economies. In the UK alone, the creative industries are worth over £77 billion a year and account for 5% of the economy, with exports of over £17 billion per annum. Skilled digital media management professionals are in demand to meet this phenomenal growth.
Your studies are based in our modern media labs in the Department of Media Arts and Communication. Many of our academic staff bring industry experience to their teaching. The course also includes a regular programme of industry speakers and client-based projects, as well as a foundation for those wishing to move into media management roles within organizations, recognize existing skills and knowledge through a formal qualification, or start their own media business.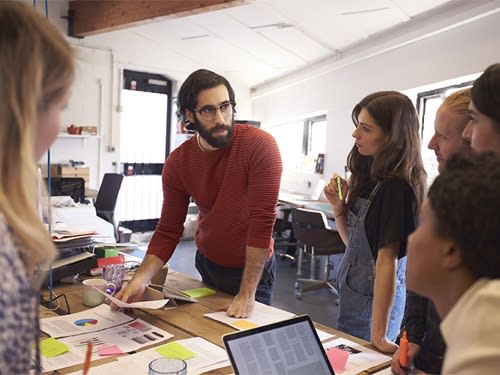 Course content
Modules may include:
Enterprise and Entrepreneurship
Gain a thorough understanding of the formation and organization of media enterprises and entrepreneurial ventures, supported by a programme of guest speakers from the digital media industry.
Strategic Digital Marketing
Develop an understanding of strategic digital marketing planning and management skills and gain a thorough knowledge of different business models and the challenges of today's turbulent digital marketing environment and its implications for future competitive performance.
Digital Media Management
Understand the nature of management practices within organizations within the digital media sector, how they operate across international markets and boundaries, and the impact of regulations and frameworks in their governance.
Design Thinking
An introduction to the three pillars of design thinking: desirability, viability, and feasibility, and understand how to take them into practice in creating new digital product and service concepts.
Digital Media Ecosystems
Learn the established methods used in the commercial sector to collect and analyze data, and how that informs business and creative decisions and create a proposal for a business operating in the ecosystem.
Communicating Research
Demonstrate the theoretical knowledge and understanding underpinning their current practice, and to disseminate their research in a variety of formats to broader audiences.
Digital and Mobile Technologies
Research current mobile design principles in order to design and develop an app for a mobile device, consider current best practice, development frameworks, and methodologies as well as encouraging novel and innovative media design.
Digital Innovation
Explore the nature of innovation in the digital media industry and market through the exploration of new technologies which enable change. Explore the disruptive nature of digital technologies and emerging trends to create research informed solutions and prototypes.
Digital Media Management Project
Produce a substantial body of independent creative media work of industry standard, demonstrate the ability to bring together theoretical analysis, research and professional practice in a coherent, seamless whole.
The course has been designed in conjunction with industry professionals and aims to give you real-world experience by working on live client briefs. You also work with the award-winning Venture Matrix to enhance your employability and enterprise skills
Entry requirements
An honours degree (2.2 or above) or equivalent in any subject. If English is not your first language you will need an IELTS score of 6.0 with 5.5 in all skills (or equivalent)
Future careers
Typical careers would involve:
managing or consulting on social media
digital PR
marketing
projects
products
digital media
communication strategies
entrepreneurship and digital innovation.
In addition, students may find roles as:
digital media designers
analysts
digital change leaders and innovators
Duration and fees
Start date: September, January
Duration: One year
Fees:

EU students 2019/20 academic year £7,200 for the course
International students 2019/20 academic year £13,500 for the course

Deadline: Request info
Last updated Aug 2020
About the School
Sheffield Hallam University is a welcoming community of students and staff from more than 120 countries. We offer exceptional teaching across 700 programmes at foundation, undergraduate, postgraduate ... Read More
Sheffield Hallam University is a welcoming community of students and staff from more than 120 countries. We offer exceptional teaching across 700 programmes at foundation, undergraduate, postgraduate and research degree level. With more than 31,000 students, we are among the largest universities in the UK.
Read less