MA in Design Practices: Pathway - Game Design and Development
Home ›
MA ›
MA in Design Practices: Pathway - Game Design and Development
Program Description
Vision
Game Design and Development specialization at Srishti provides a holistic approach to game design and development. The Game Industry is diverse and rapidly growing and attracts technologists as well as artists to its hold. It offers exciting creative and technological challenges and rewarding careers to motivated graduates in an industrial sector as well as in the independent game design sector. Our curriculum is focused towards developing, both your artistic sensibilities and technical skills.
Srishti offers Game Design and Development specialization at its main campus in Bangalore. Students can choose to work with passionate academics and industry experts to develop their abilities as game designers, gameplay programmers, and narrative designers. The curriculum includes fundamental inputs in game design, game programming, game art and aesthetics, user experience design, narrative design, storytelling, level design, the business of games, image-making processes and skill enhancement. We also offer opportunities for experimentation, innovation, and creative collaborations.
Key Values in the Curriculum
Unhindered Imagination
Personal expression
Cultural Innovation
Experiment/Explore/Invent
Course Structure
Studios: Encourage active, contextual learning where students develop core disciplinary skills and knowledge. Studios facilitate collaborative and creative design solutions to complex, open-ended problems.
Workshops: provide intense learning experiences in making and doing, across the different disciplines.
Seminars: provide a space for investigating a particular idea, topic, praxis through reading, writing, making and discussion. A seminar can include crits, presentations of work in progress or completed work.
Independent Studies: are undertaken in an area of student interest with minimal mentoring through specially designed study units.
Field Practice: includes systematic exploration or study undertaken in an area/place, within a community or organization.
Field Practice can involve ongoing participation, research or intervention.
Internship: provides students with an opportunity to use multidisciplinary skills and learning acquired during the course of study and obtain professional inputs that complement academic learning.
Electives are liberal arts courses aimed to cultivate intellectual and reflective abilities and motivate deeper probing and holistic approach to the design process.
Self Initiated Research: Project is an end of the semester challenge that is the summative assessment and allows for engagement in research, inquiry, art or design based projects.
ABILITY & SKILL ENHANCEMENT COURSES (AEC), (SEC): include learning units that enable enrichment of knowledge specific to a discipline, or are skill-based and are aimed at providing hands-on-training and competencies.
Interlude (Open Elective): is a space for a practical engagement related to a relevant field of study that is creative, reflective and extensive. It allows for collaborative working to conceptualize an experiment, symposium or exhibition, and public engagement or demonstration. Topics explored are drawn from areas of contemporary relevance
Capstone Project is the culmination of the research, capabilities, and knowledge gained over the last three semesters. A mandated thesis document of the design output and the research process is submitted. Faculty mentors provide guidance and seminars are organized for feedback from faculty and peer groups.
Learning Approach
Navigation of a path through a combination of mandatory courses, chosen courses, lectures, workshops, electives, and team/individual projects articulated within a multidisciplinary art and design context.
Independent learning with close guidance from mentors
Conception, development, and production of a capstone project or a thesis over a period of two semesters
Capabilities
Ability to craft elements of a game and test them through prototypes
Ability to craft meaningful experiences through play using systems, mechanics, and spaces
Ability to solve problems through collaboration
Ability to test game ideas, mechanics, and other functionality through prototypes and testing
Ability to understand and imbibe contextual perspectives and synthesize individual positions
Artistic sensibility – sensitivity, balance, measure, attention to detail, etc.
Constructing narrative, meaning, feeling or thought through interactive experiences
Creating and constructing fiction, understanding workings of a created world
Creating innovative characters, situations, interactions, and scenarios
Expression, creativity, craftsmanship, and problem solving
Having an inquiring mind, curiosity, methodical questioning, contextual perspective
Having curiosity and an ability for methodical questioning
Inventive thinking, risk-taking, approaching the unknown
Logical thinking, problem solving and management of processes
Solving complex logical problems using and by crafting technology
Spatial and structural thinking, understanding natural and physical environments
Understanding audiences and constructing multimodal interactive experiences across platforms
Understanding the "language" of media art practice
Opportunities
You can work in the games industry or any firms dealing with new and interactive media.
You can continue your practice, develop your own work and become entrepreneurs.
You can pursue your research and continue to do a Ph.D.
You can work for established design firms and production houses.
You can develop your own projects and apply for grants.
Inquiries
For further information, kindly email Yadu Rajiv at yadu.rajiv@srishti.ac.in
Last updated Jan 2019
About the School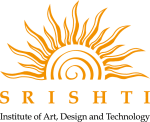 Srishti Institute of Art, Design, and Technology is a non-residential institution founded in 1996 by the Ujwal Trust with the objective of providing art and design education in an environment of creat ... Read More
Srishti Institute of Art, Design, and Technology is a non-residential institution founded in 1996 by the Ujwal Trust with the objective of providing art and design education in an environment of creativity to maximize the individual's potential.The Ujwal Trust also manages Srishti's sister institution, the prestigious Mallya Aditi International School.
Read less