Program Description
About the degree
The Warburg Institute MA in Cultural, Intellectual and Visual History aims to equip students for interdisciplinary research in Medieval and Renaissance studies and in the reception of the classical tradition. Students will become part of an international community of scholars, working in a world-famous library. They will broaden their range of knowledge to include the historically informed interpretation of images and texts, art history, philosophy, history of science, literature, and the impact of religion on society. Students will improve their knowledge of Latin, French and Italian and will acquire the library and archival skills essential for research on primary texts.
This twelve-month, full-time course is intended as an introduction to the principal elements of the classical tradition and to interdisciplinary research in cultural and intellectual history from the late Middle Ages to the early modern period. Although it is a qualification in its own right, the MA is also designed to provide training for further research at doctoral level. It is taught through classes and supervision by members of the academic staff of the Institute and by outside teachers. The teaching staff are leading professors and academics in their field who have published widely. Research strengths include the transmission of Arabic science and philosophy to Western Europe; the later influence of classical philosophy (Aristotelianism, Platonism, Epicureanism and Stoicism); and religious nonconformism in sixteenth- and seventeenth-century Europe. For further details on the research interests of teaching staff see the module table in this leaflet or visit www.warburg.sas.ac.uk/home/staff-contacts/academic-staff.
This course is also available as a Master of Research (MRes) degree, suitable for those students wishing to undertake a substantial piece of original academic work, and as a Postgraduate Certificate, ideal for those who wish to undertake further study but can not commit to a full time master's degree. Please visit our website for more information about this.
Degree overview
The MA programme aims to:
Act as an introduction to interdisciplinary research in the cultural and intellectual history of Western Europe from the late Middle Ages to the early modern period, and is in large part focused on the legacy of classical antiquity.
Cover aspects of cultural and intellectual history seldom studied in any depth in undergraduate courses, for example, Renaissance philosophy, iconology, humanism and history, as well as two more specialised areas of study. The main emphasis is on Italy, but consideration is also given to the rest of Western Europe.
Provide students with a solid grounding in current scholarship in the areas covered, largely through the study of primary source material in the original languages.
Provide training in reading Medieval and Renaissance Latin, Italian and French, in Latin and Italian palaeography, and in the description of manuscripts and early printed books.
Equip students to undertake research, and to give them the experience of such research through the writing of a dissertation. Although a qualification in its own right, the MA also serves as an introduction to further research. Many students have progressed to PhD study at the Warburg and elsewhere and many are pursuing successful academic careers in institutions across the globe including at the Universities of Cambridge, Copenhagen, Notre Dame (US), Padua, University College London, Birkbeck, La Sapienza (Rome), Warwick and Yeshiva (New York).
Structure
The course begins in early October with a Foundation Week, in which students are introduced to the main topics and themes to be covered over the year. In addition, there is a regular series of classes throughout the three terms on Techniques of Scholarship, which include a description of manuscripts, palaeography, printing in the 15th and 16th centuries, editing a text, preparation of dissertations and photographic images. Some of these classes are held outside the Institute, in locations such as the British Library or the Wellcome Library. Students are given the opportunity to examine early printed books and manuscripts. Reading classes in Latin, Italian and French are provided to help acquire the necessary familiarity with those languages as written in the late Middle Ages and the Renaissance. Students are also encouraged to attend the Director's weekly seminar on Work in Progress and any of the other regular seminars held in the Institute that may be of interest to them. These at present include History of Art and Maps and Society. The third term and summer are spent in researching and writing a dissertation, under the guidance of a supervisor from the academic staff. All students take two compulsory core courses and two optional subjects. The core courses are taught in the first term and will vary from year to year. The optional subjects are taught in the second term and the options available will vary from year to year.
Teaching, learning and assessment
The normal format for classes is a small weekly seminar, in which students usually discuss texts in their original languages. In most courses, students also give short presentations of their own research, which are not assessed. The emphasis is on helping students to acquire the skills necessary to interpret philosophical, literary and historical documents as well as works of art. Each compulsory or optional module will be assessed by means of a 4,000-word essay to be submitted on the first day of the term following that in which the module was taught. A dissertation of 18,000–20,000 words, on a topic agreed by the student and supervisor, has to be submitted by 30 September. The course is examined on these five pieces of written work, and on a written translation examination paper in the third term. Students are allocated a course tutor and, in addition, are encouraged to discuss their work with other members of the academic staff. Because of our relatively small cohort, students have unusually frequent contact, formal and informal, with their teachers.
Entry requirements The normal minimum entry requirement is an upper second-class honours degree from a British university, or an equivalent qualification from a foreign institution, in any discipline in the humanities which is related to the course. A reading knowledge of one European modern language apart from English, and of Latin, is required. An understanding of Italian is particularly useful. All students whose first language is not English must provide recent evidence that their written and spoken English is adequate for postgraduate study.
Last updated Aug 2019
About the School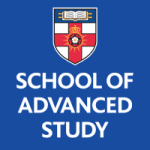 The School of Advanced Study (SAS), University of London brings together 9 internationally-renowned research institutes to form the UK's national centre for the support and promotion of research in th ... Read More
The School of Advanced Study (SAS), University of London brings together 9 internationally-renowned research institutes to form the UK's national centre for the support and promotion of research in the humanities.
Read less