Program Description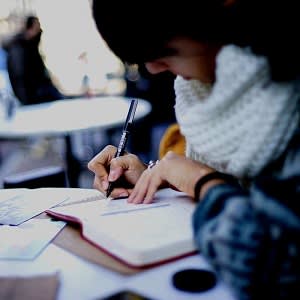 An MA designed to help you write a novel, collection of poems, collection of stories or work of non-fiction.
Excellent record of helping students achieve publication.
Widely regarded as one of the best courses of its kind.
Taught by an extremely strong team of published writers.
This full-time Creative Writing course will help you to bring a novel, book of poems, book of short stories or work of non-fiction as near to publishable quality as possible.
Working with tutors and other writers on the course, you'll develop your writing and build up a substantial body of work. Weekly workshops are taught by a strong team of published writers, and there are regular visits by literary agents, publishers, magazine editors and broadcasters, as well as other writers.
Overview
You'll learn:
To plan a manuscript (a novel, collection of short stories, collection of poems or book of literary non-fiction) and complete it, or a substantial part of it, brought to the publishable quality or as near as possible.
To understand the literary form, style and genre, as relevant to your chosen form of writing
To acquire a variety of relevant writing techniques, and research techniques to support writing, and adapt them to your particular creative project.
To understand and respond creatively to questions arising from the subject matter, themes, genres, traditions and other literary contexts with which your chosen manuscript is engaged.
To receive and give precise and sensitive critical feedback in workshop groups and one-to-one tutorials.
To respond creatively to feedback provided by tutors and other students, adapting that feedback to your particular vision of your book.
To understand choices and opportunities relevant to your chosen manuscript, including questions of how to place your work, and the role of agents, publishers and editors.
Course structure
Workshops
The first workshop module, "Professional Skills" taken in trimester one, provides intensive group discussion and some plenary lectures. You'll bring short pieces of writing to workshop groups consisting of a tutor and not more than seven other students. There are separate groups for prose and poetry. You'll submit a manuscript proposal halfway through the module. In trimester two, you'll take a second workshop module in either prose or poetry.
Context
Each context module explores connections between your creative writing and the wider world as represented by a theme or genre. Seminars are divided between considering set texts and workshopping your creative writing. The set texts are examined from the point of view of practical lessons that the writer can learn. You'll take a context module in trimester one and another in trimester two.
Manuscript
In trimester three, you'll take "The Manuscript", taught by means of one-to-one tutorials. This is the culmination of the course - the book, or substantial part of a book.
Course modules
This course includes or offers the following modules.
Professional Skills Workshop (Prose or Poetry)
Prose Workshop Two
Poetry Workshop Two
Writing and Gender
Writing and the Environment
The Poet's Eye
Writing and Politics
The Writer and Place
The Short Story
Contemporary American Writing
Modernism and Postmodernism
Narrative Non-Fiction
The Love Story
Storyworlds: Writing for Digital Media
Historical Fiction
Writing Now
The Creative Writing Workshop
Spoken Word: The Power of Speech
Story and Writer Development
The Manuscript
How will I be assessed?
You'll be assessed entirely by coursework: mainly creative writing, plus two short essays, a manuscript proposal and a short commentary on the manuscript in progress.
How will I be taught?
You'll be taught in group workshops and seminars, one-to-one tutorials and plenary lectures.
Opportunities
Join our successful community
Past students have:
Been awarded excellent contracts for novels
Been long-listed for the Man Booker Prize, Orange Prize, Costa Prize and the Guardian First Book Award
Received the Betty Trask Prize, Manchester Book Award, a WH Smith New Talent Award, and the Janklow and Nesbit Prize.
Reached the bestseller lists.
Student poets have had their poetry accepted for publication in numerous literary journals, including Ambit, Magma, London Magazine, Poetry Wales, PN Review and The Reader, among others, and have been placed in such competitions as the Bridport, the Frogmore, Mslexia, and Writers Inc. Janklow and Nesbit Ltd, a leading literary agency, awards an annual prize for the best novel or novel in progress by a student on the course.
Industry links
Throughout the year there are visits by writers, literary agents, publishers, editors, broadcasters and other professionals concerned with creative writing, who will give presentations and answer questions at evening events and in plenary lectures.
Cost & Fees
UK/EU students full time - 2019/20 entry £7,600
International students full time - 2019/20 entry £14,800
Last updated May 2019
About the School
Bath Spa University is about more than studying. It's about getting stuck in: thinking, making and doing. About bumping into friends on campus, embracing challenges and genuinely caring. We push bound ... Read More
Bath Spa University is about more than studying. It's about getting stuck in: thinking, making and doing. About bumping into friends on campus, embracing challenges and genuinely caring. We push boundaries and ourselves. If that sounds good to you, you'll fit in well.
Read less