MA in Art Practices: Pathway - Public Pedagogy and Art Practice
Home ›
MA ›
Pedagogy ›
MA in Art Practices: Pathway - Public Pedagogy and Art Practice
Program Description

The program in Public Pedagogy and Art Practice at Srishti brings together a rich set of practices from cultural activism, public art, urban and rural studies and the study of local knowledge systems into an emerging area of study that looks at traditional and contemporary public creative practices that are used to educate, inspire and provoke a larger public. These forms draw from a diversity of public engagements, evoke the absurd, catalyse agency for social action and emerge from many different sites of on-the-ground experimentation. They are community based, multi-age and focus on social transformation that challenges mainstream elite forms of knowledge production. The program takes learning back to the street by understanding practices and practitioners that have rejected the exclusive institutional structures, focusing instead on peoples' science, peoples; medicine, peoples' history and peoples' education.
Mission
When learning is an aesthetic experience, it becomes enmeshed in a person's spirit instead of merely a moment of passive reception. The arts have the transformative ability to encourage and foster positive change. Especially in India where the Kalakaar is often considered to be an integral part of society and is considered to be a creator of 'rasa'- the essence of any experience, the one who touches the heart and spirit of our human core.
The Public Pedagogy and Art Practice Masters programs develops public pedagogues who facilitate learning through cultural practice. The program develops the ability to work with transdisciplinary practices with sensitivity as opportunities for civic learning and participation.

Blank Noise Action Heroes facilitated by Jasmeen Patheja stage a pubic demonstration as part of the 'I Never Asked for It' campaign.
Core Values

"The function of art is to do more than tell it like it is - it's to imagine what is possible." - Bell Hooks
Paradox and Action
Diversity and Disagreement
Empathy and Agency
Participation and Belonging
Informal Learning and Emancipatory Learning
Love and Essence



Artists from Kaimera Productions work with Srishti Students on DATAPRINT, a public performance that questions and educates about the ethics of data privacy. Using dance, theatre, and interactive technology installations this act of public pedagogy took place at a Metro Station in collaboration with Art in Transit.
Who Should Apply
The program in Public Pedagogy and Art Practice course is especially designed for individuals from the following arenas of work:
Public and Community Art: Artists and art students who are interested in art as activism; cultural activism; art and education; art and community empowerment; and art in the public sphere.
Non-formal Education Sector :People interested in education. Teachers who are looking at working outside the confines of institutionlised education in community learning environments. Community program developers and facilitators in informal learning centres; art & craft collectives; environmental organizations; publishing houses etc.
Interdisciplinary Practice Based Education: Those from any field (journalism, traditional art and crafts, technology, urban planning, service sector) interested in taking their practice and daily work to community education in the public sphere.
Corporate Social Responsibility Sector: Those with expertise in Business Management, specifically geared towards CSR planning, implementation and reimagining the frameworks for progressive, meaningful contributions to the social sector.

Srishti Student Karthika Sakthivel facilitates Cyanotype Picnic a participatory art making event at Cubbon Park.
Course Structure
Studios & Labs: Immersive spaces and forums that foster making, experimenting, conversations, thinking and a sense of being.
Workshops: provide intense learning experiences in making and doing, across the different disciplines.
Seminars: provide a space for investigating a particular idea, topic, praxis through reading, writing, making and discussion.
Independent Studies: are undertaken in an area of student interest with minimal mentoring through specially designed study units.
Internship: provides students an opportunity to use multidisciplinary skills and learning acquired during the course of study and obtain professional inputs that complement academic learning.
Electives & General Studies: Engagement outside the disciplinary framework, that allows for extension, building connections and broadening world view through liberal arts modules. Click here to read more about the General Studies Program >>
Self-Initiated Projects: An end of semester challenge that allows the student to engage in research/enquiry in a chosen topic.
Interlude (Open Elective): is a space for a practical engagement related to a relevant field of study that is creative, reflective and extensive.
Capstone: Mentored project that is a culmination of the research capabilities and knowledge gained over the previous three semesters

Artist Anjana Kothamachu uses wireless headphones as a way to share intimate stories about the city of Bangalore in a crowded public place.
Learning Approach:
The two-year post-graduate course of study in Public Pedagogy and Art Practice combines theory and practice. The course focuses on traditional and contemporary forms of public pedagogy and art practice, inviting diverse practitioners to share what, how and why they are engaged in public pedagogy through creative practice, in the form of lectures, performances, site visits, workshops, and case studies. Simultaneously students will have the option of varied on-site field experiences and internships and frameworks of practice will emerge from:
1. Working with communities
2. Reading and responding to a place critically and creatively
3. Developing creative public pedagogic practices.
4. Documenting and positioning the practice through communication, proposals and other traditional and contemporary forms of knowledge production.


Contributing to the Field:
There is a paucity of available resources and research around Public Pedagogy and Art Practice, especially in the South Asian context. This course attempts to correct this by collating as well as contributing to this knowledge field. The student can contribute to this lacuna by building research using Case Studies of practice in and around the Indian subcontinent. The student will be well equipped to write articles that contribute to the field, including but not restricted to journalism; writing effective RTI applications; advocacy papers and maximising impact on social media (i.e. twitter, Instagram and blogs). Specialisations such as Urban and Social Design, Education, Public policy, even farming and medicine can use the expertise of Public Pedagogy and Art Practice for a more efficient and effective implementation and wider understanding of the issues on the ground.
The Public Pedagogy and Art Practice course draws upon examples of practices in India and internationally that use forms of cultural practice (drawing, poetry, creative writing, theatre and performance, technology, weaving, etc.) to engage communities and encourage cross disciplinary understanding and experience for students. The course is designed for students to experience the potential and power of:
Practice Based Research : Cycle of observing, intervening, facilitating, improvising, researching, negotiating, acting in community environments.
Skills to Make and Do (Practice): Making in the Arts and Cultural Practices; Facilitation of Public Practice; Proposal Writing; Creating job opportunities for oneself and the community they are involved with.
Thinking and Communicating:Conceptual, Theoretical and Communicative skills.

Artists from Migratory Cultures use projection mapping to share stories of migration to the city of Bangalore. These multi-lingual oral histories are shared in public spaces.
Opportunities for Graduates
New and emerging spaces are opening up to artists and community pedagogues because of their expertise of being mediators and the ability of the arts to access, address and unpack public opinion without antagonism. From corporate to government and NGO sectors, there is an increased demand for creative practitioners who can facilitate and activate public participation.

Graduates of the Public Pedagogy and Art Practice Master's course will be equipped to work in:

Education and Community Learning Environments:
Teachers and After School Program Facilitators
Program Developers and Education Design for alternative learning environments
Non-Profit Organisations in the Development Sector that require Community Facilitators
Government Sector:
Urban Planning Departments
Tourism Sector
Education Sector
Creative practices in public sector services like police, planning, public works and resource departments
Activism and Political Office
Development of Public Policy
Craft and Art Sector:
Art, Architecture and Urban Planning Organisations
Event Planning, Art Festivals and Biennials
Revive and develop contemporary forms of community mapping
Revive and develop contemporary forms of traditional craft and art practices
Corporate Environments
Corporate Trainers
Corporate Social Responsibility Teams
Human Resources and Team Management Environments
Not for Profit Sector
Reimagining funding and sustainability for the not for profit sector. This includes self help groups, not for profit trusts, and other registered NGOs.
Facilitating community based research studies
Modes of Learning
Public pedagogy and Art practice course is a full-time, practice-based research course that allows practitioners (both novice and experienced) to develop and extend their professional practice. It is offered in two modes of participation of onsite studios and tutorials with practice based research in a field project.

Notes on modes of participation:

Mode 1: Three weeks per semester of onsite participation This mode is designed for practitioners with a strong inclination for independent study and for whom periodic short-term intensive + self study is most viable. Practitioners would need to plan for two weeks of study at Srishti, Bangalore at the start of each semester. This period includes a course overview, introduction to the overall processes and methods of the course, guidelines for practice based research and field based assignments.

Mode 2: 9 months of onsite participation commencing from the inception of the course This design facilitates the completion of coursework for semester 1 and 2. In addition, practitioners will be encouraged to find and work on a project. Guidelines for practice based research and field based assignments for the subsequent period will be provided.
Modes are offered based on cohort size.

Antara Khurana's series of posters focuses on what has been lost in the city. Lost Perspective, Lost Identity and Lost Voice are part of a growing series to provoke thought about these intangible losses.
Enquiries
This course is led by Arzu Mistry and Aastha Chauhan

For further information, kindly email Arzu Mistry at arzu@srishti.ac.in or Aastha Chauhan at aastha.chauhan@srishti.ac.in

Sharath Chandra uses open sources weather data and projection mapping to compare weather data of the silicon cities of San Francisco and Bangalore, drawing a parody between the Climate of Economies and the Economies of Climate.
Disciplinary Intersections
This course is informed by the following learning disciplines:
Education
Contemporary Art Practices
Curatorial Studies
Language Arts
Performing Arts
Arts Management
Entrepreneurship
Information Technology
Language and Literature
Social Innovation
Public History
Anthropology
Critical Geography
Ecology and Environment
Heritage & Conservation
History
Policy Studies and Environmental Law
Political Science
Sustainability Studies
Design Research
Digital Arts
Game Art
Design and Development
Mathematics and Physical Sciences
Service and Systems Design
Areas of Knowledge:
Place:Public Space Design, Urban Planning (peri-urban, rural), Sustainability, Ecology
Society: Anthropology, Sociology, Cultural Policy, Language
Art: Contemporary and Traditional Art Practice, Creative Practice, Craft Practice, Cultural Practice, Cultural Activism, Art-Science
Practices (Forms): Community radio, Public performance, Poetry, Writing (RTI / Campaigns / Creative Writing), Coding and Repurposing internet tools. Zines, Local Publications, Curation / Archives, Oral History, Facilitation, Public Art Interventions, Public Space Design, Public Graphic Practices etc.
Research and Collaboration.
Art in Transit
(Art)Science BLR
Blank Noise
Center for Public History (CPH)
designEARTH lab
Srishti Films
The Kabir Project
Capabilities:
UPON SUCCESSFUL COMPLETION OF THIS COURSE GRADUATES WILL HAVE DEVELOPED THE FOLLOWING CAPABILITIES:
Invoking SENSITIVITY within the self
Capability to navigating complexity and engage with courage
Capability to engage authentically with care for communities
Capability to reflect and iterate and evaluate the quality of public action
Seeing and emerging OPPORTUNITY
Capability to respond to site and phenomena
Capability to seek opportunities and identify and use available tools and resources
Capability to build collaborations
Developing PUBLIC PRESENCE
Capability to animate self to facilitate
Capability to invite a type of social consciousness from action
Capability to engage in robust action research
Inner circle
Srishti as an institute and what art creates
Festival/ spectacle/ dynamics of making
Festival of Stories 1


Festival of Stories 2


Festival of Stories 3
Last updated Jan 2019
About the School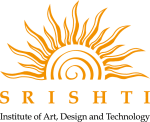 Srishti Institute of Art, Design, and Technology is a non-residential institution founded in 1996 by the Ujwal Trust with the objective of providing art and design education in an environment of creat ... Read More
Srishti Institute of Art, Design, and Technology is a non-residential institution founded in 1996 by the Ujwal Trust with the objective of providing art and design education in an environment of creativity to maximize the individual's potential.The Ujwal Trust also manages Srishti's sister institution, the prestigious Mallya Aditi International School.
Read less