MA in Art, Education, and Community Practice
Program Description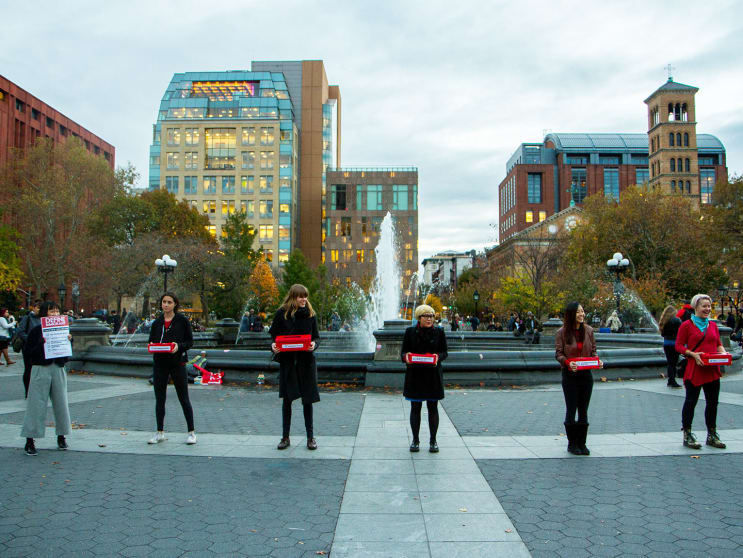 Art, Education, and Community Practice
Join our community of socially engaged artists/designers, educators, creative activists, and community organizers working together to create critical interventions that inspire dialogue and catalyze social change through the arts. This work connects art and social justice, grounded in the pedagogy of hope and possibility. Our intimate and interdisciplinary program balances theory and practice through classroom projects enacted in public spaces and in partnership with local organizations. Through course work, we explore the history and political context of socially engaged art and popular education, as well as creative strategies for activism and organizing. The capstone project provides an opportunity to design, implement, and document an artistic intervention in public space or to work with a community organization in an effort to enact social transformation.
Our program is flexible, encouraging students to take courses with our affiliated faculty from across the different schools at New York University and other relevant courses taught by esteemed NYU faculty. We leverage our unique location in the Lower East Side and New York City, home to artists and activist, by bringing in activist artists to our classrooms to work with students and explore how art can be used as a tool to open dialogue about a community's history, culture, and social needs. Our graduates go on to work as artists, educators, and administrators in community-based organizations and cultural institutions, as well as K-12 schools and colleges.
Classes are small and personal attention is given to each student throughout the duration of the program, from initial advisement through completion of the master's capstone project.
The program can be completed in as little as 3 semesters or 12 months, as a full-time student. The program can also be completed as a part-time student in two years.
Admission in Fall and Spring.
Enrollment
The Art, Education, and Community Practice program serve individuals interested in socially engaged art who want to work outside of or in collaboration with traditional venues (museum, galleries, and classrooms). Students come from a wide variety of backgrounds: studio art and design, performing arts, film, curators, community-based organizations, social activism, and a variety of art education contexts (teaching artists).
Core Program Modules
These are some of the questions that guide our hands-on investigations through 3 modules, leading to a capstone project:
What is socially engaged art in the 21st century?
What is popular education? And, how is socially engaged art a form of popular education?
How do we understand the public sphere and its relationship to democracy?
What are the aesthetics, politics, and ethics of socially engaged art?
How do we know when socially engaged art is effective, toward what ends?
Students take one required foundational course in each program module and then choose electives from across the university each module to customize their degree focus and experiences.

Module 1: Contemporary Artistic Practice
This module addresses the expanding field of socially engaged art in the United States and Internationally. Students engage in examining the history and current practices of socially engaged art and its ideas in relation to the public sphere and democracy. Students will have the opportunities to learn first-hand from socially engaged artists working in public spaces and also in various communities locally and globally.
Module 2: Educational Theory
Providing a firm grounding in popular education and social justice education that is inspired by Paulo Freire, the program envisions the activist artist-educator as one who is able to apply pedagogical practices to diverse artistic endeavors. Students will consider radical educational theory in public, community-based, informal and virtual/media-based contexts, as well as from domestic and international perspectives.
Module 3: Social Activism
Overlaying the artistic and educational modules is a focus on social activism and community engagement. Coursework will explore the history, politics, and ethics of working in local, global, and virtual contexts. Within this module students will learn about methods, tactics, and strategies of engagement from social movements and community organizing to create artistic interventions in public and community spaces.
Electives
Students also choose elective courses from across the university to customize their degree focus and experiences.
Terminal Integrative (Capstone) Project
Working under the supervision of the Program Director and a faculty mentor, students will design and implement a community-based project informed by their individual art practice, their core and elective coursework, and the cultural or organizational context in which they will be working. In collaboration with NYC-based cultural and educational organizations, students will be encouraged to use different methodologies that combine intuition, social, conceptual, and cultural ways of knowing and being in order to develop and implement an art project that allows for social transformation.
Last updated Nov 2019
About the School
NYU Steinhardt's one-of-a-kind integration of education, health, the arts, and media studies puts us at the heart of a movement: education for social change.
NYU Steinhardt's one-of-a-kind integration of education, health, the arts, and media studies puts us at the heart of a movement: education for social change.
Read less