MA Visual Communication
Home ›
MA ›
MA Visual Communication
Program Description
Course overview
We believe the most successful designers are cultural innovators who, through their practice, inform, persuade and entertain. Through our MA Visual Communication course, you'll develop a confident design voice and create an outstanding portfolio of work in readiness for the contemporary professional world.
You'll explore the mechanisms for conveying messages and meaning through a diverse range of media, you'll be encouraged to develop new skills to strengthen and inform your design practice, and you'll gain an understanding of the skill sets required for print, motion, and digital design.
You'll also have the opportunity to enhance your practice in the areas needed to become a creative leader and go on to a career within the broad field of visual communication, which includes areas such as print media, user experience, motion design, web design, exhibition design and advertising, collaborating with other members of our creative community.
MA Visual Communication is designed to help you develop a voice as an author and innovator, equipping you with the skills and knowledge to identify and solve design problems within cross-disciplinary environments, including traditional and digital printmaking, moving image suites and 3D studios.
You'll learn to approach design as an agent of change – a strategy for positively transforming behaviours in desirable and sustainable ways.
Led by Hugh Harwood and a team of experienced professional designers with connections at the highest level of industry – including Slawa Harasymowicz, Vida Vega and Jayoon Choi – you'll learn through of a range of lectures, project briefs, workshops, written assignments, group critiques and individual tutorials.
Length of study:
One year full-time or two years part-time
Course details
Term one
Defining Your Practice
You'll explore creative practice in order to inform the detailed development of your project proposal later in the course. The unit aims to provide a structured framework to allow you to investigate the potential of methods, ideas and themes in your discipline as well as helping inform and locate your practice.
Term two
Context and Method
Through a series of lectures and seminars, you'll actively engage in a range of current debates which provide the cultural and intellectual context for the consideration of ideas in visual communication. The programme addresses inter-disciplinary issues through the discussion of theory and the consideration of specific design-led work and texts.
Project Development
In this unit you will develop the themes and focus of your final project, evaluating and testing out the aims of your proposal over a sustained period of self-directed study. At this stage, the development of your project will be guided and questioned through tutorials, group critiques and presentations, which will support the progress of your work and provide rigorous critical appraisal from staff, peers and professional practitioners. While encouraging the continued exploration and questioning of your ideas, you will continue the process of developing appropriate methods and strategies for your project's realisation as you begin to work more independently as a researcher and practitioner, refining your research questions and the research methods you are using.
Term three
Realisation and Dissemination
You'll apply knowledge and experience gained in previous units to the realisation of your final MA project - the culmination and consolidation of your studies in the form of a resolved piece, or body of work. It should show coherence and innovation at a professional level of resolution. You'll also be required to prepare a critical paper intended to reflect upon the specific practical outcome of the MA project, its interpretation and its success as a demonstration of your approach to creative practice through research.
Fees and additional course costs
Tuition fees
The course fees per year for 2020 entry are:
UK and EU students full-time - £8,000
UK and EU students part-time - £4,000
International students full-time - £16,250 (standard fee)
International students full-time - £15,600 (full early payment fee)
Additional course costs
In addition to the tuition fees please see the additional course costs for 2020 entry.
These fees are correct for the stated academic year only. Costs may increase each year during a student's period of continued registration on course in line with inflation (subject to any maximum regulated tuition fee limit). Any adjustment for continuing students will be at or below the RPI-X forecast rate.
Fee discounts and scholarships
To support all of our current students and our recent UK and EU alumni to progress to the next level of study, we have developed a new range of fee discounts across a range of courses.
Read more about fee discounts
Facilities
Visual Communication facilities include dedicated studios with space for both personal and group working; digital media suites with Macs programmed with the latest industry design software including, Adobe Creative Suite, Final Cut Studio, Final Cut Pro, Soundtrack Pro and Autodesk Maya. We have photography studios and processing and printing darkrooms for black and white film-based photography; printmaking studios with access to lithography, screen-printing, etching and relief printing.
What our students say
"Studying at UCA is definitely one of the greatest experiences I've had. I can feel creative and energetic vibes everywhere on the campus. The UCA team at the campus are really helpful and friendly, they're supportive in many ways, regardless of whether we need academic or personal advice. "
Ka I Lei, MA Visual Communication
Entry requirements
UK entry requirements
An honours degree or equivalent qualification in the subject or a related discipline
and/or
Relevant work experience, demonstrating your ability to study at postgraduate level.
Consideration will also be given to applicants who can make a strong case for admission in relation to a particular project and can demonstrate their potential to satisfactorily complete the course.
International entry requirements
To view the equivalent entry requirements for your country please check our website.
Your portfolio
We'll require you to attend an Applicant Day and bring your portfolio for assessment. Further information on how to compile a portfolio, and the specific requirements for examples of work to be included, will be provided on the Applicant Portal after you've applied.
Last updated Mar 2020
About the School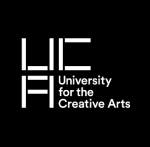 Oscar-winning filmmakers, world-renowned fashion designers, television presenters, celebrity jewellers and Turner Prize nominees are just some of the high-profile graduates from the University for the ... Read More
Oscar-winning filmmakers, world-renowned fashion designers, television presenters, celebrity jewellers and Turner Prize nominees are just some of the high-profile graduates from the University for the Creative Arts. As a specialist creative arts university, we have created a unique community for our students, where like-minded people can share in the creative process and inspire one another. Collaboration between courses is encouraged, with fine artists studying with budding filmmakers and fashion designers working alongside architects. In this way, our students benefit from exposure to a range of disciplines. Choosing to study with us will give you the freedom to discover your own personal style through a winning combination of industry-focused courses, state-of-the-art facilities, and inspirational expert staff.
Read less