Program Description
Course overview
Thinking beyond a product and the way it is designed, questioning its place in a particular setting and considering its importance in spatial contexts are all explored on our MA Product Design course at UCA Farnham.
Best suited to those with a hands-on, making background, you'll be encouraged to think beyond a product itself, challenged to consider how the way a product is designed can influence an emotion or impact space, and break away from convention as you tie in the traditional with the cutting edge.
UCA Farnham has a rich history and industry-wide reputation for its design courses and on this course, you'll learn from a team of talented academics as well as visiting lecturers and partners with a wealth of industry experience.
You'll undertake individual research projects using an integrated product design process, and develop design solutions which fit with an overarching theme, and for added inspiration you'll have the opportunity to go on a study visit abroad alongside undergraduate design students and alumni, maintaining the sense of community among students.
UCA is extremely proud to encourage and develop the sustainable design, and the Farnham campus is home to The Centre for Sustainable Design - a research centre which facilitates discussion and research on eco-design, and broader sustainability considerations in product and service development.
Graduates from our MA Product Design course have gone on to work in architectural firms, independent design studios, create their own businesses and roles in design management. Demand is high for graduates with technical skills in the product design industry, particularly those who have access to industry quality equipment and the know-how and passion to succeed. We aim to create product designers with a breadth of knowledge, the very latest industry experience and the passion and the drive to succeed in a fast-paced industry.
Length of study:
One year full-time or two years part-time
Course details
Term 1
Theory and Analysis
You'll challenge and confirm your practice through critical reading, observation and handling. You'll think deeply about products and craft artefacts and investigate contexts associated with your own work.
Exploratory Practice
You'll explore creative product design practice based around a theme of transportation and journey – physical and emotional – and this will help inform the development of your own project proposal for stages two and three of your course. There will be a structured framework to allow you to investigate the potential of methods, ideas and themes in your discipline.
Term 2
Reflective Practice
Using the knowledge you've gained through the first term, you'll reflect upon your own practice and consider the practice of others to develop your own sense of critical awareness and creative independence. You'll build on the research questions you explored in Exploratory Practice, and establish a clear line of enquiry through selected materials, concepts and a clearly articulated context. You'll also have the opportunity to complete a period of professional practice during this unit.
Term 3
Major Project
The final phase of your MA study requires the production of a portfolio, including finished interaction models and product prototypes of high quality – the realisation of the concepts and explorations you will have made already through the course. In addition to considering the aesthetics and form of design studies, the final product design should represent the quality and purpose of your design process, combining academic and practical skills.
Fees and additional course costs
Tuition fees
The course fees per year for 2020 entry are:
UK and EU students full-time - £8,000
UK and EU students part-time - £4,000
International students full-time - £16,250 (standard fee)
International students full-time - £15,600 (full early payment fee)
Additional course costs
In addition to the tuition fees please see the additional course costs for 2020 entry.
These fees are correct for the stated academic year only. Costs may increase each year during a student's period of continued registration on course in line with inflation (subject to any maximum regulated tuition fee limit). Any adjustment for continuing students will be at or below the RPI-X forecast rate.
Fee discounts and scholarships
To support all of our current students and our recent UK and EU alumni to progress to the next level of study, we have developed a new range of fee discounts across a range of courses.
Read more about fee discounts
Facilities
Our product design facilities include well-equipped workshops, providing both hand and mechanical processes for model and product making, a digital suite with 3D printers, laser cutters and rapid prototyping, a resin room with ventilation, workbenches and safety equipment, and open spaces for personal studio work, group sessions and discussion.
What our students say
"I had a great year completing my MA, the facilities were fantastic and I was able to gain a lot of knowledge thanks to the expert staff. I also found the workshops to be very useful – it was amazing to see my products come to life."
Christina Fountoulaki, MA Product Design
Course connections
On this course, you'll be exposed to a world of opportunities
Industry links
Our range of industry contacts include:
Industrial Design Consultancy
TheAlloy (product and interaction consultants)
IDEO (design consultants)
Philips
Kenwood/De'Longhi
Priestman-Goode.
And recent guest lecturers include:
John Gertsakis, product ecology
Philip Davies
Stuart Heron, Design Director.
Careers
Our course will equip you with a host of valuable and transferable skills. Graduate opportunities exist within:
Product design practice
Independent design studios
Specialist design consultancies
Design teams in the manufacturing industry
Design management
Environmental management
Service design sectors.
Further study
You may want to undertake further study or research to specialise even more.
Entry requirements
UK entry requirements
An honours degree or equivalent qualification in the subject or a related discipline
and/or
Relevant work experience, demonstrating your ability to study at postgraduate level.
Consideration will also be given to applicants who can make a strong case for admission in relation to a particular project and can demonstrate their potential to satisfactorily complete the course.
International entry requirements
To view the equivalent entry requirements for your country please check our website.
Your portfolio
For this course, we'll require you to attend an Applicant Day and bring your portfolio for assessment. Further information on how to compile a portfolio and the specific requirements for examples of work to be included will be provided on the Applicant Portal after you've applied.
Last updated May 2020
About the School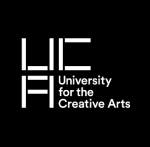 Oscar-winning filmmakers, world-renowned fashion designers, television presenters, celebrity jewellers and Turner Prize nominees are just some of the high-profile graduates from the University for the ... Read More
Oscar-winning filmmakers, world-renowned fashion designers, television presenters, celebrity jewellers and Turner Prize nominees are just some of the high-profile graduates from the University for the Creative Arts. As a specialist creative arts university, we have created a unique community for our students, where like-minded people can share in the creative process and inspire one another. Collaboration between courses is encouraged, with fine artists studying with budding filmmakers and fashion designers working alongside architects. In this way, our students benefit from exposure to a range of disciplines. Choosing to study with us will give you the freedom to discover your own personal style through a winning combination of industry-focused courses, state-of-the-art facilities, and inspirational expert staff.
Read less