Program Description
Course overview
Situated within the internationally recognised School of Fashion at UCA, our MA Printed Textiles for Fashion & Interiors offers a practice-based, design-led experience, which develops your creative vision and redefines your professional practice.
From day one you'll be part of our inspirational fashion community with its exciting creative postgraduate research culture.
You'll be encouraged to push boundaries and challenge yourself both intellectually and creatively – and we'll provide you with the stimulating and supportive environment in which to do it. You'll have the freedom to explore and combine traditional, handcrafted design and production techniques with the latest innovations in digital technology while researching ever-evolving materials and technologies.
Print design for fashion includes textiles collections for fashion, samples, experimental textile pieces, garment prototypes, design concepts or range plans, and fashion-related products or accessories.
Print design for textile art and interiors includes fashion-led interior concepts, one-off textiles, installation or site-specific works, product prototypes, floor and wall coverings as well as exterior print applications.
This unique course offers you an exciting opportunity to make your creative vision a reality, master your skills, and develop new research methods - exploring innovative, relevant and sustainable solutions for fashion and textiles. Practice-based and theoretical research are integrated throughout the course, and this will help you to develop an individual design philosophy and research methodology, along with the visual, creative and practical skills to enter the industry at a higher level.
A vibrant creative studio culture with your own individual workspace is designed to support the development of your research and practice, along with a programme of tutorials, lectures, seminars and critiques. As part of this course, you'll be involved in professional practice, such as a live industry project brief, competition work, industry sponsorship or industry engagement activities, all of which set the course apart from other Level 7 fashion programmes.
The course also offers a unique programme of industry guest lecturers including some of the UK's foremost print for fashion designers and colour consultants whose clients include Dior, Vuitton Homme, Margiela, Topshop, Agi and Sam, Giles Deacon, and The Unseen. We also invite experts from research fields including sustainable fashion design and production and mentoring from specialists involved in maker development. Students have unprecedented access to all these specialists and enjoy one-to-one tutorials with them at regular intervals throughout the course.
Length of study:
One year full-time or two years part-time
Course details
Term 1
Professional and Creative Practice
This unit eases you into the course, and focuses on the development of your creative skills and redefining your professional practice. You'll achieve this through an in-depth exploration of materials, techniques and processes. Experimentation with handcrafted design techniques, industrial production methods, innovation in digital CAD and CAM applications are combined with advanced textiles printing and dyeing workshops. Live industry projects offer the opportunity to contextualise your practice.
Research and Creative Enquiry
This unit focuses on practice-based research and materials and process exploration. You'll be challenged to adopt an analytical, enquiring approach to your research and to discover how this can inform and enrich your creative practice. This unit aims to give you the confidence to become an independent reflective practitioner.
Term 2
Innovation, Development and Interpretation
Working on your own self-initiated brief, you'll be encouraged to experiment with printed textiles through a broad range of materials, from fabrics and leather to wood, metal and plastics, exploring these as you address and redefine your research question. In response to your own reflections, you'll develop a well-informed line of enquiry into a specialist topic emerging from your project proposal. Product prototyping or sampling, range planning and market research will be aligned to a market level appropriate for your work. Creative opportunities in the form of a work placement, and a chance to show at Graduate Fashion Week and New Designers continue the industry focus to stage two of the course
Term 3
Resolution and Presentation
In this final stage of the course, you'll be challenged to create a dynamic personal design philosophy through advanced conceptual thinking, exploring constantly evolving materials, technologies and processes. You'll consider ways to exhibit and disseminate your practice and final professional portfolio through exhibition, website or competition work, showcasing a range of high-quality design solutions for a diverse range of markets, disciplines and applications. Tutorials, workshops and seminars with your peers will continue to provide you with opportunities to present, reflect and refine your work.
Fees and additional course costs
Tuition fees
The course fees per year for 2020 entry are:
UK and EU students full-time - £8,000
UK and EU students part-time - £4,000
International students full-time - £16,250 (standard fee)
International students full-time - £15,600 (full early payment fee)
Additional course costs
In addition to the tuition fees please see the additional course costs for 2020 entry.
These fees are correct for the stated academic year only. Costs may increase each year during a student's period of continued registration on course in line with inflation (subject to any maximum regulated tuition fee limit). Any adjustment for continuing students will be at or below the RPI-X forecast rate.
Fee discounts and scholarships
To support all of our current students and our recent UK and EU alumni to progress to the next level of study, we have developed a new range of fee discounts across a range of courses.
Read more about fee discounts
Facilities
Our excellent facilities include: textiles print room facility with a fully equipped dye lab, traditional screen printing tables, fabric processing and cloth dyeing; digital textiles resource area; digital textile printers; large and well-equipped pattern and production studios and workshops with industrial sewing machines, embroidery machines and specialist finishing machines.
Course connections
On this course, you'll be exposed to a world of opportunities
Industry links
As part of this course, you will have access to well-established industry connections. These include:
Faye McNulty
James Bosley
Kay Politowicz
Beatrice Mayfield
Zandra Rhodes
Jonathan Saunders
Eley Kishimoto
Westcott Studios
Maxine Sutton Textiles
Careers
From day one on the course you start to build a professional portfolio, exploring ways to externalise your practice and create an online presence and ways to present your work to industry. This can evolve through first-hand experience, industry engagement activities and internships, or through working with fashion studios and agents, buyers, shops, galleries and interior designers as well as exhibitions, national competitions and online selling platforms. Fashion Textiles graduates from UCA Rochester have secured positions in many fashion and textiles companies including:
Jimmy Choo
Debenhams
Skinny Dip
Monsoon
Circleline Design
print.one
House of Fraser.
The wide range of career opportunities open to our graduates include:
Print design for clothes, fashion accessories and interiors
CAD design for printed textiles, fabrics and print products
Textile designers
Self-employed designer/makers
Public art practitioners
Arts educators and teachers
Fashion buyers and retailers
Freelance design/research and trend forecasting
Artist in residence
Research
The International Textiles Research Centre (ITRC), based at UCA, offers an exciting staff and student research culture developing collaborative relationships with major cultural institutions, networks, galleries and museums around the world.
Entry requirements
UK entry requirements
An honours degree or equivalent qualification in the subject or a related discipline
and/or
Relevant work experience, demonstrating your ability to study at postgraduate level.
Consideration will also be given to applicants who can make a strong case for admission in relation to a particular project and can demonstrate their potential to satisfactorily complete the course.
International entry requirements
To view the equivalent entry requirements for your country please check our website.
Your portfolio
For this course, we'll require you to attend an Applicant Day and bring your portfolio for assessment. Further information on how to compile a portfolio and the specific requirements for examples of work to be included will be provided on the Applicant Portal after you've applied.
Last updated May 2020
About the School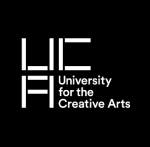 Oscar-winning filmmakers, world-renowned fashion designers, television presenters, celebrity jewellers and Turner Prize nominees are just some of the high-profile graduates from the University for the ... Read More
Oscar-winning filmmakers, world-renowned fashion designers, television presenters, celebrity jewellers and Turner Prize nominees are just some of the high-profile graduates from the University for the Creative Arts. As a specialist creative arts university, we have created a unique community for our students, where like-minded people can share in the creative process and inspire one another. Collaboration between courses is encouraged, with fine artists studying with budding filmmakers and fashion designers working alongside architects. In this way, our students benefit from exposure to a range of disciplines. Choosing to study with us will give you the freedom to discover your own personal style through a winning combination of industry-focused courses, state-of-the-art facilities, and inspirational expert staff.
Read less