Program Description
Course overview
Our MA Photography course approaches photography as an expanded visual discipline. You'll be encouraged to confidently produce complex and extended photographic projects and engage with experimental and speculative approaches to making.
We offer a dynamic and exciting environment for studying the critical theory of photography, engaging with practices of reading and writing about the image. Our MA Photography course also pays close attention to the dissemination, exhibition and publication of photographic work.
We provide specialist digital and analogue facilities for large-format colour and black-and-white exhibition prints.
Our course offers a balance of support that develops practical skills and fosters a high standard of diverse critical approaches. You'll take risks, explore and develop your interest, and exchange, debate and discuss ideas. You'll also respond to the diverse field of contemporary photography and explore practices of representation that engage with the still and moving image, as well as performance and installation.
Your studies will be supported by a number of internationally renowned staff in a department that encourages experimentation. Enabling you to establish yourself as a rounded professional who can formulate ideas in a sophisticated framework whilst also communicating with others, both visually and verbally.
We place a strong emphasis on publication, empowering you to find creative ways to disseminate your work beyond the academic context and into the public arena.
Length of study:
One year full-time or two years part-time
Course details
Term 1
You'll be introduced to the University and the technical workshops and facilities available to you. The first term includes a range of lectures and seminars and you'll start to explore your creative practice.
Contemporary Debates and Creative Enquiry
This unit introduces you to a range of research methods and tools appropriate to an advanced level of study in creative disciplines, as well as outlining key issues and debates in contemporary visual and material culture. It is designed to enable the use of advanced study skills to prepare students for the development of your MA project.
Exploratory Practice
This unit is concerned with the exploration of creative practice in order to inform the detailed development of your project proposal. The unit provides a structured framework to allow you to investigate the potential of methods, ideas and themes in your discipline.
Term 2
During term two you begin developing your MA project, evaluating and testing out the aims of your proposal over a sustained period of self-directed study.
Innovation and Development
In this unit, you'll begin to develop your MA project over a sustained period of self-directed study as you begin to work more independently as a researcher and practitioner. Within this development stage of the course, you are expected to deepen and extend the critical understanding and articulation of your research. You are encouraged to challenge the relationships between photography, technology and representation, exploring the latest developments both theoretical as well as practical in photography, fine art and the wider media culture.
Term 3
In the third term of the course, you'll apply the knowledge gained through your research to create a final body of work.
Resolution and Presentation
In this unit, you'll apply the knowledge gained through your research in the Innovation and Development unit to undertake the resolution and finalisation of your final body of work. In this final part of the course, you'll combine an ability to define and produce a form of completed work as well as locate their project within a professional context. You are encouraged to develop the final production of your work in the form that is most relevant to the work: for example, an exhibition, a book dummy, website, performance or dynamic time-based work.
Fees and additional course costs
Tuition fees
The course fees per year for 2020 entry are:
UK and EU students full-time - £8,000
UK and EU students part-time - £4,000
International students full-time - £16,250 (standard fee)
International students full-time - £15,600 (full early payment fee)
Additional course costs
In addition to the tuition fees please see the additional course costs for 2020 entry.
These fees are correct for the stated academic year only. Costs may increase each year during a student's period of continued registration on course in line with inflation (subject to any maximum regulated tuition fee limit). Any adjustment for continuing students will be at or below the RPI-X forecast rate.
Fee discounts and scholarships
To support all of our current students and our recent UK and EU alumni to progress to the next level of study, we have developed a new range of fee discounts across a range of courses.
Read more about fee discounts
Facilities
We have three fully-equipped, spacious photographic studios and lighting; perfect for still-life, fashion, tableau and other constructed photography; dedicated processing and printing darkrooms for both black and white and colour film-based photography. Our digital imaging centre including Flextight scanners, large format Epson printers with a print size from A4 to B0, a digital suite of Mac Pros and colour calibrated monitors and up-to-date software.
What our students say
"Doing the MA felt like a natural next step for me, both personally and professionally. I had already gained considerable 'real-world' experience and I wanted to return to my studies in order to see what new directions my work could go in. The creative freedom that the course encouraged enabled me to explore different styles and approaches."
Angus Fraser, MA Photography
Course connections
On this course, you'll be exposed to a world of opportunities
Industry links
Our MA Photography course enjoys extensive links with a number of photographic, media and fine art professionals, curators, publishers, specialist printers and book designers. These connections enrich your experience by visiting lecturer and seminar programmes.
In the last three years, speakers on the course have included photographers and other creative practitioners such as:
Ori Gersht
Zed Nelson
Sarah Pickering
Eva Stenram
Katja Mayer
Chiacomo Brunnelli
Chris Coekin
Harry Borden
Jim Mortram.
Additionally, creative professionals and industry links for our course include:
Benedict Burbridge, editor of Photoworks
Stuart Smith, book designer at Smith-Design
Karen McQuaid, senior curator of The Photographer's Gallery
Jennifer Thatcher, art critic for Art Monthly and Art review
Jean Wainwright, curator and art critic for Art Newspaper and Tate Audio Arts
Terry King, specialist printer
Emily Pethick, director The Showroom
Robert Shore, writer and editor of Elephant Magazine
Edward Dorrian, organiser of Five Years
Aron Mörel, independent book publisher
Bruno Ceschel, independent publisher 'Self Publish Be Happy'
Nick Clements, photographer and publisher of Men's File Magazine
Fred Mann, gallerist.
Careers
Our postgraduate degree prepares you for your career through professional practice units, talks by visiting artists and portfolio reviews with figures from across the photographic industry. Career opportunities include:
Freelance photography
Fine art
Fashion
Advertising and editorial
Post-production/digital imaging
Picture editing and research
Curating
Image, arts and community arts management
Gallery administration.
Graduates of MA Photography have gone on to win the Jerwood Photography prize; to exhibit their work in The Photographers' Gallery, Photofusion, ArtSway and the Geffyre Museum as well as publishing their outputs in different venues ranging from The Sunday Times Magazine to monographs with Dewi Lewis Publishing.
Further study
We also encourage you to apply to national and international competitions and residencies. Recent graduates have met with success at the PhotoforumPasquArt in Switzerland and Emergent Lleida, Spain. Alumni have also gone on to study for PhDs and to teach in many different national and international institutions at a range of levels.
Our course provides an excellent platform for you to connect with your subject, or to further your teaching career at an advanced level. It also helps prepare you for progression to an MPhil or PhD.
Entry requirements
UK entry requirements
An honours degree or equivalent qualification in the subject or a related discipline
and/or
Relevant work experience, demonstrating your ability to study at postgraduate level.
Consideration will also be given to applicants who can make a strong case for admission in relation to a particular project and can demonstrate their potential to satisfactorily complete the course.
International entry requirements
To view the equivalent entry requirements for your country please check our website.
Your portfolio
We'll require you to attend an Applicant Day and bring your portfolio for assessment. Further information on how to compile a portfolio, and the specific requirements for examples of work to be included, will be provided on the Applicant Portal after you've applied.
Last updated May 2020
About the School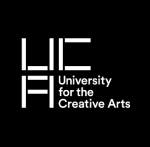 Oscar-winning filmmakers, world-renowned fashion designers, television presenters, celebrity jewellers and Turner Prize nominees are just some of the high-profile graduates from the University for the ... Read More
Oscar-winning filmmakers, world-renowned fashion designers, television presenters, celebrity jewellers and Turner Prize nominees are just some of the high-profile graduates from the University for the Creative Arts. As a specialist creative arts university, we have created a unique community for our students, where like-minded people can share in the creative process and inspire one another. Collaboration between courses is encouraged, with fine artists studying with budding filmmakers and fashion designers working alongside architects. In this way, our students benefit from exposure to a range of disciplines. Choosing to study with us will give you the freedom to discover your own personal style through a winning combination of industry-focused courses, state-of-the-art facilities, and inspirational expert staff.
Read less