Program Description
MA in International Tourism, Hospitality and Event Management
Enroll in the MA in International Tourism, Hospitality and Event Management program to develop the skills you need to successfully navigate this fast-growing and exciting sector. Our postgraduate program is taught on our campus in central Berlin and will ensure you graduate with a clear vision of how to achieve your goals. Develop problem-solving and decision-making skills by studying a wide range of modules including: Cross-Cultural Management, International Project Management, Entrepreneurship in Tourism and Events as well as Hospitality Operations Management. Through a range of blended learning, in-class lectures, seminars, and workshops, you'll learn not only the knowledge you need to be successful in these industries but also the skills to seize opportunities. This program is targeted at individuals who have aspirations to be managers, team leaders, or directors in this sector. You will possess the capabilities to lead and build a business which will be nurtured throughout this program. Additionally, for those considering taking on a research-degree after completing their program, this is an excellent way to set yourself up and start developing key skills. The final term will be dedicated to a dissertation on a topic of your choice. This will enable you to apply what you've learned and showcase it. BSBI is still encouraging prospective students to apply to our programs; the number of seats for upcoming intakes is limited. We have several measures in place including intake deferrals and the possibility of starting the intake online with our live webinars and academic content. Once the borders are open again, we will deliver face to face classes as usual.
Course Requirements
Minimum age: 21
English language requirements:

IELTS 6.0 (not less than 5.5 in any component), or;
PTE 50 + score or equivalent.

English proficiency requirements can be waived for:

Native English speakers, or;
Applicants who completed their education in English (such as a High School diploma or IB).

Documents: CV and two reference letters.
Qualifications: You must have a 2:2 UK bachelor's degree (or any equivalent degree which is recognized by NARIC)
If you do not meet the academic requirements, you may be assessed on relevant work experience. To take this route, you must have a minimum of 3 years of management experience.
Berlin School Of Business & Innovation
Want to become an exceptional business leader in your chosen field? Berlin School of Business and Innovation (BSBI) will help you develop the key management skills you need for a successful career.
BSBI's degree programs have three concepts at its heart:
Enterprise | Leadership | Success
You will:
Improve your business skills through practical teaching methods
Learn about your chosen industry from career-oriented academics at the top of their field
Gain competitive advantages by acquiring key professional tools and techniques
Learn how to apply the concepts to real businesses
Our goal is your success: when you graduate, you will soon be able to enter the job market as a highly qualified professional and upon graduating you will be eligible to apply for an 18-month post-study residence permit* to take advantage of career opportunities in Germany.
While you study your degree…
Teaching methods
Benefit from career-oriented and practical teaching approach using methods such as:
Case studies
Visits to exhibitions and businesses
Workshops and guest speakers
Group discussions
Presentations
Group projects
Flexibility & online study support
Enjoy a study schedule designed to fit around your professional and personal commitments.
Take advantage of the Virtual Learning Environment (VLE) and access 'Virtual' classrooms meaning you can study from home.
Central Berlin campus
BSBI has created a wonderful study environment, offering a newly-refurbished, modern campus located in the heart of Berlin.
The city was recently ranked the most popular choice for international students looking to study in Europe**.
**Based on an annual survey by ICEF in 2018.
Industry connections and opportunity
As Europe's start-up capital, Berlin is the perfect place to learn about business and gain valuable experience – the city is a hub for entrepreneurs who flock to Berlin to take advantage of investment and economic opportunity.
Dedicated Career Service
BSBI's on-campus career experts are dedicated to helping you train for success. Career services are tailored to your particular needs and are designed to develop you into an excellent candidate upon graduating.
After graduation…
Globally recognized degree qualification
You will receive a qualification from Università Telematica Internazionale Uninettuno – BSBI's main academic partner.
Post-study residence permit
After successfully completing your degree course, you will be able to apply for a post-study residence permit for up to 18 months. This will give you the opportunity to take advantage of economic opportunities across Germany.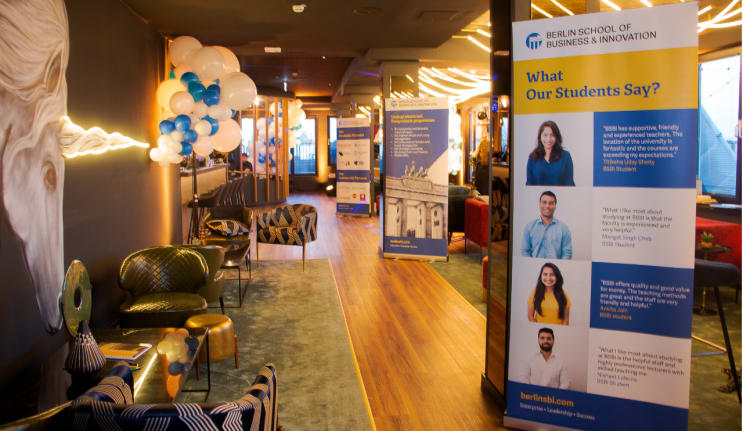 Following announcements of travel bans, curfews and limitations on public movement, BSBI was quick to respond and began introducing measures to ensure students could continue their learning, despite not being able to access the Berlin campus. Since 12 March, tutors have been delivering online lectures.
BSBI recognises that many countries are now in lockdown to prevent the spread of the virus. This might mean you will not be able to obtain your visa or to fly to Germany. As such, we have created a late arrival date (3 July) for our May 2020 intake. Alternatively, if you are unable to obtain a visa due to the crisis, you will be able to defer for later intakes: October 2020 or Feb 2021.
Last updated May 2020
About the School

The Berlin School of Business and Innovation (BSBI) is located in the heart of Berlin. We focus on helping graduates to become exceptional leaders in their chosen field.
The Berlin School of Business and Innovation (BSBI) is located in the heart of Berlin. We focus on helping graduates to become exceptional leaders in their chosen field.
Read less