Program Description
Studying the MA International Relations postgraduate degree at Middlesex University Dubai provides a valuable introduction to the complexities of a rapidly changing world. As our personal lives, education and professional careers extend beyond our countries of birth, understanding other nations and the political and economic relations between nations is becoming more important. The MA International Relations will enable students to identify and assess national interests and analyse the foreign and defence policy needs of sovereign policies of national and international leaders. This programme is designed for those who want to explore the complex dynamics of the international political system, and the wider implications for globalisation and security.
This degree is ideal for students who work in Dubai and across the UAE and want to broaden their skill set. It attracts students from all over the world, which provides a rich multinational and cross-cultural learning environment. Most candidates studying on the programme hold a Bachelor's Degree related to a political/social science or a similar field. Graduates from other disciplines with a keen interest in International Relations will also be considered.
Students who are already working, especially in a related area, will greatly benefit from this programme, and the programme structure. For forward-thinking students with an eye on a career in diplomacy, international public service, media, international affairs or international commerce, an MA International Relations degree from Middlesex University Dubai is an important stepping stone. This programme is the right starting point for those who want to do research on this subject and maybe considering pursuing a PhD.
Middlesex University Dubai is reputed in the region for its undergraduate and postgraduate programmes in the fields of Politics, International Relations, International Development and Law.
Why Study MA International Relations?
You will gain a systematic understanding and critical awareness of:
The essential concepts of International Relations
International political processes and institutions
The foreign policies of different political systems
Theories of International Relations.
You will be able to demonstrate advanced critical appreciation and original thinking in conducting in-depth research on topics of your own interest. Furthermore, you will:
Critically evaluate the effectiveness of the international policy, international institutions and foreign policy processes.
Understand current research and advanced scholarship in International Relations.
Evaluate and critique the IR methodologies.
Develop a comprehensive understanding of techniques applicable to developing your own research and/or further postgraduate study.
Develop an independent learning ability required for continuing your intellectual and professional development.
Enhance the ability to deal with complex issues both systematically and creatively and communicate conclusions to specialist and non-specialist audiences.
Demonstrate the ability to solve complex problems through personal initiative and original thinking.
You will have access to a broad intellectual environment through the provision of innovative teaching, assessment, extra-curricular events, distinguished guest speakers and career clinics.
Programme Content
The MA International Relations programme offers both full-time and part-time modes, with the latter being run over 2 years. Four core plus two optional modules are completed over the Autumn and Spring terms followed by a Dissertation period during the Summer.
You will attend lectures, seminars, workshops and tutorials, where you'll deepen your theoretical knowledge, work on activities and case studies, and develop your analytical and problem-solving skills. You will do research, produce written reports, give presentations and take part in group discussions and group work, supplementing all this with your own independent study. The use of summative assessment at various stages of the programme will encourage students to consolidate their understanding. Some assessment components will involve group work.
Each module is worth 20 credits, with the exception of the Dissertation and Work Integrated Learning modules, which are worth 60 credits each. The Work Integrated Learning module may be chosen as an alternative to the Dissertation with prior approval.
Not all optional modules may be available each year, as they are dependent upon student numbers and interest.
Module and programme information is indicative and may be subject to change.
Global Governance for Sustainable Development (20 Credits) - Compulsory
Dissertation (60 Credits) - Compulsory
Research and Practice Skills (20 Credits) - Compulsory
Politics of Globalisation (20 Credits) - Compulsory
Global Security (20 Credits) - Compulsory
Foreign Policy Analysis: Geopolitical Perspectives (20 Credits) - Compulsory
International Human Rights Law (20 Credits) - Optional
Foundations and Principles of International Law (20 Credits) - Optional
Integrated Work Learning (20 Credits) - Optional
Migration Theories and Approaches (20 Credits) - Optional
Sustainable Development and Human Rights (20 Credits) - Optional
Work Integrated Learning (60 Credits) - Optional
995645 / Pixabay
Teaching
Taught sessions are held at our Dubai Knowledge Village campus (Block 16, 17, 04 and 19) during the week (Sunday to Thursday) between 6:30 pm and 9:30 pm. Additional sessions might be scheduled over weekends or holiday periods and you can expect to receive plenty of notice for these. You can expect to attend one session per week per module, except where otherwise specified in the programme timetable and for the Dissertation module in which you will be working individually on your thesis with some supervised elements. Attending scheduled weekly classes is an important requirement for the completion of this programme.
You will be actively involved in a range of learning, teaching and assessment approach as part of your programme. Such active approaches aim to put you at the centre of your learning so you are involved and engaged in all aspects of your assessment and learning. Your programme will require your active participation in learning activities and engagement with your fellow students both individually and collaboratively, working and learning with other students as part of a small group. Learning activities may also occur both within and outside the classroom.
Your learning will also be supported by technology. Increasingly your tutors will be using existing and emerging learning technologies to engage you in e-learning activities. Your programme may be facilitated using a variety of media and online tools (My Learning on UniHub, podcasts, wikis, etc.) which could allow you flexible access to a diverse range of online resources, quizzes and learning materials as well as collaborative tools with which you can engage and learn with your peers.
Not confined by the time and space associated with traditional teaching methods you may take part in online discussions and learning activities from wherever you are studying. By engaging with e-learning you will also be developing skills which are essential for your learning and are also highly valued by employers. These include but are not limited to: working flexibly, communication, understanding of IT, team working and creating shared understandings based on quality resources and access to global expertise.
Lectures will provide an overview of topics to be supplemented by directed reading. In seminars, students will discuss issues raised in the lectures and in readings. They will engage in debate, sometimes work in small groups on assigned topics and feedback in oral presentations to a plenary session. In some sessions, the debate is stimulated by reading primary materials and/ or recent news items.
Taught modules are assessed by book reviews, primary document reports and essays. The final module is assessed by a dissertation proposal of 2,000 words, and the dissertation of 10,000 words.
Entry requirements
Academic and Work Experience Requirements
We welcome applications from all graduates with a minimum second class UK honours degree or equivalent qualification, in an appropriate subject. We also consider candidates with other relevant qualifications with work experience on an individual assessment subject to approval by Programme Leader. Those without formal qualifications will need to demonstrate relevant work experience and the ability to study at postgraduate level.
English Language Requirements (Postgraduate)
All programmes at Middlesex University Dubai are taught in English and applicants with previous education outside of English-speaking countries (such as the UK, the United States, Canada, England, Ireland, Australia, New Zealand), must demonstrate English language proficiency as follows:
IELTS Academic: 6.5 (minimum 6.0 in each band)
TOEFL Internet-based: 87 (21 in listening & writing, 22 in speaking and 23 in reading)
PearsonPTE Academic: 58
PearsonPTE General: Level 4
Future Careers and Employability
Many career opportunities exist for International Relations graduates. Working for the diplomatic service is a common destination, as is the non-profit sector, where international NGOs often seek to hire professionals with campaigning, policy and influencing skills. Other common fields for graduates include media, finance, higher education, and public policy. Furthermore, businesses throughout the world seek to employ people with knowledge of the global market place.
During the course, you will have the opportunity to develop skills in research, data collection, critical analysis, oral, written and visual communication, reasoned debate, comprehending theoretical concepts, and policy analysis. All of these are highly transferable and valued by employers across all sectors. Students will also benefit from the support of Middlesex University Dubai's Careers and Employability Service.
Last updated Mar 2020
About the School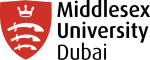 Middlesex University is a dynamic university with a reputation for innovation and excellence in teaching and research. Middlesex University Dubai is the first overseas campus of the internationally re ... Read More
Middlesex University is a dynamic university with a reputation for innovation and excellence in teaching and research. Middlesex University Dubai is the first overseas campus of the internationally renowned Middlesex University in London. The campus, which opened in January 2005, has over 3,000 students from over 100 nationalities and offers undergraduate and postgraduate programmes in a wide variety of subject areas. We are a truly global university committed to meeting the needs and ambitions of a culturally and internationally diverse range of students, by providing challenging academic programmes underpinned by innovative research, scholarship and professional practice. We prepare our students to be professional, skilled individuals fitted for the modern world, committed to lifelong learning and able to contribute to the communities in which they live and work.
Read less