MA International Relations and World History
Home ›
MA ›
MA International Relations and World History
Read more about this program on the school's website
Program Description
Key information
Degree: International Relations and World History MA
Types of study: Full-time / Part-time
Duration: 12 months full-time; 24-48 months part-time
Start date: September 2020
©University of Nottingham Ningbo China
Course overview
About the course
This programme gives students the opportunity to develop a deep understanding and analytical excellence in a field of increasing importance, international studies. A wide selection of modules allows them to specialise in a variety of different areas. Dissertations are written under the guidance of experienced academic staff, which includes world-leading experts on China, Japan, the UK, the US, the Middle East, Africa, Europe and Russia, among others, specializing in sub-fields such as security studies, international relations theory, women's issues, international history, development, environmental policy, foreign policy analysis, quantitative methods, international economics, etc. Students will be introduced to key concepts and theories, will be trained in research methods, and gain access to (and we hope to contribute to) the latest research in international relations and world history.
Students can choose from a range of modules in international relations and international history, which include, in addition to subjects directly related to international relations and world history, modules in diplomacy/foreign policy analysis, development, international economics, international organisations, European politics, regionalism, traditional and non-traditional security, environmental policy, area studies (including China, Russia, the US, Europe, the UK, Japan, the Middle East, Africa, etc.) and of course research methods, to name a few. Small seminars allow students to develop their analytical skills, and oral and written presentation techniques, as well as their capacity to research, compile and produce thematic reports, essays, and papers.
Case studies and occasional simulation games deepen students' theoretical and practical knowledge of negotiations, diplomacy, world history and international relations. Your dissertation will give you the opportunity to prove the breadth and depth of your knowledge.
Course structure
The MA in International Relations and World History is offered as a one year programme (twelve full months). This degree programme can also be taken in a part-time capacity for over two years. Students must take 180 credits to graduate, comprised of 60 credits each semester (four modules each semester at 15 credits each), plus 60 credits for the dissertation (normally done over the summer for full-time students). Students must pass the taught components before proceeding to the dissertation.
Year 1
Compulsory
Students must take all modules in this group
INTS4001 Core Concepts in International Relations and World History (20 Credits)
INTS4013 Research Methods (Qualitative) (20 Credits)
INTS4009 International Political Economy (10 Credits)
INTS4010 Dissertation (60 Credits)
Restricted Group 1
Students must take 50-70 credits from this group.
INTS3001 China and the World (20 Credits)
INTS4018 Democratisation in Asia, Africa and Latin America (10 Credits)
INTS4022 Politics and History of the Middle East (10 Credits)
CHIN4045 Government and Politics of China (10 Credits)
INTS4015 Contemporary Security: Theories and Issues (10 Credits)
INTS3007 China in International Relations (20 Credits)
INTS2002 International Organisations (20 Credits)
INTS4020 A Global History of Empire - the British Empire (10 Credits)
Restricted Group 2
Students may choose 0-20 credits from this group
For language modules, only 10 credits maximum can be taken per semester (max total 20). Language modules are only available for non-native speakers; level decided at registration.
LANG1084 Mandarin Listening and Speaking 1A (10 Credits)
LANG1085 Mandarin Listening and Speaking 1B (10 Credits)
LANG1062 Inter-Faculty French 1A (10 Credits)
LANG1063 Inter-Faculty French 1B (10 Credits)
LANG1068 Inter-Faculty Spanish 1A (10 Credits)
LANG1069 Inter-Faculty Spanish 1B (10 Credits)
LANG1066 Inter-Faculty Japanese 1A (10 Credits)
LANG1067 Inter-Faculty Japanese 1B (10 Credits)
LANG1064 Inter-Faculty German 1A (10 Credits)
LANG1065 Inter-Faculty German 1B (10 Credits)
LANG1070 Inter-Faculty Korean 1A (10 Credits)
LANG1071 Inter-Faculty Korean 1B (10 Credits)
Detailed module information can be found through the online module catalogue. Please enter the module title or code when searching.
Please note: This degree structure and modules may be subject to change.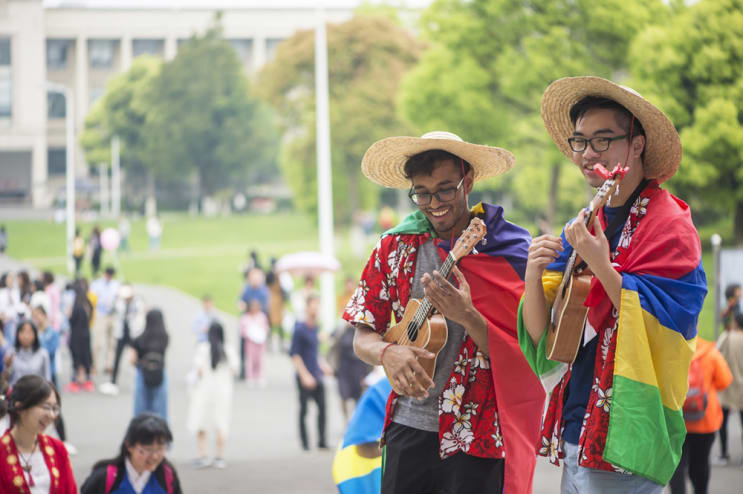 ©University of Nottingham Ningbo China
Careers and further study
Our Careers Development Service will work with you to explore your options. They will invite you to attend recruitment events featuring potential employers and will suggest further opportunities, such as relevant work experience placements and skills workshops.
Scholarships, sponsorships and bursaries
To encourage academic excellence, we offer a comprehensive and expanding range of full and partial scholarships.
Historically over 40% of our postgraduate students were awarded scholarships for their entry. Once enrolled, current students are eligible for additional merit and/or performance-based scholarships and awards, which covers approximately 32.5% of our whole student body.
Entry requirements
Open to graduates of all subjects.
This mater programme requires the student to have a bachelors degree(or international equivalent) from a recognised institution at the same standard as UK university's 2:1 (upper second class honours degree or international equivalent).
English language requirements
Applicants whose first language is not English, and who do not have a degree from a UK institution, are required to have the following English language qualifications before they can register on an academic programme: IELTS 6.5 (with no less than 6.0 in writing) Or PTE Academic 62 (minimum 55) IELTS: 6.0-6.5: a pre-sessional course in CELE https://www.nottingham.edu.cn/en/cele/pre-sessional/programme.aspx Applicants from certain countries may have these requirements waived subject to the University of Nottingham Policy for Waiving English Language Entry Requirements at http://www.nottingham.ac.uk/academicservices/documents/qmdocuments/policy-for-waiving-english-language-requirements.docx
Last updated Aug 2020
Keystone scholarship
Discover the options our scholarship can give you
About the School
The University of Nottingham Ningbo China (UNNC) was the first Sino-foreign university to open its doors in China. Established in 2004, with the full approval of the Chinese Ministry of Education, we ... Read More
The University of Nottingham Ningbo China (UNNC) was the first Sino-foreign university to open its doors in China. Established in 2004, with the full approval of the Chinese Ministry of Education, we are run by the University of Nottingham in partnership with Zhejiang Wanli Education Group, a key player in the education sector in China.
Read less