MA International Management programme
Home ›
Master ›
MA International Management programme
Program Description
International Management programme
Why this programme?
Our programme is for those who want to build a career in business management, become a professional in the field of business planning, human resource management and digital marketing. Master's programme is a great choice for students who have a Bachelor degree, not only in the economic field, but also in the sphere of engineering, natural sciences and social sciences.
What will you learn?
International Management programme of TSU gain knowledge and skills in the key business areas of management, business finance, digital marketing and sales, accounting and logistics. Students will be provided with the tools they need for starting, running, and managing any business in a successful manner.
After you've completed the programme, you'll be able to apply your knowledge, training and skills for:
· Business Management;
· Making investment decisions in new business dimensions and areas of activities;
· Effective project management;
· Offering optimal solutions in the fields of pricing, promotion and delivery of the goods, financial recourses and services involved in exchange processes.
Career Prospects
International Management programme of TSU is designed to prepare students for careers in management in all types of business, firms and governmental agencies at the federal, state, and local levels. You'll be able to work for managerial positions in major corporations dealing with the production, agricultural and industrial activities, banking and other financial services, as well as education services, medicine, IT-consulting, retailment, food service, etc.
Graduates in International Management programme of TSU can start their own business or return to a family farm with specialized skills. Graduates find rewarding careers in the areas of corporate governance, customer service, computer applications, sales, finance and accounting. In addition, a number graduates are self-employed.
Programme Resume
Location: Russia >> Tomsk
Subject Area: Management
Degree Level: Master
Time frame: 2 years
Language: English
Starts in: September 2020
Price*: 296.200 RUB (4.700$ per 1 academic year)
Accommodation: 9.200 RUB (150 $ per one academic year)
Admission Requirments
Citizens and non-citizens of the Russian Federation including exchange students are welcome to apply:
Bachelor's degree or equivalent, duly legalized and notary translated into Russian language (a university transcript can be submitted at the stage of application);
Motivation letter (300-500 words);
Skype interview
Our students say
"It was my great experience in Tomsk State University. I would definitely recommend Tomsk State University to all students to take this University as a priority due to their professional and prompt manner of handling every aspect of my studying abroad experience".

Career Opportunites
Last updated Feb 2020
About the School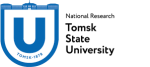 TSU is the oldest university in Russian Asia, in Siberia, that was founded in 1878 in Tomsk, Russia. It was the First Siberian Imperial University.
TSU is the oldest university in Russian Asia, in Siberia, that was founded in 1878 in Tomsk, Russia. It was the First Siberian Imperial University.
Read less