Program Description
Course overview
Our MA Interior Design course enables you to develop an individual approach to spatial design within a stimulating, creative and supportive environment.
We aim to produce better designers, who are better at complex design decisions, who are sensitive and ambitious practitioners able to work with an open mind.
At UCA we are committed to research-led practice. Designing through a process of experimental 1:1 prototyping, you will be expected to demonstrate expert knowledge in your chosen field of interest and mastery of your designed outcomes. Finally, you will design, construct and exhibit full-scale work that is a unique expression of the expertise you've developed with us.
This degree can be a launchpad to potential higher level interior design careers within an interdisciplinary field. Specialist areas you might choose to focus on in your projects include interaction design, VR, immersive events, retail or specialist fabrication. You can work with interesting heritage and sustainability questions, engaging with both contemporary technology and traditional craft, digital and 'real' space.
You will be taught through one-to-one tuition, seminars and self-directed study in designated studio space, engaging with academics with expert research intelligence. There are regular reviews with visiting critics from across relevant industry sectors and international study visits.
Students will work with expert technical staff in specialist workshops, committed library and learning staff and a careers team to support access to professional experience.
Through a challenging journey improving research, conceptual, technical and communication skills, with excellent self-management, our graduates are well prepared to enter a global market.
Course details
Term 1
You'll be introduced to the University and the technical workshops and facilities available to you. The first term includes a range of lectures and seminars and you'll start to explore your creative practice.
Contexts and Methods
A series of lectures and seminars are used within this unit to address core thinking and practices in contemporary and historic architecture, fine art and design. An overview of key thematic debates, historic movements, concepts of cultural production, spatial perception and cognition, material tactility and embodied relations are outlined. These form a critical intellectual context for you to contemplate your particular research agendas.
Exploratory Practice
This unit provides an intensive first immersion into creative studio practice. It generates distinct individual modes and themes of enquiry that may subsequently inform the detailed development of a project proposal for the latter stages of the MA. It secondly introduces you to the complexities, demands and moments of failure inherent in self-managing and delivering ambitious fabricated spatial outcomes.
Term 2
During term two you begin developing your MA project, evaluating and testing out the aims of your proposal over a sustained period of self-directed study.
Project Development
Work undertaken during the 'Project Development' unit normally builds upon that initiated in previous units of the MA. It seeks to explicitly integrate stands of theoretical and applied or practical research into a considerably more resolved and advanced line of enquiry that can sustain the remainder of the MA project.
Term 3
In the third term of the course, you'll apply the knowledge gained through your research to create a final body of work.
Final Realisation
This unit is the culmination of the MA programme of study and so forms an exposition and practical manifestation of ideas, concepts, and degrees of sophisticated practice achieved. It should achieve a resolution to investigations initiated in all previous units and deliver a single body of work that demonstrates advanced conceptual, technological and practical capability.
Fees and additional course costs
Tuition fees
The course fees per year for 2020 entry are:
UK and EU students full-time - £8,000
International students full-time - £16,250 (standard fee)
International students full-time - £15,600 (full early payment fee)
Additional course costs
In addition to the tuition fees please see the additional course costs for 2020 entry.
These fees are correct for the stated academic year only. Costs may increase each year during a student's period of continued registration on course in line with inflation (subject to any maximum regulated tuition fee limit). Any adjustment for continuing students will be at or below the RPI-X forecast rate.
Fee discounts and scholarships
To support all of our current students and our recent UK and EU alumni to progress to the next level of study, we have developed a new range of fee discounts across a range of courses.
Read more about fee discounts
Facilities
Interior Design facilities include dedicated postgraduate open plan studio spaces, used for group tutorials and personal working. 3D workshop with machines for working in wood, metals, plastics and ceramics. Laser cutters, 3D printers and virtual reality lab on campus. Fully-equipped computer studio with Macs and PCs programmed with the latest software for design and animation.
What our students say
"UCA has proved to be a great choice for me; the skills that students acquire are highly sought after in industry and my MA, in particular, gave me a more rounded skill set than some, which was advantageous and helped to bring fantastic opportunities my way."
Sonny Cant, MA Interior Design
Course connections
On this course, you'll be exposed to a world of opportunities
Industry links
We've got extensive contacts across the range of interior design disciplines. Live projects, research analysis and feasibility studies will draw on our wide range of contacts and associations.
Connections include specialists in the related fields of audio-visual technologies, lighting design and interactive design.
Recent guest lecturers have included:
David Callcott, CADA Design, retail and leisure design consultants (London and Hyderabad, India)
Emma Vane, Production Designer for Atonement, the Harry Potter series, Tinker Tailor Soldier Spy, and Captain America: The First Avenger
Finlay White, ModCell, sustainable construction
Mick Pearce, award-winning international architect (Title: Bio-mimicry and the 3rd industrial revolution)
Phil Hughes, Ralph Appelbaum Associates, museum and exhibition designers (London, New York, Beijing)
Uwe R. Brückner, Atelier Brückner, exhibition design (Stuttgart, Germany).
Careers
Career opportunities exist within the design or architectural consultancies in retail, leisure, exhibition, office, hotel, residential and cruise ship design, as well as in the fields of design management, interior or film-set design.
Our course has a strong ecological focus with opportunities for engaging with both the theoretical and practical aspects of real-world sustainability.
Further study
You may want to undertake further study or research to specialise even more.
Entry requirements
UK entry requirements
An honours degree or equivalent qualification in the subject or a related discipline
and/or
Relevant work experience, demonstrating your ability to study at postgraduate level.
Consideration will also be given to applicants who can make a strong case for admission in relation to a particular project and can demonstrate their potential to satisfactorily complete the course.
International entry requirements
To view the equivalent entry requirements for your country please check our website.
Your portfolio
For this course, we'll require you to attend an Applicant Day and bring your portfolio for assessment. Further information on how to compile a portfolio and the specific requirements for examples of work to be included will be provided on the Applicant Portal after you've applied.
Last updated May 2020
About the School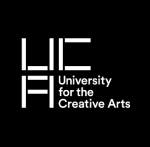 Oscar-winning filmmakers, world-renowned fashion designers, television presenters, celebrity jewellers and Turner Prize nominees are just some of the high-profile graduates from the University for the ... Read More
Oscar-winning filmmakers, world-renowned fashion designers, television presenters, celebrity jewellers and Turner Prize nominees are just some of the high-profile graduates from the University for the Creative Arts. As a specialist creative arts university, we have created a unique community for our students, where like-minded people can share in the creative process and inspire one another. Collaboration between courses is encouraged, with fine artists studying with budding filmmakers and fashion designers working alongside architects. In this way, our students benefit from exposure to a range of disciplines. Choosing to study with us will give you the freedom to discover your own personal style through a winning combination of industry-focused courses, state-of-the-art facilities, and inspirational expert staff.
Read less