Program Description
The MA Graphic Design programme explores the ever-changing landscape of graphic design to build critical understanding, individual design thinking processes, practical experience and insightful design solutions. The course offers areas of specialism in typography, branding, editorial and book design, and digital interactive experiences.
Course Highlights
We take a problem-solving approach to graphic design to explore contemporary practice through design thinking, insight and co-design processes and building expert collaborative networks. We are a diverse collective, working across project areas of typography and information design, brand identity and campaigns, new technology and digital experiences, design writing and insight analysis, sustainability and environmental issues, structural packaging and book design.
With the addition of this programme to our School of Art and Design, we intend for our graduates to become leaders in the field in the MENA region, contributing substantially to the development of the discipline through design authorship, critical debate, research and contemporary practice.
Programme Content
The majority of the programme will be centred upon developing and fully completing a substantial body of graphic design work towards an external public exhibition. This will be supported by research reports and regular presentations on the progress of the project. You will also address postgraduate research and critical debates in graphic design. You will gain the skills and experience to produce professional graphic design work in any industry, and the ability to independently plan, design, implement and evaluate graphic design projects from start to finish.
Developing Practice (30 Credits) - Compulsory
Critical Debates (30 Credits) - Compulsory
Vision and Authorship (30 Credits) - Compulsory
Advanced Research (30 Credits) - Compulsory
Major Project (60 Credits) - Compulsory
NordWood Themes / Unsplash
Teaching
The course is taught through a series of practical workshops as well as self-directed study and project-based learning. There will be no formal lectures as all course content will be embedded within workshop sessions. Specialist facilities have been developed on campus exclusively for this degree and you will be taught how to use them by a number of experienced staff.
Entry requirements
Entry onto this course requires an interview and a portfolio. Please speak to the Admissions Department for further information.
English Language Requirements (Postgraduate)
All programmes at Middlesex University Dubai are taught in English and applicants with previous education outside of English-speaking countries (such as the UK, the United States, Canada, England, Ireland, Australia, New Zealand), must demonstrate English language proficiency as follows:
IELTS Academic: 6.5 (minimum 6.0 in each band)
TOEFL Internet-based: 87 (21 in listening & writing, 22 in speaking and 23 in reading)
PearsonPTE Academic: 58
PearsonPTE General: Level 4
Future Careers and Employability
This course will prepare you for a diverse range of design careers within the creative industries such as graphic designer, picture editor, packaging designer, web designer, freelance designer and illustrator, brand designer, retail designer, art director and similar managerial positions. This course is also well suited to those looking to pursue careers in further research and teaching Graphic Design.
Last updated Feb 2020
About the School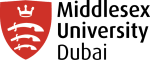 Middlesex University is a dynamic university with a reputation for innovation and excellence in teaching and research. Middlesex University Dubai is the first overseas campus of the internationally re ... Read More
Middlesex University is a dynamic university with a reputation for innovation and excellence in teaching and research. Middlesex University Dubai is the first overseas campus of the internationally renowned Middlesex University in London. The campus, which opened in January 2005, has over 3,000 students from over 100 nationalities and offers undergraduate and postgraduate programmes in a wide variety of subject areas. We are a truly global university committed to meeting the needs and ambitions of a culturally and internationally diverse range of students, by providing challenging academic programmes underpinned by innovative research, scholarship and professional practice. We prepare our students to be professional, skilled individuals fitted for the modern world, committed to lifelong learning and able to contribute to the communities in which they live and work.
Read less