Program Description
Course overview
As a student of our MA Fine Art course at Farnham, you'll be ready to question, be critical, be curious and be enthusiastic about testing the boundaries of what constitutes art practice in the 21st Century.
Throughout this MA, you'll critically evaluate your own work and the work of others and constantly develop your visual and conceptual thinking - all with the aim of establishing and refining a research project to be developed into either a practice-based or theoretically-led enquiry beyond graduation.
You'll test the relationship between your work and key historical and critical developments, and consider it within current societal and political contexts. You'll also have the opportunity, if you wish, to specialise within or across subject areas.
Our course also welcomes applicants who are looking to re-examine their current work and research.
MA Fine Art in Farnham is unique for its world-leading research and range of first-class facilities, including bronze foundry, printmaking studios, metals, wood and casting facilities and resources. We provide specialist studio spaces for both full and part-time students, and dedicated technical staff are on hand to support individual projects as well as introductions to workshop areas.
You'll be guided by a community of teaching staff comprising professional artists, curators and theorists, who will also actively promote you and your work in the wider world.
The department has a rich tradition in the teaching and exploration of fine art. All of the staff are research practitioners and many are world-leading, contributing to the wider development of knowledge within their specialist areas.
Length of study:
One year full-time or two years part-time
Course details
Term one
Critical Perspectives
Through a series of lectures, discussions in seminar sessions and written pieces, you'll examine the meaning of contemporary practice and methods of working, alongside students from the MFA Photography course.
Together, you'll learn about the range of theoretical and critical debates which have impacted significantly on recent contemporary practice. As well as understanding how these relate to political and social contexts, you'll also consider the materials you use, and how they might be placed in the wider culture.
Research and Practice
You'll devise an initial study proposal, in consultation with your tutors. While experimentation and open enquiry are encouraged, you'll need to present a coherent framework for this investigation, which will be critiqued, discussed and updated as the unit progresses. This will ensure your enquiry remains within and around the focus subjects of current critical debates. You'll also learn about how best to present your practice externally, as part of your development and growth as an artist.
Term two
Professional Practice and Negotiated Study
Rigorous deconstruction and analysis of your practice from Term 1 will enable you to find focus and identify an area of enquiry for you to focus on. From here, you'll begin to plan an Independent Project, which will form the foundation for your Final Major Project in the final term.
You'll be challenged to organise all aspects of the project, from concept to execution through to identifying an external artist-run space in London or the South-east to display it.
Term three
In the third term of the course, you'll apply the knowledge gained through your research to create a final body of work.
Final Major Project
The culmination of your studies throughout the course, we expect your Final Major Project – building upon your Independent Project - to reflect your identity, not only as an artist but as a researcher. You'll take ownership of and thrive in a chosen area of enquiry, from concept and theory through to practice and public presentation, and beyond as you take your practice further.
Fees and additional course costs
Tuition fees
The course fees per year for 2020 entry are:
UK and EU students full-time - £8,000
UK and EU students part-time - £4,000
International students full-time - £16,250 (standard fee)
International students full-time - £15,600 (full early payment fee)
Additional course costs
In addition to the tuition fees please see the additional course costs for 2020 entry.
These fees are correct for the stated academic year only. Costs may increase each year during a student's period of continued registration on course in line with inflation (subject to any maximum regulated tuition fee limit). Any adjustment for continuing students will be at or below the RPI-X forecast rate.
Fee discounts and scholarships
Fee discounts
To support all of our current students and our recent UK and EU alumni to progress to the next level of study, we have developed a new range of fee discounts across a range of courses.
Read more about fee discounts
Facilities
Fine Art facilities include extensive studio spaces and access to workshops for painting, 2D and 3D laser cutting, sculpture, wood and plaster and mould-making. There are also print studios with relief and block printing, plate or stone lithography, intaglio, letterpress, photopolymer plate printing, and screen-printing. There's also access to film and photography studios and performance workshops. Our modern library has a wealth of books, journals, special collections and online resources.
What our students say
"I was really impressed by UCA Farnham. The environment was great and quickly felt like home, in fact, it still does! The facilities and expertise of staff across all disciplines were exactly what I needed to progress my project to the next stage of realisation."
Shamini Holloway, MA Fine Art
Course connections
On this course, you'll be exposed to a world of opportunities
Industry links
Our industry links are with publicly-funded galleries and commercial London-based spaces.
We also enjoy links with regional artist groups and artist-run spaces throughout the South East. We work closely with a number of public art projects throughout the region.
Throughout your studies, you'll be supported by professional artists, curators and theorists. The department has a rich tradition in the teaching and exploration of fine art, and many of our staff are research practitioners, contributing to the wider development of knowledge within their specialist areas.
Careers
Graduates from this course go on to work as:
Professional artists
Curators
Arts administrators
Community artists
Technicians
Lecturers and teachers.
Further study
You may also wish to progress onto a PhD or MPhil research degree.
Entry requirements
UK entry requirements
An honours degree or equivalent qualification in the subject or a related discipline
and/or
Relevant work experience, demonstrating your ability to study at postgraduate level.
Consideration will also be given to applicants who can make a strong case for admission in relation to a particular project and can demonstrate their potential to satisfactorily complete the course.
International entry requirements
To view the equivalent entry requirements for your country please check our website.
Your portfolio
For this course, we'll require you to attend an Applicant Day and bring your portfolio for assessment. Further information on how to compile a portfolio and the specific requirements for examples of work to be included will be provided on the Applicant Portal after you've applied.
Last updated May 2020
About the School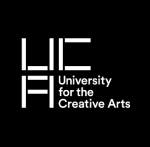 Oscar-winning filmmakers, world-renowned fashion designers, television presenters, celebrity jewellers and Turner Prize nominees are just some of the high-profile graduates from the University for the ... Read More
Oscar-winning filmmakers, world-renowned fashion designers, television presenters, celebrity jewellers and Turner Prize nominees are just some of the high-profile graduates from the University for the Creative Arts. As a specialist creative arts university, we have created a unique community for our students, where like-minded people can share in the creative process and inspire one another. Collaboration between courses is encouraged, with fine artists studying with budding filmmakers and fashion designers working alongside architects. In this way, our students benefit from exposure to a range of disciplines. Choosing to study with us will give you the freedom to discover your own personal style through a winning combination of industry-focused courses, state-of-the-art facilities, and inspirational expert staff.
Read less