Read more about this program on the school's website
Program Description
Our one-year MA Filmmaking degree is perfect for students looking to pursue advanced practical filmmaking training while also learning the skills to contextualise their creative choices through critical thinking.
Our distinctive approach to film education provides students with hands-on training, from industry professionals, across six filmmaking disciplines - directing, producing, editing, screenwriting, cinematography and sound. This intensive training across multiple roles means graduates leave LFA as well as rounded filmmakers who can excel in their chosen field while remaining agile within a collaborative industry.
The quantity of films made, together with career-focused research, ensures students produce a substantial showreel of work ready to make their mark as a world-class filmmaker.
"The London Film Academy gave me the opportunity to meet important players in the industry. They have always been there to help me find my way and develop my knowledge, even after the course had come to an end." Jean-Philippe Gossart, Filmmaking Diploma Graduate - 'Star Wars: The Last Jedi', 'Fantastic Beasts: The Crimes of Grindelwald', 'Justice League'
MA Filmmaking Key Features
Intensive and in-depth practical training in the key disciplines of filmmaking
All course materials and film budgets are included in course fees
Training with experienced film & TV industry tutors and guest speakers
Masterclasses and Q&As with prominent filmmakers
Direct access to the industry with an expenses-paid trip to a leading UK film festival
Shoot on Super 16mm film and high-end digital cameras
Development of pitching technique and other important soft skills
Advanced critical thinking to inform your filmmaking practice
Excellent student-to-tutor ratios
Focus on future career and employability
Are you ready to push your filmmaking ability?
We're looking for creative individuals who can demonstrate a strong instinct for the grammar of visual storytelling as well as a passion for a professional career in filmmaking. You must be self-motivated, thrive in a collaborative environment and be willing to challenge your perceptions of your chosen specialisation and the landscape of film.
* * * * * * * * * * * * * * *
LFA is a registered higher education provider with the Office for Students (OfS) and listed on their Register, meaning that we meet the OfS requirements for academic standards, course quality, student support, and student protection.
This course is validated by the University of Derby. As a partner student, you will be granted access to the University's online learning environment 'University of Derby Online (UDo)' where you will be able to access programme resources related to your programme, the University's library and your grades.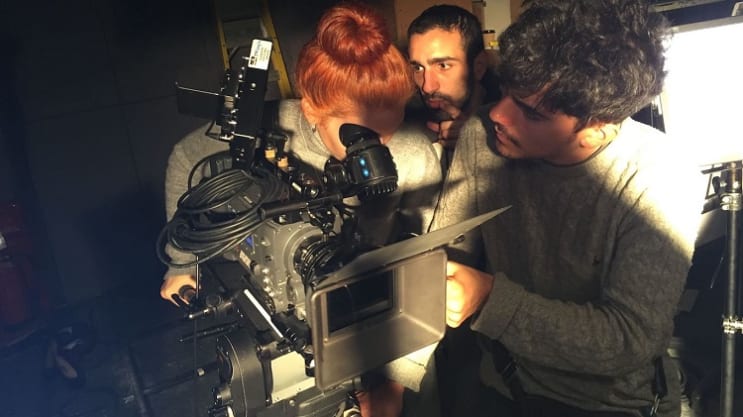 ©London Film Academy
Course Overview
Duration: 1 year (12 months, including holidays)
Intakes: September each year
Hours: 30 per week (plus additional hours, including evenings and weekends)
Our ethos is to learn by doing and using both Super 16mm and high-end digital cameras, such as Arri Alexa series, we will facilitate as many film productions as possible to improve your showreel, build your career path and further your understanding of the industry at an advanced level.
The research focus of this practical master's centres around your individual career progression and will equip you with the skills to employ critical thinking and how it influences your chosen specialism, as well as the ability to confidently engage in debate around the landscape of film. You will further your theoretical understanding of the craft of filmmaking and contextualise it through practice. By doing so you will cultivate new research and development skills that will enable you to create films with depth, addressing issues, ideas and established structures that will be important to you throughout your career. We pride ourselves on our pioneering approach - our mission is to produce world-class filmmakers who can bring compelling stories to life.
Module One: Practical Filmmaking
This module is dedicated to learning key areas of screenwriting, directing, cinematography, editing and sound. Students develop analytical skills to contextualise their work and take part in a range of hands-on workshops. This phase of the course culminates in a collaborative project, which allows students to experience each role within all the given disciplines, broadening their knowledge and helping them to identify any area(s) to develop further.
Module Two: Collaborative Film Project
Students will work on several complexes, team-based film projects in different roles to further enhance their skills in specific subject areas. Students learn to pitch and present their work in an industry framework and engage with existing material to develop their aesthetic sensibilities and strengthen their own practice. Students use professional equipment and are supported throughout the creative process where they receive constructive feedback by industry professionals.
Module Three: Research by Practice
The final module has a professional and career focus and looks at students' next steps and employability. It also enables students to contextualise their filmmaking within the relevant critical framework and  adhere to sound ethical principles. Students will design and undertake a personal research project (a negotiated dissertation), aligned to their professional ambitions. These dissertations can take the form of a written or visual piece and can include work placements and scripts as research.
Additionally, our MA students attend events, screenings, and a leading film festival as part of the course, providing an opportunity to gain tangible, practical experience in a nurturing industry environment and gain first-hand insight on the current industry trends and practices. This course will run hand in hand with other LFA screenwriting courses giving students the opportunity to collaborate and build a lasting network of creative peers.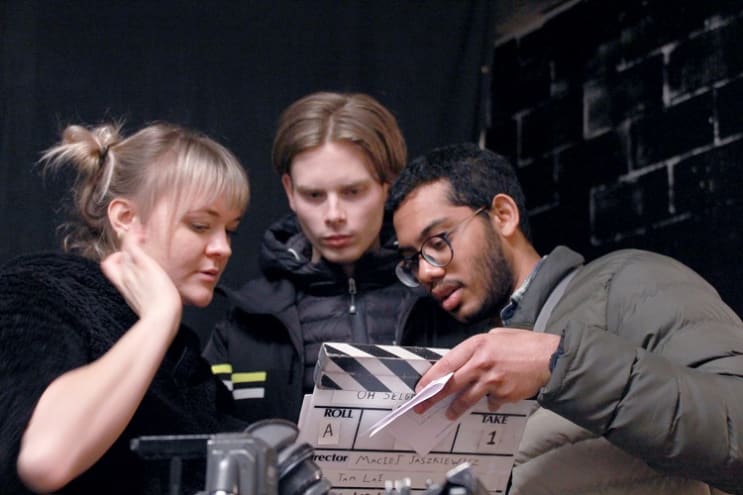 ©London Film Academy
Fees & Funding
Exclusive 2020 launch fee: The full MA Filmmaking 2020 fee is £19,500* (inclusive of film production budgets and there are no hidden additional costs). For graduates progressing from the BA (Hons) Filmmaking degree at LFA, the 2020 fee is £17,500*.
Deposit: Successful applicants will then be issued with an offer letter. Upon acceptance of their place, applicants will be required to pay a non-refundable deposit of £4,500. The balance of course fees will need to be paid in accordance with the LFA Terms and Conditions.
Application fee: £50.
*Fee subject to annual review
Entry Requirements
Applicants should normally have the following:
A good first degree (a Bachelor's degree with Honours) or equivalent
Not a graduate? We welcome applications from students with experience who can demonstrate an ability to study at postgraduate level
Language requirements: IELTS 6.0 overall, no band below 5.5 (or equivalent). You are not required to submit proof of English language if you have completed an undergraduate degree in the UK or in another majority-English speaking country.
To begin your application process for a place on this course please apply via the Apply Now & Course Dates section on our website.  As soon as we've received your application we'll send you a confirmation email containing information on the next steps. Please check your 'Junk Mail' folder if you appear to have not received this email.
Entry materials - what do you need for your application?
LFA application (completed online)
Example(s) of your filmmaking. Include links to your

digital portfolio or
video showreel or
short film script

CV/Resume
Personal statement (up to 750 words) that outlines

your motivations
your background and filmmaking ambitions
why this course, and LFA as an institution, is the right choice for you

Education certificates (degree-level qualifications only)
Two references: academic or professional
Scanned copy of your passport
If you meet our entry requirements, we offer an interview where we discuss your portfolio and motivations - we are looking for creative filmmaking ability/potential as evidenced through visual and written material. The interview will help you showcase your understanding and interest of the film, as well as your awareness of the key elements of the course and a clear idea as to how completing the course, will help you achieve career ambitions.
Course Dates
28 September 2020 - 10 September 2021

Course Fee: £19,500

27 September 2021 - 12 September 2022

Course Fee: £19,500
*Fee subject to annual review
Last updated Aug 2020
About the School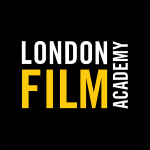 Whether you're an undergraduate, postgraduate, or professional looking for a specialised short course, London Filme Academy covers every filmmaking discipline from fiction to documentary-making. Recog ... Read More
Whether you're an undergraduate, postgraduate, or professional looking for a specialised short course, London Filme Academy covers every filmmaking discipline from fiction to documentary-making. Recognised as a centre of excellence, we are reviewed by the Quality Assurance Agency for Higher Education, and partner with some of the most original and forward-thinking voices in the creative industry today.
Read less