Program Description
The MA Fashion Media Strategy is a unique industry-focused programme that allows you to learn about the commercial, business and strategic aspects of fashion media along with business management and leadership for media industries. Drawing on from Condé Nast's knowledge and expertise, the course delivery is split between taught academic content, practical and technical workshops, independent research as well as masterclasses from leading industry professionals in exploring the creative, commercial and critical dimensions of print, digital and experiential fashion media.
The programme is situated within the fashion media portfolio of the college that also includes master's courses in Fashion Journalism and Creative Direction for Fashion Media. Students on MA Fashion Media Strategy will share some taught sessions and project with the other fashion media masters in order to nurture collaboration and to ensure that students acquire a holistic understanding of fashion media industries.
The purpose of the programme is to provide opportunities for you to become an effective practitioner in your chosen field within fashion media. The course aims to develop key transferable skills in communication, critical thinking, reflection as well as project management in preparing you to innovate and push the boundaries as a fashion storyteller, media business leader or visual communicator.
The Condé Nast College of Fashion & Design has a strong focus on preparation for industry. The programme aims to support an effective transition from study to employment, clearly connecting theoretical topics and academic study to contemporary industry practice. Students will become familiar with life-long learning approaches that will allow them to continue to advance their knowledge and understanding and develop new skills to a high level after graduation.
The Condé Nast College of Fashion & Design has a strong focus on preparation for the industry. The programme aims to support an effective transition from study to employment, linking theory and academic study to industry practice. You will become familiar with real-industry situations that will allow you to continue to advance your knowledge and understanding, and to develop new skills to a high level after graduation. During the course, you also have an opportunity to complete a 4-week relevant work experience as part of your professional development.
This MA is an internationally recognised qualification validated by the University of Buckingham, worth 180 credits at QCF level 7.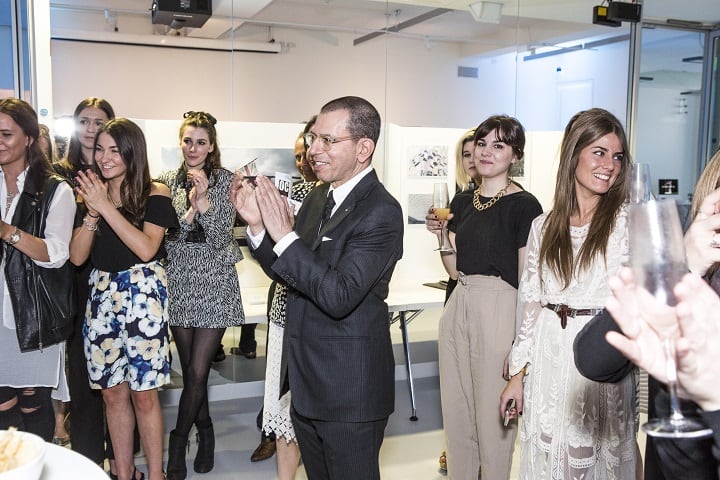 About the Course
The programme is structured as four 10-week terms. The first three are taught and the final term is dedicated to independent study to complete the final projects and a thesis. The programme structure consist of modules that are shared across all media programmes that focus on research skills and building critical awareness of current issues as well as developments in the fashion and media industry along with programme specific modules that enables you to acquire technical and practical skills aligned with your careers goals.
Course Structure
MA Fashion Media Strategy focuses on the commercial, strategic and business aspects of running a media company. It is suitable for those with a business or media degree who would like to pursue a career in management within the fashion media sector. Modules on the programme are:
Critical Research: Understanding Audiences
The purpose of this module is to provide you with an overview of the range of research methods, approaches and tools that are vital for developing an insight into audinces. The module will cover philosophy of research, ethics, primary and secondary research methods, how to analyse, evaluate as well as disseminate research findings. The module will consider research in a range of contexts relevant to the media industries and enable you to understand the relationship between theory and practice.
Fashion Media Futures
In order for fashion media to stay agile, it is important that companies, brands, publications and indeed individuals are aware of the issues as well as opportunities relevant for the industry now and in the near as well as distant future. As part of this, you will be introduced to skills of evaluating how societal, technological, political and economic change and how these impact fashion media. In teams consisting of students from different media programmes, students will collaboratively respond to emerging trends and to create new solutions that capitalise on this.
Business & Management for the Creative Industries
This module allows you to examine the key business theory in organisational behaviour, exploring how fashion and media businesses operate, from niche independents through to corporate groups. In order to underpin this, you will be also introduced to developments of the creative industries in the late 20th and early 21st century. Characteristics of managerial/leadership practice in creative fields, exploring the integration between the creative industries, the digital economy, and creative leadership will be explored.
Media Branding & Business Development
During this module, you will learn about the publisher's role and the commercial aspects of the magazine industry, examining how magazines operate as profit-making businesses. The impact of digital channels and 'new media' on traditional print media channels and revenue streams will be examined in order to prepare you for the challenges of the industry. You will be taught the principles of marketing and branding and how these can be applied in fashion media.
Final Masters Project
During this module, you will create a practical outcome aligned with your programme and identified career focus. You might approach this as an opportunity to create a portfolio of work, initiate a live or simulated industry project or take an entrepreneurial approach by creating a project that you might continue to pursue after finishing the degree.
Key features of the MA programme:
Opportunity for a 4-week work placement
An arrangement of meetings with relevant professionals and departments within Condé Nast to support the research for the final project/thesis
Access to the company archives and library at Vogue House
This intensive programme is full-time over one year with a mix of taught sessions, work experience, directed study and independent research.
Careers
The Condé Nast College of Fashion & Design provides expert career advice to students and graduates, utilising our extensive industry contacts and preparing students for employment through live industry projects and work placements.
In recent years, technological developments have driven new opportunities in the sector and there is no longer such a distinct separation between fashion media and the physical trading of fashion goods. The removal of boundaries between the commercial selling of products and the creation of media content that explores and promotes fashion widens the scope of careers and fashion media professionals now move seamlessly between roles at magazines and positions with major fashion brands and retailers, making the focus of the MA relevant to an increasingly broad range of job opportunities.
Within fashion media specifically, the course is suitable for those keen to pursue careers as editors, publishers, managing editors, writers, stylists, art directors, and fashion photographers to name only a few. During the course, students will examine the roles outlined in magazine mastheads and the increasing opportunities in digital media.
Programme Structure
Term 1 - Winter
Fashion Media Futures

Critical Research: understanding Audiences

Term 2 - Spring
Business & Management for the Creative Industries
Term 3 - Summer
Media Branding & Business Development
Masters Final Project
Term 4 - Autumn/Winter
Optional work placement
This is a highly intensive full-time programme of study. Students attend classes in college for two days each week, with the remaining three days needed for the directed and independent study. It is not possible to approach the course of part-time study as students are expected to be available for classes, industry talks, tutorials and external activities Monday-Friday.
Course Dates
Online Induction – 7th December 2020
11 January 2021 - 06 December 2021
Course Fees
£28,368 (including VAT)
The tuition fee can be paid in instalments throughout the year.
There are no bursaries or funding options available for this course.
Entry Requirements
The standard entry requirements for this course is a BA honours degree, preferably at 2:2 or above, or an equivalent EU/international qualification. Applicants must be aged 18 years or older on the first day of the course.
Specific entry requirements for MA Fashion Media Strategy
A business-related degree or a general media degree.
For comprehensive information click here.
Last updated Jul 2020
About the School
The Condé Nast College is an important starting point for those who want to be tomorrow's stars of the fashion industry. With outstanding resources, modern facilities and access to experts from the wo ... Read More
The Condé Nast College is an important starting point for those who want to be tomorrow's stars of the fashion industry. With outstanding resources, modern facilities and access to experts from the worlds of fashion, style and luxury, the College prepares its students to work in all areas of this exciting and innovative industry.
Read less