Program Description
Course overview
Become a fashion designer and brand entrepreneur by creating your brand identity, fashion collection and commercial business strategy – and learn how to promote it for the International market on our MA Fashion Design course, taught at our Rochester campus.
Focusing on a collection you've already created, or starting from new – you'll develop your brand identity and transform your product range to match. You'll gain business insight, and explore ways to externalise your practice, all within a creative and supportive environment.
You'll have extensive resources to hand, including course-specific fashion studios, sewing and textile print workshops, as well as the campus-wide facilities, which include digital printing and photography studios.
You'll also benefit from the close connections we have within the fashion industry including exciting guest lecturers and mentors providing individual help and guidance.
Your studies will culminate in the creation and launch of your brand – the springboard to your career in the fashion industry.
Course details
Term one
In this first semester, you'll study two units concurrently.
Professional Fashion Practice
With your existing fashion range created through your undergraduate studies, or starting from new, you'll analyse and reflect on your research to identify the fashion brand you wish to develop. As part of a community of staff and students exploring design ideas, you'll develop your professional practice in a discursive, cross-disciplinary studio environment. As you develop your brand identity, you'll strengthen your CAD skills, identify target consumers and competitors, and modify your collection to fit your brand aesthetic.
Research and Critical Enquiry
Through research, critical enquiry and understanding of a range of cultural, social, economic and industry contexts, you'll underpin and enhance your brand development. A range of analytical tools and research methodologies will assist you as you investigate contemporary and future innovations in design, materials and processes. Market positioning, consumer research and brand identity will be explored, with an emphasis on critical thinking and reflection.
Term two
Collection Development and Consolidation
You'll apply your skills from term one to support and inform the design and modification of your fashion brand. Your body of work must be appropriate for an intended market, target consumer and season and should clearly demonstrate an evolving practice as a fashion designer and entrepreneur. An understanding of sustainability is an essential component of design development, and you'll collaborate with industry mentors to develop a commercial business plan. Working with external manufacturers, industry specialists, mentors and your tutors, you'll demonstrate key skills in design practice, range planning, manufacturing and industry collaboration.
Term three
Final Project Resolution and Brand Launch
The culmination of your studies, you'll develop your own business platform post-graduation, including a marketing strategy, and brand e-commerce website.
Fees and additional course costs
Tuition fees
The course fees per year for 2020 entry are:
UK and EU students full-time - £8,000
International students full-time - £16,250 (standard fee)
International students full-time - £15,600 (full early payment fee)
Additional course costs
In addition to the tuition fees please see the additional course costs for 2020 entry.
These fees are correct for the stated academic year only. Costs may increase each year during a student's period of continued registration on course in line with inflation (subject to any maximum regulated tuition fee limit). Any adjustment for continuing students will be at or below the RPI-X forecast rate.
Fee discounts and scholarships
To support all of our current students and our recent UK and EU alumni to progress to the next level of study, we have developed a new range of fee discounts across a range of courses.
Facilities
Our Rochester campus has a range of facilities to support you. On the course, you'll make use of our fashion studios, sewing workshops, textile print studios and study areas with technical support. There's also a modern library with a wealth of books, journals, special collections and online resources. The campus has additional facilities to support you including digital printing, photography studios and a media store for hiring digital and photography equipment.
What our students say
"I find that my tutors are extremely helpful and supportive. Being part of a creative university, there is a lot of great work that is exchanged on campus and this keeps me up-to-date with what is happening in all the different areas, which is really important to me."
Riddhi Masrani, MA Fashion Design
Course connections
On this course, you'll be exposed to a world of opportunities
Industry links
Taught by lecturers and sessional staff with direct experience in the fashion industry, our course has a number of high profile industry links, including:
Avery Dennison RBIS (UK): Global Retail Branding and Information Services
Twine-s (Israel): Technology company offering a revolutionary digital on-demand thread dyeing system and a digital dye-to-match colour application
Tasker Apparel (UK): Leading ethical garment manufacturer supplying independent fashion designers and brands
Fashion Scout: the UK's largest independent showcase for emerging and established design talent during London Fashion Week. Fashion Scout is renowned for championing, nurturing and showcasing creative design talent from around the globe.
Sessional staff
Phil Rowland - course leader
Alice Clarkson - Head of Global Trend at Avery Dennison; Insights & Brand Partnerships, Senior Editor, Print & Graphics at WGSN and Designer of Graphics & Prints: Criminal Brand.
Toby Benjamin - Creative Director of Spill The Tea Ltd Fashion Streetwear label 2018, Managing Director of Softwear Industries Ltd
Chris Gadd - Menswear Design Consultant, Senior Men's Designer at Marks & Spencer, Senior Designer at Hackett, Senior Menswear Designer at DAKS, Freelance Visual Merchandiser at HERMES UK Stores
Delyth Gadd - Senior Fabric & Trend Sourcing Manager at Debenhams PLC, Textile Industry specialist consultant at Premiere Vision UK, Trend Specialist at Textile Seoul, Textile Trend & Development Specialist at Marks & Spencer, Assistant Product Manager at Hacket, Cloth Development Buyer at DAKS.
Phil Jones - Design Manager at F&F Clothing (Tesco PLC), Menswear Design Consultant at Marks & Spencer, Creative Design Director at Peter Worth, Design Director at Focus International, Senior Menswear Designer at Full Circle, Senior Menswear Designer at River Island.
Further study
You may also like to consider further study at postgraduate level.
Entry requirements
UK entry requirements
An honours degree or equivalent qualification in the subject or a related discipline
and/or
Relevant work experience, demonstrating your ability to study at postgraduate level.
Consideration will also be given to applicants who can make a strong case for admission in relation to a particular project and can demonstrate their potential to satisfactorily complete the course.
International entry requirements
To view the equivalent entry requirements for your country please check our website.
Your portfolio
For this course, we'll require you to attend an Applicant Day and bring your portfolio for assessment. Further information on how to compile a portfolio and the specific requirements for examples of work to be included will be provided on the Applicant Portal after you've applied.
Last updated May 2020
About the School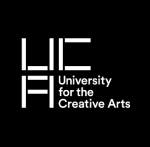 Oscar-winning filmmakers, world-renowned fashion designers, television presenters, celebrity jewellers and Turner Prize nominees are just some of the high-profile graduates from the University for the ... Read More
Oscar-winning filmmakers, world-renowned fashion designers, television presenters, celebrity jewellers and Turner Prize nominees are just some of the high-profile graduates from the University for the Creative Arts. As a specialist creative arts university, we have created a unique community for our students, where like-minded people can share in the creative process and inspire one another. Collaboration between courses is encouraged, with fine artists studying with budding filmmakers and fashion designers working alongside architects. In this way, our students benefit from exposure to a range of disciplines. Choosing to study with us will give you the freedom to discover your own personal style through a winning combination of industry-focused courses, state-of-the-art facilities, and inspirational expert staff.
Read less