MA Entrepreneurship: Fashion and Creative Industries
Home ›
MA ›
MA Entrepreneurship: Fashion and Creative Industries
Program Description
The MA Entrepreneurship: Fashion and Creative Industries provides a unique learning environment for students, introducing entrepreneurship and business thinking specific to fashion and the creative industries.
The programme offers students from varied backgrounds and disciplines the opportunity to be introduced to subjects such as; branding, marketing, business theory and practice, business planning and finance at postgraduate level. This masters degree utilises and hones any existing transferable skills, whilst also developing valuable knowledge of the business of fashion and the creative industries.
The course will draw upon the expertise of Condé Nast Publications and its wider network of industry partners in fashion and the creative industries. You will be supported in engaging with relevant professionals and organisations. The course combines independent research with taught academic content, alongside talks and master-classes from leading industry professionals.
Technical support will be provided to support and develop skills in Adobe Creative Suite, enhancing professional creative communication skills and facilitating the exchange of ideas.
The Condé Nast College of Fashion & Design has a strong focus on preparation for industry. The course will explore distinct opportunities for business start-ups within the entrepreneurial fashion and creative organisations, appealing to a range of students from different backgrounds.
This MA is an internationally recognised qualification validated by the University of Buckingham, worth 180 credits at QCF level 7.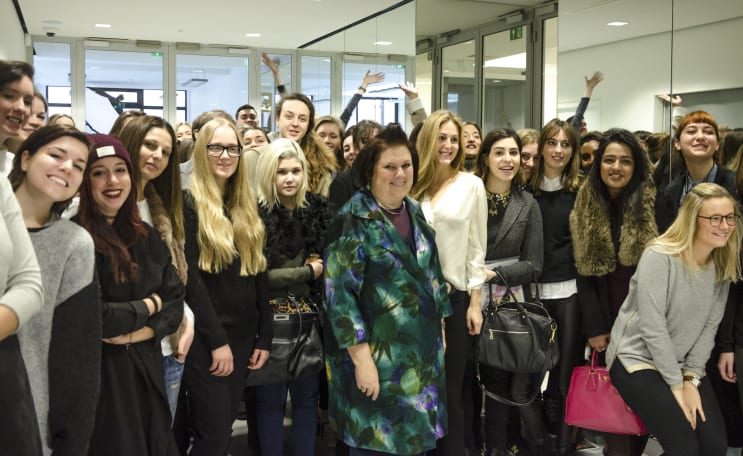 Course Structure
This industry-focused programme aims to support and empower you to have the confidence to plan, develop and launch your own start-up business by the time you complete the course. You will be equipped with the relevant transferable professional skills and be capable of producing industry appropriate business propositions.
This is a broad and forward-thinking programme that examines a range of areas within the fashion and the creative industries. You are encouraged to identify opportunities in the market and propose your own business solutions using relevant innovative and traditional business start-up models and methods.
An emphasis will be placed on developing the right industry knowledge and highly practical business skills required for the establishment and development of a sustainable, contemporary creative business.
You will be supported in the development of an effective transition from student to the business owner (or employment), clearly connecting theoretical topics, business models, academic study and industry thinking with the contemporary world of business and entrepreneurship in the creative industries. You will become familiar with life-long learning approaches that will allow you to continue to advance your knowledge and understanding and develop new skills to a high level upon graduation.
Course Highlights
Access to professional industry mentors both from Condé Nast and the wider fashion industry
Access to professional industry mentors both from Condé Nast and the wider fashion industry
Option to launch your own business before you complete the course
Learn how to set up or develop your business using contemporary methods combining theory and practical professional skills
Outstanding Industry Speakers
Careers advice
Course Dates
28 September - 04 September 2021
Modules on the MA Entrepreneurship
Brand Communication & Marketing Strategy
This module introduces you to contemporary communication methods used within fashion and the creative industries to convey brand attributes. You will examine successful communication strategies used by brands and explore the varied formats, technologies and themes harnessed by brands to produce positive experiences for intended audiences. This module also provides opportunities for you to develop visual communication and the software skills required to create brand communication outputs to a high level.
Creative Entrepreneurship
This exciting module introduces you to the world of entrepreneurship, examining key considerations and challenges in the fashion and creative industries. You will also explore a range of entrepreneurial business models and theories. During this module, you will have the chance to evaluate and reflect on the attributes and qualities, as well as strategies, utilised by successful entrepreneurs and their value within global economies. While learning to recognise market opportunities in fashion and the creative industries, you will apply models of reflective practice to encourage you to recognise your own personal traits, qualities, skills and knowledge.
Critical Research: Fashion Markets & Creative Industries
Whilst studying this module, you will be introduced to a range of research methods, techniques and tools used to enhance critical thinking and analysis in order to foster your own personal opinions. This introduction of key theories along with academic discourse is essential in supporting you to underpin your creative practice whilst maintaining an academic focus.
Business & Financial Modelling for Creative Industries
This module aims to support you with the development of an effective and well-considered business plan that will attract funding/investment from suitable potential stakeholders and act as a guide for launching a new venture. The planning undertaken at this stage will underpin the final entrepreneurship project, when the concept will be developed further, in readiness for launch.
Final Entrepreneurship Project & Business Launch
This module provides you with the opportunity to combine theory and practice by bringing together all the knowledge you have gained throughout the course and applying it practically to the launch of a new business. By further developing and preparing to launch your own fashion/creative industries business, you will build significantly on the business ideas, market research, branding, and financial planning identified/conducted or created during the course. In addition to this, you will further develop your skills in project management and leadership.
During this module, you will develop your own individual briefs and clearly set out your project aims and objectives. You may choose to work in consultation with an external business partner or collaborator for which you will clearly define arrangements in agreement with project/module supervisors. All students will be given the option to have an industry mentor throughout this module.
Admissions and Entry Requirements
Entry Requirements
The standard entry requirements for this course are:
An honours degree, preferably at 2:1 or above, or an equivalent EU / international qualification.
Have a general idea for a business concept to develop during the course and launch in the future
Applicants must be aged 18-years or older on the first day of the course
Accreditation of Prior Experiential Learning (APEL)
Applications are welcome from people who do not meet the standard entry requirements if they can extensively demonstrate the skills and capacity necessary for academic study at postgraduate level. Relevant learning which has taken place through a range of experiences, often unstructured, personal and unconsciously gained, can be equal to learning undertaken by students following traditional courses through formal education. Exceptional applicants who do not meet the standard entry requirements may still be considered through APEL. The admissions and academic teams will consider each application that shows exceptional strengths and alternative evidence, which may include:
Work experience
Non-accredited courses
Extensive reading and research
The quality, relevance and credibility of the personal statement
An exceptionally strong academic or professional reference
OR a combination of these
Each application will be considered on its own merit but we cannot guarantee an offer in each case.
English Language Requirements
IELTS level 6.5 or above or equivalent Secure English Language Test (SELT)
Full information can be found on our International Students webpage.
Selection Criteria
We select applicants according to potential and current ability in the following areas:
Can demonstrate a strong personal identity
Shows potential to benefit from the course
Has excellent communication skills
Demonstrates motivation and commitment
How to apply for the MA Entrepreneurship Programme
All applicants are required to complete the online application form using the Apply Now button.
To join the course, you are not required to have a fully-formed business idea – part of the course is research and development of an idea for new business.
However, if you already have a business idea, please provide a basic overview of the concept as part of your application.
Successful applicants will be invited to an interview with a member of the academic team.
For comprehensive information visit the college website.
Careers and Professional Development
Although the focus of the MA is on entrepreneurship and encourages students to launch their own business, the transferable skills that will be gained are also highly relevant to an increasingly broad range of job opportunities driven by a fast-moving and changing market place in both fashion and the wider creative industries. Many employers value entrepreneurial traits when recruiting for new staff in these highly creative and visionary industries.
Possible career options alongside launching your own business include:
Business Director
Business Management
Marketing
Branding
Buying
Merchandising
Retail Management
The unique positioning of the College and range of industry contacts provide opportunities you to pursue work experience placements and internships in relevant career areas. The College careers advisors are always on hand to support you with your aspirations during and after the course. Not only does the College have contacts within the Condé Nast Publications and Condé Nast International networks, it also holds links to major fashion houses and other premier lifestyle and creative businesses.
Fees and Funding
£28,368 (including VAT)
Paying the Course Fee:
In order to confirm and secure a place on this course, students will be asked to pay a deposit in the amount of £1,200 at the point of receiving an offer from us.
UK/EU students can pay the tuition fee in instalments throughout the year.
International students will be asked to pay their course fee in full in advance of arriving at The College and prior to the issue of CAS.
Bursaries and Alternative Funding:
There are no bursaries or funding options currently available for this course.
Additional Course Costs:
There is an optional study trip abroad that is not covered by the course fee. This takes place in spring and further information is provided at the outset of the course.
Studying and Living in London
For information on studying in London and what this could cost, please visit our Living in London webpage.
For information on accommodation while you study at the Condé Nast College, please visit our Accommodation webpage.
Why Study With Condé Nast College?
You will be studying this course with the only UK fashion education provider that operates from within the fashion industry. This unique environment provides you with an inside out perspective on learning how to set up a business, how businesses in the fashion and the creative industries operate, as well as having access to a range of experts in their fields.
With weekly guest speakers representing a broad range of professions within the fashion and creative industries, you will be learning directly from highly experienced academics and practitioners.
Your Campus
Condé Nast College is situated in a state-of-the-art building in the heart of London's creative and cultural hub Soho. Surrounded by numerous film, fashion and media houses provides students with unrivalled opportunities for professional networking and cultural experiences. The College is only a 10-minute walk away from the Condé Nast International Headquarters, as well as the iconic, Vogue House, which our students visit as part of their exposure to the professional world.
Who teaches at Condé Nast College of Fashion?
The academic team at Condé Nast College provide a varied background and knowledge base of the wider fashion industry. Individual links and continued study provide constant updates from within the fashion industry sector and beyond. The culture and style of teaching are designed to enhance personal perspectives on the fashion industry and to question fashion communication, its methods and future whilst supporting and developing individual skill sets and styles.
During your course, you will also be taught by a range of our academic staff as well as industry guests and visiting lecturers.
Some of our previous industry speakers included: Tommy Hilfiger, Tory Burch and Victoria Beckham to name a mere handful.
Last updated Mar 2020
About the School
The Condé Nast College is an important starting point for those who want to be tomorrow's stars of the fashion industry. With outstanding resources, modern facilities and access to experts from the wo ... Read More
The Condé Nast College is an important starting point for those who want to be tomorrow's stars of the fashion industry. With outstanding resources, modern facilities and access to experts from the worlds of fashion, style and luxury, the College prepares its students to work in all areas of this exciting and innovative industry.
Read less