Program Description
Course details
Explore your passion for contemporary literature and the way it can be used to help our understanding of society. You will examine current developments and critical issues in the past 30 years of literature on a course that provides an international and cross-cultural outlook.
Whether your interests lie in the postcolonial world or you have a fascination with women's writing or contemporary gothic literature, this challenging course will allow you to study recent volumes of poetry, research cultures and explore novels and films relating to current debates. You will use key theoretical models and concepts to gain a greater understanding of how we study literature and the motivations and historical events that have driven the authors you choose to read.
Taught by a team with an international reputation for their research in diverse areas, ranging from Caribbean culture, history and literature to cultural representations of the 2007-08 credit crunch across literature, stage and screen, this course will expose you to new ideas and will encourage you to question them.
Research Excellence Framework 2014
Research Excellence Framework 2014: 38% of our research was judged to be world-leading or internationally excellent in the Communication, Culture and Media Studies, Library and Information Management unit.
Course Benefits
You will learn how to use a range of cutting-edge theoretical approaches to texts, while you will be able to draw upon the course team's research and teaching strengths in contemporary women's writing, postcolonialism and popular fiction.
You will acquire a well-informed, critical understanding of current developments, questions and critical issues in the field of contemporary literature and develop the transferable skills needed to undertake independent research into contemporary literature and associated criticism and theory.
Entry requirements
Requirements:Applicants should either have at least a second class honours degree in the cognate subjects of Humanities, Social Sciences, Law or Human Geography, at least a second class honours degree in a non-cognate subject supported by evidence of an aptitude for the subject applied for, or have equivalent experience or training, normally from within the work environment. All applications should be supported by a reference, either academic or professional. All applicants should satisfy our University English language requirements.
English Language Requirement: IELTS 6.5 overall with no skills below 5.5, achieving 7.0 in the written component of the test, or an equivalent qualification. The University provides excellent support for any applicant who may be required to undertake additional English language courses.
MATURE APPLICANTS
Our University welcomes applications from mature applicants who demonstrate academic potential. We usually require some evidence of recent academic study, for example, completion of an access course, however recent relevant work experience may also be considered. Please note that for some of our professional courses all applicants will need to meet the specified entry criteria and in these cases work experience cannot be considered in lieu.
If you wish to apply through this route you should refer to our University Recognition of Prior Learning policy.
Please note that all applicants to our University are required to meet our standard English language requirement of GCSE grade C or equivalent, variations to this will be listed on the individual course entry requirements.
Job Prospects
You will graduate with the expertise and confidence to add your voice to the latest literary criticism. You could decide to explore your chosen area further, get your findings published and work towards an MPhil or PhD, and then pursue a career in academia. Having built on and developed a range of transferable skills such as advanced planning and critical engagement, you will also be well prepared for a variety of careers in the civil service, teaching, journalism or publishing.
Editorial Assistant
Press Officer
Reader Development Librarian
Marketing Communications Executive
Careers Advice
Our dedicated Jobs and Careers team offers expert advice and a host of resources to help you choose and gain employment. Whether you're in your first or final year, you can speak to members of staff from our Careers Office who can offer you advice, from writing a CV to searching for jobs.
Fees & funding
UK & EU
The tuition fee for the year for students entering in 2018/19 is £5950. The amount you will pay may increase each year to take into account the effects of inflation.
International
The tuition fee for the year for students entering in 2018/19 is £11500. The amount you will pay is fixed at this level for each year of your course.
Facilities
Broadcasting Place
Officially one of the world's best tall buildings and a big talking point in Leeds, Broadcasting Place is home to our cultural studies and humanities courses. It offers a space for students to join an academic community that plays an active role in shaping contemporary debates about the future direction of those disciplines.
Online resources and collections
Whether you want to analyse accounts of 17th-century criminal proceedings from the Old Bailey, sift through more than 355,000 works of English and American poetry, prose and drama or explore the world's largest archive of 20th-century popular culture, our Library's online resources provide easy access to a range of diverse collections.
Library
Our Library is open 24 hours a day, seven days a week, every day of the year, providing you with access to specialist books and journals, learning spaces, computers, multimedia facilities and media equipment hire. Tens of thousands of our Library's digital resources, including ebooks, e-journals and databases, can be accessed online at a time and place to suit you.
Last updated Nov 2019
Keystone scholarship
Discover the options our scholarship can give you
About the School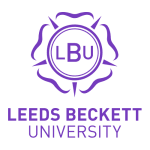 Studying at Leeds Beckett University you will be in the centre of an exhilarating community and be part of a social and economic environment that is shaping the city of Leeds for the future.
Studying at Leeds Beckett University you will be in the centre of an exhilarating community and be part of a social and economic environment that is shaping the city of Leeds for the future.
Read less