Program Description
Course overview
MA Digital Media, taught at UCA Farnham, is a practice-based course for students who want to extend their study or improve their employability in media-related fields in the UK or internationally.
There is an increasing demand for digital content for both existing and emerging media. Content makers have to understand how to apply their creative skills and ideas across a range of platforms and media and be adaptable to this fast-changing industry.
This course gives you the opportunity to further develop and extend your skills in this area and apply them across a range of media applications and offers you a choice of specialist areas, this might be in image-making or you might choose to gain a deeper understanding of the business of media and important areas such as intellectual property rights.
You will explore digital image-making and storytelling for the rapidly changing media landscape, learn about digital marketing and social media, create your own digital material and explore the media business or post-production techniques and emerging platforms.
Our recent and current industry projects include working with the Ghana Broadcasting Corporation in Accra, and with China Central Television in Beijing. This work with industry informs our teaching and training and our approaches to the study of the contemporary media context.
The study of film, photography and animation at UCA Farnham goes back to the 1960s, and the study of journalism to 1992. Masters level study at Farnham allows you to draw on this rich tradition of media and cultural studies and, at the same time, engage with the latest contemporary debates about media futures.
On the course, you'll also have the opportunity to work alongside students of journalism, filmmaking, photography, animation, games design, communication design and music composition. This range of creative disciplines gives you a fantastic and unique scope for cross-disciplinary thinking and working.
Course details
Term 1
You'll be introduced to the University and the technical workshops and facilities available to you. The first stage includes a range of lectures and seminars and practical workshops.
Critical Contexts
This unit introduces you to a range of research methods and tools appropriate to an advanced level of study in creative disciplines. It also outlines key issues and debates in contemporary visual and material culture.
Digital Storytelling
This unit introduces you to a range of practical digital image-making tools: Photography, video, graphics, typography, animation, sound, web design and writing content for online environments. To enable you to understand the visual and written content that the online environment demands.
Term 2
During this semester you study in-depth the business of media and engage with ideas about contemporary media.
Option 1: The Business of Media: Processes, Models, Law, Regulation
In this unit, you will examine the regulatory and intellectual property issues that you will need to engage with as a media professional and explore future funding models for media provision.
Option 2: Interactive Production and Platforms
Post Production and Platforms - in this unit you develop advanced editing skills and have introductory workshops to: visual effects, virtual reality, digital animation and data visualisation.
Industry Based Project
This unit offers you the opportunity to work on a real-world project set by the industry. This is likely to involve site visits and meetings with the people whose work you will be promoting.
Term 3
Final Major Project and Professional Practices
You'll research and develop an individual or group project of your choosing for a target audience. You will also create an online professional profile and develop a career plan.
Fees and additional course costs
Tuition fees
The course fees per year for 2020 entry are:
UK and EU students full-time - £8,000
International students full-time - £16,250 (standard fee)
International students full-time - £15,600 (full early payment fee)
Additional course costs
In addition to the tuition fees please see the additional course costs for 2020 entry.
These fees are correct for the stated academic year only. Costs may increase each year during a student's period of continued registration on course in line with inflation (subject to any maximum regulated tuition fee limit). Any adjustment for continuing students will be at or below the RPI-X forecast rate.
Fee discounts and scholarships
To support all of our current students and our recent UK and EU alumni to progress to the next level of study, we have developed a new range of fee discounts across a range of courses.
Facilities
Digital Media facilities include a three-camera TV studio networked to our broadcast newsroom equipped with Autocue, a recently upgraded gallery and green screen. Two radio studios and dedicated journalism Mac and PC suites equipped with the Adobe Creative Suite (including PremierPro, Audition, Photoshop and other useful tools) and industry-standard programme-building software. You also have access to an excellent campus library with an up-to-date stock of books, journals and television and radio programmes.
Course connections
On this course, you'll be exposed to a world of opportunities
Careers
This course prepares you for further research or study, or for a wide range of communication and media careers in:
Television post-production
Media content production
Marketing
Corporate communications
Campaigns and communication in the public and the third sector
Media enterprise and business start-ups.
Further study
You may want to undertake further study or research to specialise even more.
Entry requirements
UK entry requirements
An honours degree or equivalent qualification in the subject or a related discipline
and/or
Relevant work experience, demonstrating your ability to study at postgraduate level.
Consideration will also be given to applicants who can make a strong case for admission in relation to a particular project and can demonstrate their potential to satisfactorily complete the course.
International entry requirements
To view the equivalent entry requirements for your country please check our website.
Your portfolio
For this course, we'll require you to attend an Applicant Day and bring your portfolio for assessment. Further information on how to compile a portfolio and the specific requirements for examples of work to be included will be provided on the Applicant Portal after you've applied.
Last updated May 2020
About the School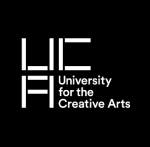 Oscar-winning filmmakers, world-renowned fashion designers, television presenters, celebrity jewellers and Turner Prize nominees are just some of the high-profile graduates from the University for the ... Read More
Oscar-winning filmmakers, world-renowned fashion designers, television presenters, celebrity jewellers and Turner Prize nominees are just some of the high-profile graduates from the University for the Creative Arts. As a specialist creative arts university, we have created a unique community for our students, where like-minded people can share in the creative process and inspire one another. Collaboration between courses is encouraged, with fine artists studying with budding filmmakers and fashion designers working alongside architects. In this way, our students benefit from exposure to a range of disciplines. Choosing to study with us will give you the freedom to discover your own personal style through a winning combination of industry-focused courses, state-of-the-art facilities, and inspirational expert staff.
Read less