Program Description
Course overview
Our MA Architecture course enables you to develop an individual approach to spatial design within a stimulating, creative and supportive environment.
Our MA Architecture course is a research-focused programme that advances your knowledge of built and occupied space. For us, architecture is not only concerned with buildings and construction details but also how people perceive and understand space at a fundamental level. Through engagement with 1:1 experimentation both digital and analogue in workshops and studio, and therefore increasing your specialist knowledge, you improve your ability to manage and deliver practical projects whilst engaging with technology and experimental design.
Our students speculate upon possible outcomes and alternate realities that have grown from contemporary technologies; we do so through an assimilation and expert application of making skills and artistic craft knowledge, which is readily accessible in the wider UCA community.
You'll have the opportunity to undertake individual thematic investigations which will incorporate prototyping, experimenting, re-designing and crafting. You will be expected to demonstrate expert knowledge of your chosen field of interest and complete mastery of your fabricated outcomes. At the end of the course, you'll become responsible for the design, construction and public exhibition of a full-scale piece of work that will act as a unique expression of the expertise you've developed with us.
Our School of Architecture maintains strong relationships with the professionals and organisations in the industry, and our course team are well-placed to provide you with industry links that could lead to further experience and career development and higher level study such as PhD.
Course details
Term 1
You'll be introduced to the University and the technical workshops and facilities available to you. The first term includes a range of lectures and seminars and you'll start to explore your creative practice.
Context and Methods
Through a series of lectures and seminars, the unit introduces a range of current debates that provide a cultural and intellectual context for the consideration of ideas in architecture, fine art and design, and encourages your active engagement with them. The course addresses inter-disciplinary issues across architecture, fine art and design, through the discussion of theory and the consideration of specific buildings, artworks and texts.
Exploratory Practice
This unit is concerned with the exploration of creative practice in order to inform the detailed development of your project proposal for the later stages of the course. It provides a structured framework to allow you to investigate the potential of methods, ideas and themes in your discipline.
Term 2
During term two you begin developing your MA project, evaluating and testing out the aims of your proposal over a sustained period of self-directed study.
Project Development
You begin developing your MA project, evaluating and testing out the aims of your proposal over a sustained period of self-directed study. At this stage of the course, the development of the project is guided and questioned through tutorials, group critiques and presentations. These support the progress of your work and provide rigorous critical appraisal from staff, fellow students and professional practitioners.
Term 3
In the third term of the course, you'll apply the knowledge gained through your research to create a final body of work.
Final Realisation
In this unit, you'll apply the knowledge gained through your research in a final body of work. You'll demonstrate the potential of your MA project, its subject and method to generate creative work that embodies knowledge. This process may require you to further develop appropriate technical and presentation skills and to understand their role in the production of meaning in the final work.
Fees and additional course costs
Tuition fees
The course fees per year for 2020 entry are:
UK and EU students full-time - £8,000
UK and EU students part-time - £4,000
International students full-time - £16,250 (standard fee)
International students full-time - £15,600 (full early payment fee)
Additional course costs
In addition to the tuition fees please see the additional course costs for 2020 entry.
These fees are correct for the stated academic year only. Costs may increase each year during a student's period of continued registration on course in line with inflation (subject to any maximum regulated tuition fee limit). Any adjustment for continuing students will be at or below the RPI-X forecast rate.
Fee discounts and scholarships
To support all of our current students and our recent UK and EU alumni to progress to the next level of study, we have developed a new range of fee discounts across a range of courses.
Read more about fee discounts
Facilities
Dedicated postgraduate open plan studio spaces, used for group tutorials and personal working. 3D workshop with machines for working in wood, metals, plastics and ceramics. Fully-equipped computer studio with Macs and PCs programmed with the latest software for design and animation. Laser cutters, 3D printers and virtual reality lab on campus.
What our students say
"The MA gave me the time and space I needed to explore my ideas and also the ability to be highly curatorial. I emerged with a comprehensive appreciation for the relationship between my architectural design work and the means by which it might be represented and disseminated, which equipped me perfectly to achieve at the industry level."
Adam Hiles, MA Architecture
Course connections
On this course, you'll be exposed to a world of opportunities
Industry links
Recent guest lecturers and visiting critics have included:
David Lomax of Waugh Thistleton Architects, London (structural and large-scale timber architecture)
CJ Lim, Professor of Architecture & Urbanism, The Bartlett School of Architecture, London (multi-disciplinary research in urban planning, architecture and landscape)
Piers Taylor of Invisible Studio (renowned award-winning architect, broadcaster and academic)
Matt Walker of Robert Hirschfield Architects, London (high-end residential architecture and interiors)
Charles Bain-Smith of the National Trust (heritage organisation and management agency).
Further study
Should you wish to continue with your studies, take a look at our other postgraduate architecture courses.
Entry requirements
UK entry requirements
An honours degree or equivalent qualification in the subject or a related discipline
and/or
Relevant work experience, demonstrating your ability to study at postgraduate level.
Consideration will also be given to applicants who can make a strong case for admission in relation to a particular project and can demonstrate their potential to satisfactorily complete the course.
International entry requirements
To view the equivalent entry requirements for your country please check our website.
Your portfolio
For this course, we'll require you to attend an Applicant Day and bring your portfolio for assessment. Further information on how to compile a portfolio and the specific requirements for examples of work to be included will be provided on the Applicant Portal after you've applied.
Last updated May 2020
About the School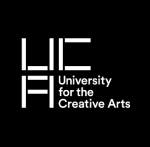 Oscar-winning filmmakers, world-renowned fashion designers, television presenters, celebrity jewellers and Turner Prize nominees are just some of the high-profile graduates from the University for the ... Read More
Oscar-winning filmmakers, world-renowned fashion designers, television presenters, celebrity jewellers and Turner Prize nominees are just some of the high-profile graduates from the University for the Creative Arts. As a specialist creative arts university, we have created a unique community for our students, where like-minded people can share in the creative process and inspire one another. Collaboration between courses is encouraged, with fine artists studying with budding filmmakers and fashion designers working alongside architects. In this way, our students benefit from exposure to a range of disciplines. Choosing to study with us will give you the freedom to discover your own personal style through a winning combination of industry-focused courses, state-of-the-art facilities, and inspirational expert staff.
Read less