Program Description
Course overview
Our MA Animation course builds on a long and illustrious history of animation education at UCA Farnham and will provide you with a strong interdisciplinary approach to the animated form.
This course attracts students from around the world and has a rich cultural mix. You'll approach animation as a broad discipline and be encouraged to engage with experimental and speculative approaches to making through a range of projects, which will culminate in the production of a high quality animated film.
You will come to this course as an established animator but will be encouraged to take risks, explore new techniques and develop your interests, and exchange, debate and discuss your ideas. You will be expected to produce original and exciting films, and explore the wide range of creative possibilities of frame-by-frame filmmaking.
Your studies will be supported by internationally-renowned staff on a course that is proud to have no house style and offers a wide range of technical resources covering the whole spectrum of contemporary animation practice.
Length of study:
One year full-time or two years part-time
Course details
Term one
Research and Critical Approaches: Animation
You will explore the different modes of research related to the creative process, developing your skills in translating imagined film concepts into treatments, project proposals, screenplays and other forms of communicating film ideas. The first part of this unit is delivered jointly with MA Filmmaking and other film courses.
Skills and Development: Animation Practice
Through a series of practical workshops and lectures, you'll cover pre-production and research, sound design, storyboarding and animatics, animation techniques and editing in order to further your own knowledge and technical ability within your own practice.
Term two
During term two you begin developing your MA project, evaluating and testing out the aims of your proposal over a sustained period of self-directed study.
Animation Production
The work undertaken in this unit should build on the research questions you initiated and explored in the previous units. This is the period within which you will undertake the majority of your production work for your film. Throughout the unit, you will be encouraged to critically reflect on the development of your project.
Term three
In the third term of the course, you'll apply the knowledge gained through your research to create a final body of work.
Project Delivery and Professional Context: Animation
This allows you to reflect on the work that you've produced so far, and resolve it into a form that allows for completion and delivery of your animated film.
Fees and additional course costs
Tuition fees
The course fees per year for 2020 entry are:
UK and EU students full-time - £8,000
UK and EU students part-time - £4,000
International students full-time - £16,250 (standard fee)
International students full-time - £15,600 (full early payment fee)
Additional course costs
In addition to the tuition fees please see the additional course costs for 2020 entry.
These fees are correct for the stated academic year only. Costs may increase each year during a student's period of continued registration on course in line with inflation (subject to any maximum regulated tuition fee limit). Any adjustment for continuing students will be at or below the RPI-X forecast rate.
Fee discounts and scholarships
To support all of our current students and our recent UK and EU alumni to progress to the next level of study, we have developed a new range of fee discounts across a range of courses.
Read more about fee discounts
Facilities
Animation facilities include stop motion studio with Dragonframe capture software, Canon DSLRs and professional camera stands, and stages pre-rigged with grips, stands and lights. Studios feature individual workstations, light boxes, Wacom tablets, line testers and batch scanners. Macs have the full Adobe Creative Suite as well as Toon Boom and Maya CG software, while there's also sound and editing suites on campus.
What our students say
"I learned a lot during my MA course at UCA Farnham. The emphasis was on our artistic development and forging our own path in the animation industry. I am now looking forward to putting my skills and knowledge into practice."
Marina Koleva, MA Animation
Course connections
On this course, you'll be exposed to a world of opportunities
Industry links
As a long-established degree course, we've built an extensive network of industry connections, giving us access to high-profile visiting lecturers, and to commissions, competitions and exciting work-placement opportunities. Our industry links include:
Aardman Animation
Studio AKA
Cinesite
The Mill
Create and Make
Agile Films
Blackdog Films Limited
HSI Film
Blink Productions
The Film Club
National Film and TV School
Passion Pictures (one of the leading studios in Europe)
Nexus
Moth Collective
UsTwo
Beakus
Fudge Animation
Careers
An enormous range of career opportunities exist in animation, and typical careers in the industry include:
Directors
Producers
Animators (in commercials, films, broadcast, online media and games)
Editors
Character designers
Production designers
Pre-vis artists
Compositors
Storyboard artists
Post-production.
As one of the pre-eminent animation courses in the world, our sought-after alumni have landed many exciting, high profile roles across the industry. These include:
Animators
CG animators
CG riggers
Designers
Directors
Model makers
Producers
Storyboard artists.
Many well-known studios have been set up by our alumni, including:
Animade
Astley Baker Davies (makers of Peppa Pig)
Film Fabrik
Honeycomb Animation (makers of Grizzly Tales for Gruesome Kids)
Mackinnon & Saunders
Moth Collective
Slurpy Studios
Tandem Pictures.
This gives our course very solid links to a vibrant industry, and we enjoy connections with a range of creative talent, studios and potential employers.
Further study
You may want to undertake further study or research to specialise even more.
Entry requirements
UK entry requirements
An honours degree or equivalent qualification in the subject or a related discipline
and/or
Relevant work experience, demonstrating your ability to study at postgraduate level.
Consideration will also be given to applicants who can make a strong case for admission in relation to a particular project and can demonstrate their potential to satisfactorily complete the course.
MA Animation is designed for candidates with previous animation experience. Our course encourages you to refine your practice, rather than introduce you to the principles of animation. If animation is new to you, we'd suggest enrolling on the Graduate Diploma in Art & Design before undertaking our MA programme.
International entry requirements
To view the equivalent entry requirements for your country please check our website.
Your portfolio
For this course, we'll require you to attend an Applicant Day and bring your portfolio for assessment. Further information on how to compile a portfolio, and the specific requirements for examples of work to be included, will be provided on the Applicant Portal after you've applied.
Last updated May 2020
About the School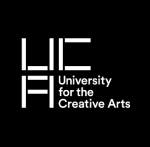 Oscar-winning filmmakers, world-renowned fashion designers, television presenters, celebrity jewellers and Turner Prize nominees are just some of the high-profile graduates from the University for the ... Read More
Oscar-winning filmmakers, world-renowned fashion designers, television presenters, celebrity jewellers and Turner Prize nominees are just some of the high-profile graduates from the University for the Creative Arts. As a specialist creative arts university, we have created a unique community for our students, where like-minded people can share in the creative process and inspire one another. Collaboration between courses is encouraged, with fine artists studying with budding filmmakers and fashion designers working alongside architects. In this way, our students benefit from exposure to a range of disciplines. Choosing to study with us will give you the freedom to discover your own personal style through a winning combination of industry-focused courses, state-of-the-art facilities, and inspirational expert staff.
Read less