M.Sc. in Nuclear Engineering
Home ›
MSc ›
M.Sc. in Nuclear Engineering
Program Description
The Unit of Nuclear Engineering
The Unit for Nuclear Engineering (UNE) is the only academic department in Israel offering graduate studies towards M.Sc. and Ph.D. degrees in the field. A wide variety of research subjects are covered at the UNE, including: Nuclear energy engineering, nuclear core physics, neutron transport, nuclear fuel cycle, nonproliferation strategies, applications in radiation for medicine, nuclear instruments for radiotherapy, radiation calculations and Monte Carlo simulations for radiation, aspects of radiation shielding design and calculations, patient protection from radiation, nuclear theory, and particle transport developments. Many UNE graduates serve as high-level managers and hold key positions in leading research institutions and in prestigious medical centers in Israel and around the world.
M.Sc. Degree in Nuclear Engineering
The UNE offers graduate studies towards both M.Sc. and Ph.D. degrees. The duration of a M.Sc. program is two years (four semesters). The program is highly research oriented and is conducted in the unit's facilities and laboratories under the supervision of UNE faculty members. M.Sc. studies are completed with a research thesis that summarizes the student's unique scientific results and an oral presentation, which are evaluated by a scientific committee.
Excellent M.Sc. students who are qualified and meet the academic requirements are eligible to join the prestigious Combined Ph.D. Track, such that the M.Sc. thesis serves as the Ph.D. research proposal for the Ph.D. candidacy evaluation exam.
Application requirements
Applicant to the M.Sc. Program should hold B.Sc. degree in Nuclear Engineering or in closely related fields from an accredited institution at a minimum GPA of 80/100, as well as a TOEFL score of at least 85/120 or an equivalent score in an internationally recognized English proficiency exam. The English proficiency requirement is waived for applicants who received their B.Sc. degree in a program taught in English. GRE is recommended but not required. Additionally, prior to applying to the M.Sc. Program, the applicant is expected to contact a potential advisor among the UNE faculty, as well as the UNE director of graduate studies.
M.Sc. Thesis
The research leading to the M.Sc. thesis is conducted throughout the two years of studies. The student is expected to publish and present the research results in leading international journals and conferences. The thesis is evaluated through a written report and an oral examination.
How to Apply
Please visit our online application site.
Tuition Fees
Tuition is approximately US$ 5,000 per year. Outstanding students may be eligible for scholarships, which cover tuition fees and provide living expenses.
For further information
Director of the Graduate Studies Program: Dr. Erez Gilad
gilade@bgu.ac.il
Last updated Jan 2019
About the School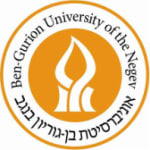 Ben-Gurion University of the Negev is one of Israel's leading research universities and among the world leaders in many fields.
Ben-Gurion University of the Negev is one of Israel's leading research universities and among the world leaders in many fields.
Read less