M.Sc. in Data Science for Society and Business
Home ›
MSc ›
M.Sc. in Data Science for Society and Business
Program Description
The 2-year M.Sc. program "Data Science for Society and Business (DSSB)" is a highly selective program for students of social sciences and businesses aiming to become data science experts. The program may also be interesting for students from natural sciences, or humanities aiming to expand into big data analytics, data-driven, and computational social science.
Based on their strong quantitative background. During two exciting years, graduates gain cutting-edge competencies, tools, and methods to discuss, model, predict, and solve the pressing challenges of digital societies, modern organizations, and competitive businesses.
The truly multidisciplinary program combines a broad course offering from multiple social and data science disciplines with 4 elective tracks to allow for individual diversity and further specialization. With a focus on high employability, DSSB graduates are best prepared for quickly growing, global professional and academic career options resulting from digitization.
"Data science is so exciting because it creates new communities and liberates us from disciplinary boundaries."

"Our DSSB program invites students to our international campus to approach the dynamic field of digital data and digitalization from social, business, engineering, and natural science perspectives.

The leitmotif of the program is our commitment to cutting-edge research, problem orientation, and innovative projects.

DSSB is a door opener for promising careers in all industry sectors as well as in PR, journalism, political think tanks, government, international and non-governmental organizations."

Prof. Dr. Hilke Brockmann
5 reasons why you should study Data Science for Society and Business (DSSB) at Jacobs University
Unique interdisciplinary modular program with elective tracks for individual diversity and specialization that promotes personalized career goals.
A cutting-edge demanding academic program with access to innovative research, a close community between teachers and students, shared learning experience, and innovative learning environments.
Maximum focus on employability and preparation for the demands of global career perspectives in all areas of data-driven professional and academic fields.
Very high completion rates.
Benefit from Jacobs University's direct access to the leading digital and tech companies, consulting firms, NGOs, and top research institutes as well as a large global Alumni network.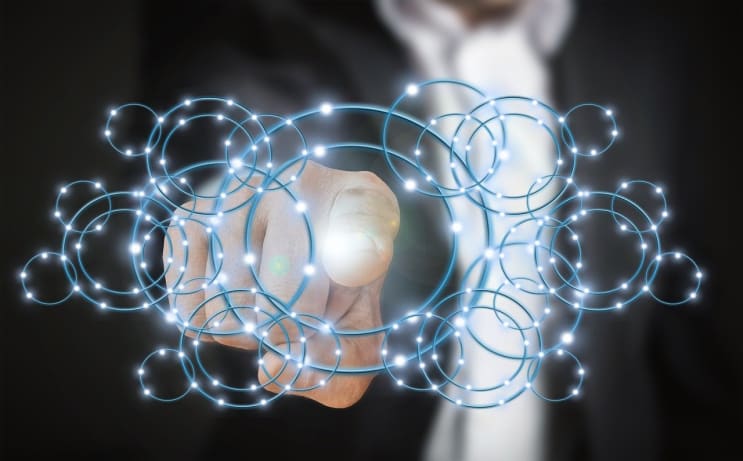 Program Features
The M.Sc. Data Science for Society and Business study program teaches international students with strong backgrounds in social sciences (e.g. business, economics, demography, media studies, political science, psychology, sociology,) how to make use of rapidly growing digital data resources and new computational tools and methods to potentially solve the challenging interdisciplinary problems in their professional or academic field.
The program may also be interesting for students with a background in humanities, natural or technical science who want to focus on innovative social data analytics and pressing social and business questions emerging from digitization.
Students of the DSSB program thereby benefit from a broad course offering in various social, data and business sciences and the close cooperation with computer sciences, environmental and life sciences.
In addition, the program also promotes individual diversity and specialization. DSSB students can pick and choose course offerings from the 4 elective tracks based on their individual interests and career plans.
The Society Track adds computational social science approaches and pressing questions on cyber criminology or smart city and transport concepts.
The Business Track covers principles of consulting, sustainable economics, supply chain finance as well as disruptive production and logistics models.
The Health & Environmental Track connects socially relevant data science questions with insights and techniques from the natural sciences (health, medical, environmental sciences).
The Data Science Track allows students with a strong mathematical or computing background to dive deep into data mining, data analytics, and machine learning.
At the end of the 2-year program, DSSB graduates will have expertise in digital content and data science skills to responsibly and capably solve core problems in future organizations and digital societies.
They can identify, analyze, interpret, and critically access the social causes and consequences of the digital transformation of societies in all of its legal and ethical implications and aspects.
They are able to apply cutting-edge analytical and quantitative skills to correctly model and interpret scientific results, to make valid predictions, and to derive thoughtful conclusions and interventions for pressing social and business problems.
Students have learned to manage big data, develop statistical models, and convincingly present them to a science and non-science audience by applying convincing writing, communication and presentation techniques, and visualization tools.
They will be able to program well in at least one computer language and know about state-of-the-art computational and software tools.
Career Options
Best career options: M.Sc. DSSB graduates will be able to choose from manifold international career options and face a huge and growing demand for their expertise.
High employability: The master program prepares students for immediate employability in challenging professional and academic positions. From early on in the program, Jacobs University supports the employability of DSSB graduates by organizing contacts with industry, public institutions, NGOs, and research institutes.
Access to top employers and organizations: DSSB graduates thereby benefit from a large Jacobs University Alumni network and the university's close access to the big tech and consulting firms, top research institutes a well as worldwide NGOs. Graduates may also continue their academic path by entering one of our Ph.D. programs.
A huge variety of career options: Graduates of the DSSB program can work as data scientists, AI research scientists, business intelligence analysts, computational social scientists, consultants, data analysts, data management experts, data protection specialists, financial analysts, market researchers, marketing managers, medical data analysts and more. As data specialists in public relations, journalism, political think tanks, governments, or international organizations they contribute their competence in digital data collection, management, analysis, interpretation, visualization, and presentation.
Best prepared for international careers: All Jacobs University M.Sc. study programs prepare students for the demands of advanced global professional or academic career paths. As graduates from our international campus university, they will function well in an international and diverse working environment as responsible, smart, and resilient researchers and leaders that make valuable contributions to society and business.
Application and Admission
The Data Science for Society and Business program starts in the first week of September every year. Please use the contact form to request details on how to apply. We are looking forward to receiving your inquiry.
Scholarships and Funding Options
All applicants are automatically considered for merit-based scholarships of up to €12,000 per year. Depending on availability, additional scholarships sponsored by external partners are offered to highly gifted students. Moreover, each admitted candidate may request an individual financial package offer with attractive funding options.
Campus Life and Accommodation
Jacobs University's green and tree-shaded campus provides much more than buildings for teaching and research. It is home to an intercultural community which is unprecedented in Europe. A Student Activities Center, various sports facilities, a music studio, a student-run café/bar, concert venues, and our Interfaith House ensure that you will always have something interesting to do. In addition, Jacobs University offers accommodation for graduate students on or off-campus.
Application requirements
Letter of motivation
Please limit your letter of motivation to 1 page and follow the guidelines of a formal letter.
CV (Curriculum Vitae)
Two letters of recommendation
Bachelor transcript of records in English or German
Bachelor degree certificate in English or German
Proof of English Language Proficiency
An English language proficiency test with a minimum score of 90 (TOEFL), 6.5 (IELTS), or 110 (Duolingo). Native speakers and applicants who completed their undergraduate studies in English may be exempt from this requirement.
Please note that most English proficiency tests are only valid for two years. Please make sure that the test has not expired yet.
Last updated Oct 2020
About the School
Jacobs University is a private English language university located in Bremen and one of the most international academic institutions in Germany. It attracts highly talented and open-minded students fr ... Read More
Jacobs University is a private English language university located in Bremen and one of the most international academic institutions in Germany. It attracts highly talented and open-minded students from all over the world. More than 1,500 students from over 120 nations currently live and study on our residential campus. In Germany's leading university rankings, Jacobs University has consistently achieved top marks.
Read less