M.Sc. Water Resources Engineering
Program Description
Big Challenges being addressed by this programme
Water security is a major concern facing humanity, engineers are the primary professionals tackling this issue.
Annually, more than 3.4 million people die from water-related diseases
1 in 9 people worldwide do not have access to safe and clean drinking water
1 in 3 people worldwide are affected by water scarcity
Population growth and climate change will place significant stresses on global water resources
Flooding of both urban and rural areas is being exacerbated by climate change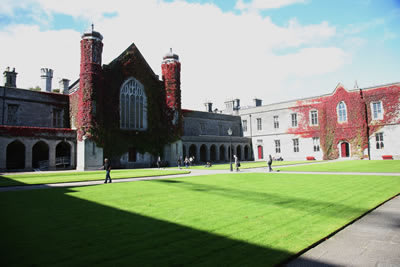 Programme objectives & purpose
This programme will provide engineers with the technical competences to provide solutions to water security issues. Core modules will address technical aspects of water provision, water resource management and flood mitigation. A primary objective of the programme is to ensure that students have a thorough understanding of modern hydrological modelling tools. The programme has a strong emphasis on the design of hydrological systems, with students working in groups to solve real-world problems. Graduates of this programme will be in a position to make significant contributions to solving water resource problems in both industry and academia worldwide.
Whatâs special about CoEI/National University Ireland Galway in this area:
Water engineering has been taught at the graduate level at NUIG for over 40 years. During this period students from over 50 countries have graduated from NUIG.
This MSc in Water Resources Engineering is a re-launch of NUI Galwayâs International Postgraduate Hydrology Programme established by the late Prof Eamonn Nash. Many of the staff who lectured on the Hydrology Programme contribute to the current programme; so the recognised tradition of world-class teaching in water engineering at NUIG continues.
Currently, NUIG staff are involved in large-scale funded research projects in water resources, facilitated by the world-class research facilities at NUIG.
Programme Structure
This is a 90ECTS programme
It is a one full year programme, starting in September and finishing August
The programme comprises of the following elements:
taught (core and elective) modules (55 ECTS)
integrated group design project (15 ECTS)
individual research project and thesis (30 ECTS).
Programme Content
Sample Core Modules:
Hydrology & Water Resources
Hydraulic Modelling
Design of Sustainable Environmental Systems Water Quality Modelling
Water Resources in Developing Countries Applied Field Hydrogeology
Advanced Fluid Mechanics
Sample Elective Modules:
Computational Methods in Civil Engineering
Turbomachines & Advanced Fluid Dynamics
Environmental Economics
Engineering Finance
Project Management
Applied Statistics for Engineers
Environmental Impact Assessment
Global Climate Change
Opportunity for a number of Industrial & Research internships.
Students enrolled in this programme will have an opportunity to apply for a one-year post-graduation internship in either a related industry or research group in Ireland.
Scholarships
A number of scholarships are being made available by the College of Engineering and Informatics to non-EU students registered on these MSc programmes. Each scholarship will be valued at â¬2,500 and will be awarded to successful candidates based on the submission of a personal statement and CV to the College.
A number of industry-sponsored Scholarships will also be available, each to the value of â¬2,500.
The College of Engineering and Informatics will also award the Nash Scholarship in Water Resource Engineering. This is in memory of our deceased colleague, Eamonn Nash who was our Professor of Engineering Hydrology for many years and was well-known in the international engineering community. The âNash cascadeâ and âNashSutcliffe coefficientâ were named after him, and these still feature in scholarly publications. Over four hundred senior hydrologists throughout the world received their post-graduate hydrological education at this University.
Entry Requirements:
The minimum entry requirement is a Second Class Honours Grade 1 in Civil / Environmental Engineering or equivalent. Applications from candidates from cognate disciplines will be considered on a case-by-case basis.
How to apply
Applications are made online via the Postgraduate Applications Centre (PAC). The PAC code for this program is GYE23.
Last updated February 2018
About the School

With over 16,000 students and more than 2,200 staff, National University of Ireland Galway (NUI Galway) has a distinguished reputation for teaching and research excellence in the fields of arts, socia ... Read More
With over 16,000 students and more than 2,200 staff, National University of Ireland Galway (NUI Galway) has a distinguished reputation for teaching and research excellence in the fields of arts, social science, and celtic studies; business, public policy and law; engineering and informatics; medicine, nursing and health sciences; and science.
Read less