Program Description
The curriculum is entirely taught in English and represents the University's flagship course in Economics. The program is equivalent to a two-year Master of Science in Economics.
It provides students with a solid training in Economics emphasizing rigorous analytical thinking and advanced quantitative methods. Faculty members are internationally recognized, economists. Our aim is to train economists suited both for academic and non-academic careers.
During the first year, students will study the foundations of economics and quantitative analysis, whereas the second year is devoted to field courses that will expose them to recent developments at the frontier of economic research in a variety of topics. At the end of the second year, students will work on their final dissertation.
Besides taught courses, the curriculum also offers an internship program with either economic research institutions located in the Milan area or within the University's Department of Economics and Finance, where students are offered the opportunity of working as applied economists on real-world economic issues, as well as meeting prospective employers.
The skills acquired through the Economics program prepare students to pursue their careers both in academia through further education at the Ph.D. level as well as in the labor market as applied economists in firms, banks, and institutions.
The program is now at its sixth edition and so far it has performed very well in terms of placement in the labour market (Eurizone, Deloitte, Oxford Policy Management, Intesa San Paolo) and in the academia (some of our student are now completing their PhDs at Universitat Pompeu Fabra Barcelona, University of Nottingham, Scuola Superiore Sant'Anna, and at Cattolica itself, and include winners of prestigious scholarships granted by the Bank of Italy).
First year
Microeconomics
Macroeconomics
Mathematics for economic analysis
Empirical economics
Statistical modelling
Two Business courses among the following:
Public management
Supply chain management
Performance measurement
Corporate governance and social responsibility
Business communication
Change management
Cross cultural management
One Law course among the following:
Transnational business law
Principles of financial regulation
Second year
Three Economic courses among the following:
Monetary economics and asset pricing
International economics
Political and public economics
Industrial organization
Labor economics
Political economy of the European Union
One of the following (student's choice subject to approval):
A course in Economics
Internship program
A course in Business
A course in Law
A course among:
Quantitative methods for finance
International corporate finance
Corporate finance
Project management
Applied statistics and big data (advanced)
Final dissertation
Career Opportunities
The 2-year graduate program provides adequate knowledge and research skills for those who wish to work in research positions in national and international businesses, private and public national and international institutions or to pursue a Ph.D. in Economics at leading Italian and international universities.
English language proficiency requirements
Candidates need to satisfy the English language proficiency requirement in order to submit their application.
Program-specific entry requirements
The entry requirements are based on the guidelines for admission published every year in March by the Italian Ministry for Education.
Eligible candidates need to hold an undergraduate degree obtained after a minimum of 3 years of study (180 ECTS), which satisfies the requirements for access to second-level academic studies in the awarding country. If candidates have undertaken less than 15 years of total schooling, they may not be eligible for admission to a Laurea Magistrale.

The degree has to be issued by a higher education institution which is regularly accredited or recognized in the awarding country.

The degree and related studies undertook so far need to be in a subject which is relevant to the chosen Laurea Magistrale degree program. Candidates best suited have a background in Economics, Mathematics, Statistics or Business studies. This program is however also open to graduates from other faculties. In these cases, GRE or GMAT test with a satisfactory performance level in the quantitative section would increase the chances of admission. The academic board will evaluate candidates' academic and personal background and decide if they meet the specific conditions for admission.
Last updated Jan 2018
About the School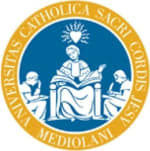 Università Cattolica del Sacro Cuore is the largest private university in Europe boasting over 41 000 students across 12 Schools. Cattolica distinguishes itself for its multidisciplinary curriculum, i ... Read More
Università Cattolica del Sacro Cuore is the largest private university in Europe boasting over 41 000 students across 12 Schools. Cattolica distinguishes itself for its multidisciplinary curriculum, industrial ties, and strong international focus.
Read less