Program Description
The M.S. in Biotechnology program at Syracuse University provides students with highly flexible, customizable options and rigorous, advanced scientific training and education. It is extremely interdisciplinary in nature, weaving together biological and engineering science research with principles and practices of business management.
Program Highlights
Uniquely interdisciplinary, the personalized curriculum allows students the maximum ability to follow their interests.
Non-thesis academic, research and laboratory training program.
A minimum of 36 total credits are required, which may be completed in two to three semesters.
Expert guidance in professional development throughout the program.
Students choose either independent research or a biotechnology internship for real-world, hands-on experience.
Students choose from a general or specialized track, depending on their specific interests:
General Track
BioBusiness Track
Biomedical Sciences Track
Industrial Biotechnology Track
Apply to the M.S. in Biotechnology Program
General Information
Application deadline for Fall 2020 Admissions:
Applications received on or before January 15, 2020, will be considered a first priority. Applications received after January 15 will be considered on a space-available basis. Therefore, please submit your application, letters of recommendation, and official transcripts as soon as possible.
After Fall 2020, applications will be accepted on a rolling basis. Summer admissions are limited. Therefore, please contact the biotechnology program before applying for Summer admission.
Admission Requirements
Applicants must have earned a B.S. or a B.A. degree and should have at least a minimal background in chemical, physical and biological sciences, including at least one college-level mathematics course, two to three years of biology courses, and at least two chemistry courses.
Although not required, a year of biochemistry is desirable for students interested in the BioMedical Sciences Track, and a year of physics is desirable for students interested in the Industrial Biotechnology Track.
Special consideration is given to students who have conducted undergraduate research and whose recommendations attest to their skills in the laboratory or field and show promise in research.
Financial Support
In addition to financial aid, various types of additional financial assistance may be available to some biotechnology graduate students, such as:
Tuition discounts
Student grants
Student scholarships
Teaching assistantships (including tuition reduction credits and a stipend)
Application Procedure
Apply on CollegeNET
Letters of recommendation must be uploaded on CollegeNET by the recommender (this is the preferred method), OR delivered by mail in a sealed envelope to Graduate Admissions Processing directly from the recommender.
Applications are reviewed by the biotechnology M.S. admissions committee. Decisions regarding suitability for admission are made as soon as possible.
Incomplete applications may delay review of your application.
General Application Instructions
The Syracuse University Graduate Admissions office directs the processing of graduate admissions and applications for the entire University, including applications to the Biotechnology M.S. program. To begin your online application, please visit the Graduate Admissions website.
The institution code for Syracuse University is 2823. You will be asked by the Educational Testing Service (ETS) for this code when requesting that your official GRE and/or TOEFL scores be electronically forwarded to Syracuse University.
Required Application Materials
Syracuse University Graduate Application Form (online).
Personal Statement: include research and/or teaching experience, research interests, career goals, and identify faculty members in our program under whom you may be interested in working.
Three (3) letters of recommendation.
Transcripts (unofficial transcripts may be uploaded for review purposes).
TOEFL or IELTS scores are required of all international applicants whose native language is not English. Official scores must be reported (use CODE 2823).
Optional Application Materials
Graduate Record Examination (GRE) scores are not required of applicants. However, if you have taken the GRE exam, you may submit your official scores with your application. (To report your official scores to Syracuse University, use CODE 2823.) High scores on the verbal, quantitative and analytical writing tests of the GRE may strengthen your application.
Important note regarding GPA, GRE, and TOEFL/IELTS scores: we do not have any average or minimum required GPA, GRE scores, or TOEFL/IELTS scores. Each applicant is evaluated on an individual basis.
Last updated Sep 2020
About the School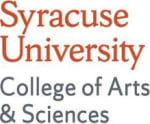 Syracuse University is a private research university of extraordinary academics, distinctive offerings, and an undeniable spirit. With a gorgeous campus in the heart of New York State, a global footpr ... Read More
Syracuse University is a private research university of extraordinary academics, distinctive offerings, and an undeniable spirit. With a gorgeous campus in the heart of New York State, a global footprint, and nearly 150 years of history, our university is made for those who want a quintessential college experience. Proudly selective, we take a chance on people who dream big. This is where you come to cheer, to grow, to become the person you want to be.
Read less