Intelligent, self-regulating, sensor-based and networking production systems are to enable "smart factories" in the near future. Apart from this industrial Internet of things (IIOT), robots, on the other end of the spectrum have even become relevant in social areas. Many surgical interventions are robot-assisted and even in nursing an increasing amount of technology is implemented for efficiency or to replace a lack of specialists. Automatization, digitalization, and robotics are developing at a very high rate.
Major topics, such as virtual and augmented reality, autonomous driving and ambient assisted living will have an enormous impact on our daily lives in future. The demand for highly-qualified staff will increase steadily over the next few years and experts are sought after more than ever. You and your creative ideas can be the answer. You can be the person in demand, who is sought after in a more and more digitalized world. With a master's in Mechatronic and Cyber-Physical Systems, you meet the needs of future jobs and can shape the future.
Course Content
In four technology-orientated study units students are taught:
Modern simulation systems
Cooperative and autonomous systems
Innovative human-machine interfaces
Additive manufacturing processes
Two inter-disciplinary study units take a look at specific applications of cyber-physical systems as well as in the functional safety of software-based control and automation systems.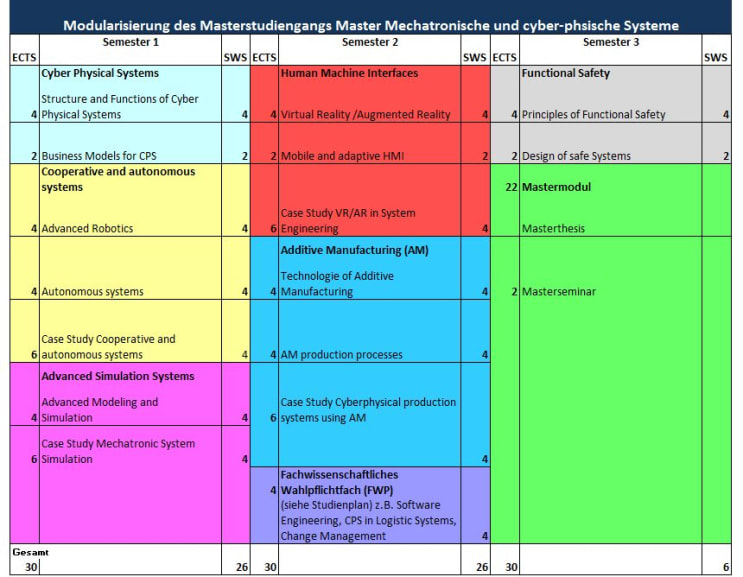 Subject Overview
1st Semester
SWS

ECTS
Structure and Functions of Cyber Physical Systems
4
4
Business Models for CPS
2
2
Advanced Robotics
4
4
Autonomoussystems
4
4
Case Study Cooperative and autonomous systems
4
6
Advanced Modeling and Simulation
4
4
Case Study Mechatronic System Simulation
4
6
2nd Semester
SWS
ECTS
Virtual Reality/Augmented Reality
4
4
Mobile and adaptive HMI
2
2
Case Study VR/AR in System Engineering
4
6
Technologies of Additive Manufacturing
4
4
AM production processes
4
4
Case Study Cyberphysical production systems using AM
4
6
3rd Semester
SWS
ECTS
Principles of Functional Safety
4
4
Design of Systems
2
2
Master thesis
-
24