M.Eng. industrial engineering
Program Description
The top-ranked master's program in Industrial Engineering (M.Eng.) Offers you excellent opportunities to expand your personal strengths and to prepare for leadership tasks. Based on your first professional qualification, you will acquire more in-depth application-oriented expertise in this study, you will train your practical skills and develop your professional skills. And for all who are new to us: With a campus right on the Baltic Sea, the fun is not too short besides studying!
overview
Degree course - Industrial Engineering Master
Faculty - Faculty of Mechanical Engineering
Start of studies - summer and winter semester
Approval - approval-free
Creditpoints - 90 ECTS
Degree - Master of Engineering (M.Eng.)
Lecture Language - German
Pre-requisites
Even if you have not yet received your graduation certificate on the application deadline, you can apply for a current certificate of achievement and a certificate of current ECTS credits, the preliminary final mark and the expected closing date.
completed bachelor's degree in industrial engineering, mechanical engineering, business administration or in a generally closely related degree program with at least 210 ECTS credits. In the case of a degree with 180 ECTS points, there is the option to complete a BAföG-sponsored adaptation semester or to complete the missing ECTS credits in parallel to the Master's degree program until the master's thesis is registered.
A percentage of 30 ECTS points each must be proven in engineering and economics modules. If the proof is not provided, the Admissions Committee issues requirements to complete additional modules to the required extent.
practical work of at least 12 weeks (internships during the first degree course will be credited). If no internship has been completed, conditions will be granted.
An admission commission decides on the existence of the professional requirements and any conditions.
Summary
Based on a first professional qualification, the master's program in Industrial Engineering teaches in-depth application-oriented specialist knowledge.
With the modules of the master's program, we enable you to broaden your horizons with regard to the classical topics of industrial engineering. But you also go deeper and penetrate theoretical concepts more extensively. In doing so, you develop the ability to independently solve technical problems in the classical areas of industrial engineering in industry, trade and administration as well as in scientific research and qualify for leading tasks in these areas. The orientation of the study content is more scientifically oriented and therefore also conveys the aptitude for promotion.
Goals and job prospects
Our Master's graduates are qualified to apply scientific findings and methods in the profession as well as to basic and application-oriented research. This includes the possibility of promotion. You gain extensive knowledge and solution competence in the field of industrial engineering. In addition to working in industry and commerce, the accredited master's degree opens access to higher-level public sector service. In principle, there are hardly any limits to your professional commitment and development opportunities - which in any case show us very different professional careers of our graduates.
Study design
The Master's degree in Industrial Engineering at the Faculty of Mechanical Engineering at Stralsund University comprises three clearly structured semesters. The first two semesters consist of three compulsory and two elective modules each, the third semester serves to prepare the master's thesis and concludes with the master's colloquium. The modules of the Master program have the goal of a deeper theoretical penetration as well as a broadening of the classical topics of industrial engineering. Of course you can also study part-time on application.
Probability and applied statistics
Strategic management
Seminar / Project - Economy and Technology
Elective Module
Elective Module
technology management
international accounting
e-logistic management
Elective Module
Elective Module
Master thesis and Master Kolloquim
Last updated Mar 2020
About the School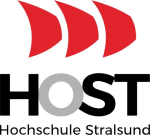 Welcome to HOST! Are you thinking about studying here? Or are you interested in a period of study or internship abroad? Are you a university lecturer or staff member who would like to find out more ab ... Read More
Welcome to HOST! Are you thinking about studying here? Or are you interested in a period of study or internship abroad? Are you a university lecturer or staff member who would like to find out more about staff mobility as part of research, teaching or professional development, or about starting an international university partnership? Then HOST International's service ist just what you have been looking for! On the following pages we provide you information about our University's international relations.
Read less