Program Description
M.Des. in Strategic Design & Brand Leadership
Vision
The Postgraduate Program in Strategic Design and Brand Leadership fosters a Design and Strategic Leader with agile professional abilities, who is meaningfully resourceful and process-oriented in the field of design strategy and brand leadership. This program combines the framework of design thinking with branding and leadership skills into a design strategy methodology.
The key differentiating factor in Postgraduate level design strategy program is its leadership building academic component. The course aims to develop leadership capacity by increasing your own understanding of the domain of Design and to close the gap between this understanding and meaningful action. This academic approach makes you a change agent for future challenges in design across cultures and borders. This transformational learning and practice process will enable you to set clear directions for you to move forward in your career. If you enroll in this course with a background or keen interest in a specific domain such as art, design, media, business, economics, engineering, management, finance, you could move towards a focused development plan to augment your career by integrating design thinking and strategic design.
This course will enable a graduate of any discipline to acquire, assimilate and practice their domain knowledge with an added set of capabilities by applying design thinking and strategic branding to achieve leadership level in any marketing oriented industry, business or service.
Course Structure
Studios encourage active, contextual learning where students develop core disciplinary skills and knowledge. Studios facilitate collaborative and creative design solutions to complex, open-ended problems
Workshops provide intense learning experiences in making and doing, across the different disciplines.
Internship with an industry or a design studio is compulsory for students at the end of 1st year
Self Initiated Project is an end of the semester challenge that allows the student to engage in research/inquiry or design based projects. Students begin by writing their project proposal and defining the scope of their project and they are mentored by faculty/design professionals.
Electives are liberal arts courses aimed to cultivate intellectual and reflective abilities in students and motivate them to probe deeper and approach their design process in a holistic manner.
Capstone Project is the culmination of the research, capabilities, and knowledge gained over the last three semesters. Students are required to submit their design output and a mandated thesis document. Students are mentored during this final project and go through seminars to get feedback from faculty and peer groups
Capability Sets
The Program of Strategic Design and Brand Leadership is structured to develop the following set of capabilities in the future design leader:
The future leader needs the ability to showcase Critical and Divergent thinking ability, as the branding, marketing, and design scenarios become more challenging.
The future design leader needs to nurture design thinking along with artistic sensibilities to meet strategic perspectives.
The future design leader needs to have analytical thinking and entrepreneurial thinking ability along with holistic and inclusive problem-solving ability.
The future design leader needs to be a reflective and balanced practitioner with deep considerations for changing and evolving social, cultural and business contexts.
Career Opportunities
The Program of Strategic Design and Branding will provide the graduate with strong strategic thinking ability so that she/he can establish a successful career as:
Design Strategist: A Design strategist helps to create opportunities for enterprises on various array of topics for growth. Most product and services based enterprises employ Design Strategists.
Brand Strategist: A Brand strategist creates or overseas the brand strategy deliverables for single or multiple brands. He also may develop communication strategy, content strategy as well. Most global companies and Marketing Consulting companies employ Brand Strategists.
Communication Strategist: Communication strategist will indulge in project management, design insights, persuasive visual communication, for enterprises or in independent capacity. Most Media companies, PR companies, and Advertising Agencies employ communication strategists.
Design researcher / Strategist: Along with the design team, a design researcher works on consumer insights and develop new value propositions or work on enhancing the value offers. Design researchers play a crucial role in large design consultancies, in-house design team of large enterprises, and Market research companies.
Art Director: Art Director in a design studio or advertising agency will manage the creative process and collaborate/lead a team of creative professionals to create persuasive visual communication for enterprises or in independent capacity.
Strategic Planners: In this capacity, one needs to understand the market carefully, and develop new strategies to revitalize growth for an enterprise or as an independent practitioner.
Brand Consultant: A Brand Consultant is an independent advisor in the areas of breakthrough innovation, co-creation, cultural policy/innovation, transcultural design and integrating design with deep values.
Inquiry
For more information, email Pandrang Row at pandrang@srishti.ac.in
Last updated Jul 2019
About the School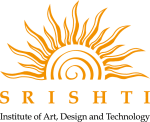 Srishti Institute of Art, Design, and Technology is a non-residential institution founded in 1996 by the Ujwal Trust with the objective of providing art and design education in an environment of creat ... Read More
Srishti Institute of Art, Design, and Technology is a non-residential institution founded in 1996 by the Ujwal Trust with the objective of providing art and design education in an environment of creativity to maximize the individual's potential.The Ujwal Trust also manages Srishti's sister institution, the prestigious Mallya Aditi International School.
Read less