Program Description
Vision
Human-Centered Design (HCD), broadly, is an approach to solve problems while keeping the concerns of the humans at the center of it. The output of the problem-solving approach could either be a product, a service, a system, or space. HCD is increasingly being used to solve complex problems through the design of digital products, services, and systems. Digital technology is becoming the core of most, if not all, aspects of human experiences. Hence it is vital to not only shape digital technology in ways that benefit each and every human being, but also to critically inquire into the inherent assumptions and their limitations while following a human-centered design approach.

The M.Des in HCD at Srishti fosters an independent, self-critical, creative, and focused inquiry into human experiences with digital technology, both existing and emerging. This inquiry is driven by the activity of speculative and critical making with the digital material. The students will develop their own unique practice of human-centered design along the intersections of three paths. Namely,
Locating the self at specific, socio-politically contested sites that embed Human-Computer Interactions. By critically engaging with different theories and contexts, this path focuses on understanding, unpacking, and being responsive to the specific contexts within which human-centered design and use of digital tools and technologies are located.
Moving Beyond Screens and towards exploring tangible, physical encounters with the digital material. This path focuses on exploring the possibilities and implications of designing digital technology as an integral part of the physical environment for human experiences.
Moving Behind Screens, towards exploring opportunities and implications of designing for interacting with complex socio-technical infrastructures. This path focuses on exploring the design for screen-based interactions while digging deeper into the emerging complex technological infrastructure that is increasingly driving such interactions, namely big data, machine learning and advanced algorithms.
These paths are being closely interlinked and intertwined rather than isolated pathways. Each student will have an opportunity to explore the intersections of the paths, and thereby begin to work on developing their own unique, individual practice.
Course Structure
Studios encourage active, contextual learning where students develop core disciplinary skills and knowledge. Studios facilitate collaborative and creative design solutions to complex, open-ended problems
Workshops provide intense learning experiences in making and doing, across the different disciplines.
Internship with an industry or a design studio is compulsory for students at the end of 1st year
Self Initiated Project is an end of the semester challenge that allows the student to engage in research/inquiry or design based projects. Students begin by writing their project proposal and defining the scope of their project and they are mentored by faculty/design professionals.
Electives are liberal arts courses aimed to cultivate intellectual and reflective abilities in students and motivate them to probe deeper and approach their design process in a holistic manner.
Capstone Project is the culmination of the research, capabilities, and knowledge gained over the last three semesters. Students are required to submit their design output and a mandated thesis document. Students are mentored during this final project and go through seminars to get feedback from faculty and peer groups
Learning Approach
Learning is driven by an inter-disciplinary engagement with theories, methodologies and advanced skills of Design Thinking. Learning will primarily happen from "doing" and "experiencing". When students are able to apply theories and frameworks to what they design they not only value the research and constructs created by others, but also question and reformulate existing norms. Learning will be through solving real-life problems through the application of theories, frameworks, and methods of Human-Centered Design. Skills and tools will be picked up along the way, however "application" of design principles in the context of real-world design problems will be the primary mode of learning.

Discussion-based learning, learning by teaching, and project-based learning are some of the pedagogical tools employed to create insights into real-life situations and industry needs. The learning approach will encompass hands-on design thinking, design research, deep understanding of human-centered design approach, and creative thinking, in combination with critical humanist thinking. The program prepares the students to participate and function in the areas of innovative digital product & service design by training and exposing them to various skills such as but not limited to Design Thinking & Processes, Collaborative projects, Leadership Skills, Social Concerns, and Technical & Written Communication.
Capability Sets
Upon successful completion of the course, graduates will have the capabilities to:
Imagine: Construct concepts in an unhindered and unbounded manner
Speculate: Take risks while being iterative in constructing plausible concepts even with limited information.
Discern & Align: Take an informed stance after perceiving, questioning, and distinguishing between information from different sources and knowledge forms.
See & Connect: Consciously unearth and combine diverse experiences and knowledge forms.
Be Honest: Be aware of and transparent in articulating your position with respect to social, cultural, and political implications of digital technology.
Make: Construct to bring about artifacts, things, and people into novel assemblages as critical vehicles of inquiry.
Opportunities
Students of the Human Centered Design at Srishti will be able to contribute in the areas of strategic user experience design, interaction and user-interface design at numerous MNCs, startups, R&D centers across India and abroad, involved in developing technology-based products, interfaces, and services. Training in HCD also opens doors in the areas of strategic design thinking and innovation.
Inquiries
This course is led by
Dr. Naveen Bagalkot
For further information, kindly email Naveen Bagalkot at naveen@srishti.ac.in or
Kshama Nagaraja at kshama.nagaraja@srishti.ac.in
Last updated Jan 2019
About the School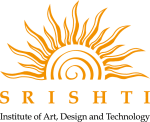 Srishti Institute of Art, Design, and Technology is a non-residential institution founded in 1996 by the Ujwal Trust with the objective of providing art and design education in an environment of creat ... Read More
Srishti Institute of Art, Design, and Technology is a non-residential institution founded in 1996 by the Ujwal Trust with the objective of providing art and design education in an environment of creativity to maximize the individual's potential.The Ujwal Trust also manages Srishti's sister institution, the prestigious Mallya Aditi International School.
Read less