Program Description
Vision
The Design-Led Innovation program is designed to create "manager-leader-doer" capabilities in a person, who can implement design practices to drive design innovation and strategy in organizations. It is an emerging approach that drives global competitiveness through a deep understanding of the context and the ecosystem.
If you want to create innovations that users did not expect and are so different from those that dominate the market that people eventually like and are passionate to use; If you want to create solutions that are not only desired but also viable and responsible, then the Design-Led-Innovation program is for you.
The vision of this program is to create innovators who will explore and apply the understanding of human behavior, context, business strategy, and technology towards the creation of innovative and sustainable products and services with the potential to drive positive change individually as well as at a larger social level.
At Srishti, Design-Led Innovation concentrates on innovative physical-digital User Experience. We think of Design-Led Innovation not just as "Design Driven" in its traditional sense, but more about "designing for emerging usages and technologies" to project and foresee what can be. We take the best practices from several disciplines and promote creative art and design thinking grounded in Humanities to push the boundaries of both the technological and business aspects of innovation. We define innovation as a product or service that is not only desirable but is also sustainable, viable and feasible.
The postgraduate studies in Design-Led Innovation is rooted in the historical evolution of the field of Innovation, from the early versions of technology-driven innovation to the current understanding of innovating for the emotional and socially-situated humans, with their own needs, desires, and aspirations. However, we also make the students capable of exploring the emerging understandings of humans in transition and explore and construct a future that seems to go beyond human-centered innovation
Course Structure
Studios encourage active, contextual learning where students develop core disciplinary skills and knowledge. Studios facilitate collaborative and creative design solutions to complex, open-ended problems
Workshops provide intense learning experiences in making and doing, across the different disciplines.
Internship with an industry or a design studio is compulsory for students at the end of the 1st year of the program
Self Initiated Project is an end of the semester challenge that allows the student to engage in research/inquiry or design based projects. Students begin by writing their project proposal and defining the scope of their project and they are mentored by faculty/design professionals.
Electives are liberal arts courses aimed to cultivate intellectual and reflective abilities in students and motivate them to probe deeper and approach their design process in a holistic manner.
Capstone Project is the culmination of the research, capabilities, and knowledge gained over the last three semesters. Students are required to submit their design output and a mandated thesis document. Students are mentored during this final project and go through seminars to get feedback from faculty and peer groups
Learning Approach
As technology pervades everyday life, and ordinary objects become 'smarter' and more complex, product innovation has moved out of the sole proprietorship of technology and business. Increasingly, business and technology experts have embraced and adopted design as a way of facilitating innovation for greater impact. Innovators in the 21st Century will be required to empathetically explore and apply the understanding of human behavior, context, ecology, business realities and technology towards the creation of digital products and services that enhance the users lives. This approach fosters a combination of creative art and design thinking, grounded in the critical thinking of the Humanities to push the boundaries of both the technological and business aspects of innovation, and in turn develop a Product-Service System (PSS) that not only is desirable, viable and feasible but is also responsible.
Design in the traditional sense has focused on creating practical, experiential, effective, meaningful, valuable & efficient product, system or service leveraging peoples' emotions and attitudes. As it does today, design greatly contributes to the current consumerist society by crafting experiences that help sell products and services. But in doing so, it has ignored the significant role it should play in acting as a change agent and an 'early warning system', that is truly centered on human values and the matters of people, society & the world as a whole. Due to deteriorating ecological conditions, changing population dynamics, changing behaviors, and rapid technology advances; we posit that a more sustainable, inclusive, transitionary framework for design is required.
This course not only covers the traditional reductive aspects of design-driven innovation such as:
Historical Frameworks & models of product and service innovation
User, Design and Market Research
Design Elements (visibility, accessibility, legibility & language)
Creative Design (Ideation & brainstorming, concept development)
Analysis tools (persona, scenarios)
Economics & Business modeling
Quantitative Modeling, Data science, and analytics
but also covers aspects such as:
Emotions, aesthetics & pleasure
Cross-cultural and trans-cultural influences
Trends around transitions in behaviors, cultures, societies, and markets
Trends in technology and interaction modalities
Methods and frameworks for creative thinking and innovation, such as participatory enactment, alpha ideation, vision-driven design, etc
Social innovation and transition innovation frameworks
Systems innovation and design frameworks
This Masters-level program offers an opportunity for students to engage with a rich mixture of artistic and design thinking theories and methods to drive strategic innovation across use-domains. The innovation could be in the form of a technology, a product, or a service, but the end goal is to design something that is meaningful, desirable, feasible, and sustainable. The program will cover human-centered experience design, creative coding, and entrepreneurship.
The Human Centered Design component's mission is to understand human behavior and use technology as an enabler to enhance it. The program is meant for both practitioners and fresh graduates who want to create solutions that make a significant and positive impact on society. Graduates from design, business, engineering, architecture or related disciplines can apply for the program. The program is driven by an inter-disciplinary engagement with theories, methodologies and advanced skills of Design Thinking and Innovation.
The Creative Coding component explores the issues at the intersection of technology, and design.
The entrepreneurship component of the program will help design-driven leaders to see the world from a sustainable business perspective and re-imagine what is possible.
Discussion-based Learning, Learning by Teaching and project-based learning are some of the pedagogy tools employed to create insights into real-life situations and industry needs. The learning approach will encompass hands-on design thinking, business strategy, foresight & forecasting, and creative thinking. The program prepares the students to participate and function in the business world by training and exposing them to various skills such as but not limited to Design Thinking & Processes, Collaborative projects, Leadership Skills & Entrepreneurial Skills, Social Concerns, and Technical & Written Communication
Capability Sets
Upon successful completion of the course, graduates will have following capabilities:
Understand and unearth multi-stakeholder's respective needs and desires
Develop the ability to be empathetic and use it to innovate
Understand trends and forecasts.
Conduct primary and secondary research methodologies and derive actionable insights from research for design solutions
Understand current behaviors and scenarios, and develop the skill of anticipating future scenarios.
Develop and be fluent in the creative process of sketching and modeling as a way of problem-solving
Understand and command design processes in order to be able to apply it in problem-solving and innovation scenarios.
Focus on continuing development of new knowledge: helping learners to manage knowledge - how to find, analyze, evaluate, and apply knowledge as it constantly shifts and grows in the field of user experience design
Meet the demands of 21st-century society, skills such as critical thinking, independent learning, knowing how to use relevant information technology, software, and data for user experience design.
Develop collaborative approaches to the construction of knowledge/building communities of practice
Use technology where appropriate to help them learn, develop essential information and technology literacy skills, and master the technology fluency necessary.
Manage their own learning throughout life, so they can continue to learn after graduation
Opportunities
Graduates of the Design-Led-Innovation at Srishti will be able to contribute in the areas of strategic user experience design, systems design, new service innovation and business design. They could also shape the emerging markets through designing new digital products and services in the areas of smart and sustainable living. This course enables the development of Strategic Design thinkers and Innovators who have an important role to play in societies of the future as facilitators of positive change and growth.
Inquiries
Course Leader: Girish Prabhu
For further information, kindly email Naveen at naveen@srishti.ac.in or Sanjukta Ghosh at sanjukta.ghosh@srishti.ac.in
Last updated Jan 2019
About the School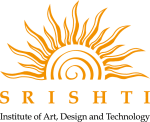 Srishti Institute of Art, Design, and Technology is a non-residential institution founded in 1996 by the Ujwal Trust with the objective of providing art and design education in an environment of creat ... Read More
Srishti Institute of Art, Design, and Technology is a non-residential institution founded in 1996 by the Ujwal Trust with the objective of providing art and design education in an environment of creativity to maximize the individual's potential.The Ujwal Trust also manages Srishti's sister institution, the prestigious Mallya Aditi International School.
Read less