Read more about this program on the school's website
Program Description
The Brussels-Washington Masters in Political Economy is an innovative one-year programme combining the strengths of two internationally renowned institutions.
This joint degree from Georgetown University and the ULB-Solvay Brussels School of Economics and Management offers:
An international experience at the heart of global policy-making decision powers, with full immersion in both Europe (Brussels) and the U.S. (Washington D.C.);
A combination of frontier training in formal and quantitative political economy, with a strong emphasis on economic policy;
Courses taught by academics and practitioners who are leading specialists in their field;
On-site events at international institutions and think tanks;
Opportunity to joining the wide and active alumni networks of Georgetown and Solvay.
The objective of the program is to prepare the next generation of economists to rigorously analyze both the economics and the politics behind the key policy questions of the 21st century. The focus on political economy reflects the view that evaluating and addressing global and local economic challenges also requires an understanding of the institutions and political settings in which such challenges arise.
The program aims at providing students with a mix of solid theoretical knowledge and exposure to hands-on practice through the inclusion of both faculty and experts in the respective fields. The courses in Brussels and in Washington D.C., two crucial centers of global decision-making, will expose:
The specificities and differences between the approaches taken on each continent;
Their impact at global level and in various geopolitically crucial regions in the world;
The complexity of their relationships with other significant actors within the global governance framework.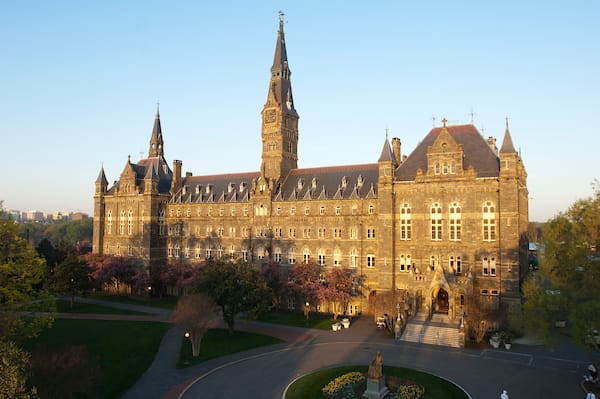 Course of Study
The program begins in the second half of August with a preparatory non-credit course on mathematical methods. The objective of this course will be to fill any gaps in the student's knowledge of basic mathematical techniques commonly used in economic analysis and applied statistics. This course is not required for students who can provide some evidence that they are capable of dealing with the technical material in the subsequent courses. Those who do take the preparatory course will not be given credit towards the course requirements.
Students will take the required core courses in the Fall in Brussels. Typically, core courses are taught by faculty members of Georgetown University and Solvay Brussels School of Economics and Management.
Macroeconomics
Microeconomics
Political Economy
Data analysis
After the completion of the required core courses, students choose six elective courses (3 in the Spring term and 3 in the Summer term). Examples of elective courses which might be offered in a typical year are the following:
Agricultural and Food Policy.
Design and Measurement of the Impact of Public Policies.
Development Economics.
Economic Forecasting.
Energy Economics and Policy.
Environmental Economics.
Financial Economics.
Health Economics.
Industrial Organization.
Innovation and R&D Policy.
International Finance.
International Trade.
Open Economy Macroeconomics.
Public Economics.
Public Policy Workshop.
Regulatory Economics.
To outline a typical course of study, consider a full-time student commencing the program in the Fall of 2017 who has a sufficient background to bypass the introductory math class.
Fall
Spring
Summer
Macroeconomics
Elective I
Elective IV
Microeconomics
Elective II
Elective V
Political Economy
Elective III
Elective VI
Data Analysis
.
Admission
If you wish to apply to the Joint Georgetown University/Solvay Brussels School Masters in Political Economy in August 2018, please follow these steps of the admission procedure:
Complete and submit the online application form together with the required documents, on the website of Georgetown University.
Contact the program manager of Solvay Brussels School, who will assist you with the documents needed for your Belgian visa process.
Admission Requirements:
Eligible applicants must satisfy the following requirements:
Online Application Form.
Non-refundable application fee.
Hold a 4-year BA or equivalent degree in any field.
Two Letters of Recommendation (One must be academic).
GRE exam (GMAT not acceptable).
Resume/C.V.
Official Transcripts (All Prior Institutions).
Minimum GPA 3.0 on 4.0 (U.S.) scale, where available.
TOEFL score of at least 100 IELTS score (7.0) also acceptable. The test is waived if a previous degree has been obtained at an English-speaking university.
Admissions will be based on the candidates' proficiency in English, their background, professional potential, and motivation.
Last updated Sep 2019
About the School

Georgetown is a major international research university with nine schools, an affiliated hospital and many highly ranked academic programs. Today the university has more than 12,000 undergraduate and ... Read More
Georgetown is a major international research university with nine schools, an affiliated hospital and many highly ranked academic programs. Today the university has more than 12,000 undergraduate and graduate students who take classes at five locations. Georgetown has a large and diverse workforce that employs more than 5,000 faculty and staff members. Georgetown continues to move forward as one of the world's leading universities, building upon its distinctive history, unique values and commitment to justice and the common good.
Read less