M.A. in Linguistics (Language & Communication)
Home ›
MA ›
M.A. in Linguistics (Language & Communication)
Read more about this program on the school's website
Program Description
The M.A. in Language and Communication is a professionally-oriented program within the Linguistics Department at Georgetown University. This program cultivates strong research and analytical abilities in sociolinguistics, specifically discourse analysis (e.g. narrative analysis and cross-cultural communication), ethnography, and pragmatics. The program is designed to link these theories to practice in a range of professional fields.
This program is suited for college graduates with a B.A. or B.S. (with majors including, but not limited to, humanities and social sciences) interested in applying their sociolinguistic training in professional contexts. In addition, this program is also appropriate for members of the workforce (public and private sectors) who seek advancement, or those who desire further credentials for medical, law or, business school.
MLC students participate in professional socialization events and career education activities targeted for sociolinguists. This personalized career development is designed to enable students to articulate how their skills and training are of particular value in workplace settings, institutions, and professions that depend largely upon language to accomplish their goals.
Student Learning Goals
The MLC aims to provide students with the ability to:
(a) identify topics and problems in the use of language and communication that are amenable to sociolinguistic, discourse and pragmatic analysis.
(b) engage in critical thinking about different solutions to communicative problems and the ramifications of those solutions.
(c) understand the impact of language on communication in the workplace, with a possible focus on medical, legal, and business settings.
(d) use a specific set of skills required to analyze language and communication, described below:
Developing a record of spoken dialogue and social interaction is crucial to analysis. Although researchers always keep audio and videotape recordings of their data, detailed analysis requires a transcription of ongoing talk-in-interaction, including information about prosody (rhythm, speed) and intonation (the 'melody' of talk), annotation of non-vocal communication, and indications of simultaneous talk/action (e.g. when utterances and actions start and stop, including overlaps).
Discourse analysis requires the ability to segment an ongoing stream of talk and interaction. Students should be able to find and identify linguistic forms (e.g. identify clauses, phrases and syntactic constituents), as well as units that arise during the sequential and incremental organization of talk and its underlying actions of discourse (e.g. discourse markers and particles, adjacency pairs, turns and turn-constructional-units, speech acts and moves, intonation and idea units, topics and transitions between topics).
A great deal of information is presented during discourse: some of it is already familiar to interlocutors; other information is new; still, other information is partially familiar and partially new. Students should be familiar with frameworks for analyzing what is called "information status" of referents (i.e. what is being talked about) and predications (i.e. what is being said about it). Entailed in this task is an elementary ability to identify grammatical constituents (e.g. differentiate types of clauses; familiarity with tense, aspect, and voice), to gloss lexical and grammatical aspect, to be familiar with presuppositions and scalar inferences.
Since the communicative content of language is not always directly stated, students need to learn the philosophical framework and linguistic tools through which to identify what is conveyed directly (or indirectly), explicitly (or implicitly, through inference). Also important here is familiarity with the face-saving strategies identified with politeness theory, along with their general social distribution and cultural variation.
Quantitative analysis is an important part of many linguistic analyses at different levels, from pronunciation (as a part of style or level of casual/careful speech) to words (e.g. the use of discourse markers, terms of address, inclusive/exclusive pronouns), sentence structure (e.g. in making requests), genre (e.g. structure of a list or narrative). Often features of setting or situation can also be subjected to quantitative analysis. Students will need to learn how to identify variables, code variants, tally results, organize their data into tables and use basic hypothesis testing statistical techniques.
Qualitative analysis is an important part of many analyses of language use. Not only is it a prerequisite for many quantitative analyses (what is 'counted' has to be first defined as a unit that is meaningful in linguistic or interactional terms), but the qualitative analysis is also critical for other reasons. In order to understand participants' perspectives on what they are doing when using language, a researcher often becomes a participant/observer (which entails field work, note-taking, and journal keeping), learns to use tape and video recorders and to conduct a variety of interview types. Most generally, a researcher must learn to incorporate ongoing observations into the design of a project as they emerge and as the project itself is unfolding. Finally, one must understand the strengths and weaknesses of both quantitative and qualitative research techniques, their interdependencies, and how (and when) to use both.
The abilities discussed in this section will be obtained primarily through coursework. In virtually all of our course offerings, students will read a variety of primary sources and research reports that delve into a full range of topics and problems addressed through sociolinguistics, discourse analysis, and pragmatics. All courses will combine lecture, discussion, and workshop sessions. Assignments and projects will require students to think critically about how different scholars have addressed an issue and try some sample analyses of their own (by examining a similar issue in different data, the same issue in different ways, and different issues in a similar way).
Program Requirements
Overview
The MLC provides students with general skills in Sociolinguistics, Discourse Analysis, and Pragmatics, teaching them how to use these skills to resolve concrete problems in workplace settings, institutions, and professions that depend largely upon language to accomplish their goals. The foundation for the skills is acquired through our required courses and electives. Students may complete the coursework for the program (depending on the choice of curricular option and number of courses per semester) in one academic year. The program has two different options for completion:
8 courses (24 credits) and Master's Thesis
10 courses (30 credits)
Requirements
General Linguistics (sound, form, and meaning). Students with no significant background in linguistics should register for one of the following courses in their first year. Course selection should be made in consultation with the advisor. (This requirement may be waived for students with a linguistics background, but coursework in these areas is encouraged.)

LING 401: General Linguistics
LING 410: Phonetics
LING 411: Phonology
LING 427: Syntax I
LING 485: Cognitive Grammar
LING 531: Semantics & Pragmatics I

LING 478: MLC Proseminar. This is a professionalization course designed to illustrate how to use linguistics in professional contexts. Offered in the Spring semester. Student participation is required for professional development events throughout the year.
3 additional "core" courses, which cultivate methodological, theoretical, and core analytical competencies (in sociolinguistics including variation analysis or discourse analysis) to be selected from the following (note that course offerings are subject to change and that equivalent courses may be substituted):

LING 481: Sociolinguistic Variation
LING 483: Discourse Analysis: Narrative
LING 484: Discourse Analysis: Conversation
LING 495: Ethnography of Communication
LING 496: Intercultural Communication
LING 570: Introduction to Sociolinguistics
LING 571: Sociolinguistic Field Methods

Electives:
3- 5 courses (depending on Master's Thesis option), to be selected from the above list (with permission from advisor) or from other courses in the Linguistics Department, including but not limited to:

LING 352: Foundations of Education
LING 355: Language in the USA
LING 367: Computational Corpus Linguistics
LING 380: Language and Politics
LING 385: Language and Multimedia Discourse
LING 387: Language, Culture, and Thought
LING 402: Forensic Linguistics
LING 403: Language and the Law
LING 405: Language and Social Media
LING 445: Language Contact
LING 447: American Dialects
LING 454: Linguistics and Reading
LING 584: Statistics for Linguistics Research
LING 583: Intertextuality
LING 586: Language and Identity
LING 589 Institutional Discourse
Alternative courses that reflect the needs and interests of individual students may be selected under the guidance of the faculty advisor. They may include courses in the Linguistics Department and other departments or schools within Georgetown, as well as courses at area universities (e.g. American, George Mason, George Washington) through the Washington Area Consortium of Universities.
Master's thesis
MLC students must be approved to pursue the thesis option. By the end of the academic year prior to graduation, you will submit a thesis request form. If approved, the student must submit a proposal to their mentor and to the Graduate School. The thesis will be mentored by the faculty adviser with or without additional readers. Upon completion, the Master's Thesis must be deposited in the Graduate School.
You will want to ask someone who is familiar with your work, and whose general interests are in line with those of your project. You are only required to have one mentor (reader) for your thesis, but if you would like to have more than one person as a reader, you are able to do so (just be sure to discuss this with your mentor). If this person is not a full member of the Linguistics Department faculty you will need to fill out a student request form.
Most students take a full academic year to write the thesis. Ideally, you will want to choose a mentor and be meeting with your mentor about your project ideas and preparing the year before you are planning to submit your thesis. You need to be fully registered and enrolled in classes the semester that you deposit your thesis. If you are finished with courses, this means that you will enroll in Thesis Research (LING 999). Since deadlines vary year by year, students can refer to the department and the GU Academic Calendar.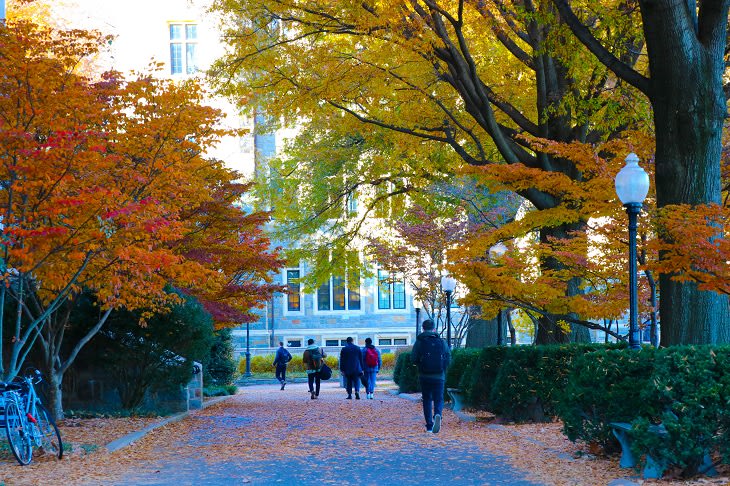 Admissions
Application Materials
All application materials are required unless otherwise specified.
Application Form;
Non-refundable Application Fee;
Statement of Purpose (500-word limit);
Writing sample (see below);
Official Transcripts (all prior higher education institutions);
Official Recommendations (3);
Resume/CV;
* GRE Score;
* TOEFL/IELTS (required for all non-native English speakers, see below).
Please see the Graduate School's Application Requirements Checklist for more information.
(* ETS test code number is 5244)
All entering students who are not native speakers of English are required to take an examination in English composition prior to registration. Students who fail to demonstrate a satisfactory level of proficiency in this examination will be required to complete a composition course in the Center for Language Education and Development.
Applicants must submit appropriate academic or professional writing samples in English, e.g., a term paper, thesis, or professional articles demonstrating writing and analytical skills. We have no length requirement but recommend that submissions be between 15 and 30-40 pages.
Note that your application will be submitted directly to the Graduate School of Arts and Sciences.
Graduate Record Examination
Results of the General Test of the Graduate Record Examination (GRE) are required for all applicants except foreign applicants to the MAT program. There is no minimum required score on the GRE. Test scores must be received by the application deadline date. Applicants should allow six to eight weeks from the test date for the reporting of scores to the institution. Applications will not be considered without GRE scores. Information on registering to take the GRE can be found on the Educational Testing Service website.
English Proficiency
TOEFL / IELTS All applicants who are not native English speakers are required to demonstrate a level of proficiency in the English language sufficient to meet the admission requirement of the Graduate School of Arts and Sciences. Proficiency can be demonstrated by the receipt of a bachelor's or advanced degree from an accredited institution of higher education in the United States or from a university where English is the primary language of instruction. All other non-native speakers must achieve at least a minimum score on either the TOEFL or IELTS test. Test scores must be received by the application deadline date. Applicants should allow six to eight weeks from the test date for the reporting of scores to the institution. Applications will not be considered without GRE or TOEFL/IELTS scores.
TOEFL: A minimum score of 600 (paper-based test) or 250 (computer-based tests) or 100 (iBT test) on the Test of English as a Foreign Language (TOEFL). (ETS.org)
IELTS: A minimum score of 7.5 from the International English Language Testing System.
Contacting the Department
If prospective applicants have questions about research or teaching, they are encouraged to contact the faculty member(s) whose interests most closely match their own.
If prospective students have administrative questions or general questions about the application process, they are encouraged to contact Erin Esch Pereira, Graduate Program Coordinator.
Last updated Sep 2019
About the School

Georgetown is a major international research university with nine schools, an affiliated hospital and many highly ranked academic programs. Today the university has more than 12,000 undergraduate and ... Read More
Georgetown is a major international research university with nine schools, an affiliated hospital and many highly ranked academic programs. Today the university has more than 12,000 undergraduate and graduate students who take classes at five locations. Georgetown has a large and diverse workforce that employs more than 5,000 faculty and staff members. Georgetown continues to move forward as one of the world's leading universities, building upon its distinctive history, unique values and commitment to justice and the common good.
Read less