Read more about this program on the school's website
Program Description
The M.A. in Italian Studies offers students:
A broad in-depth knowledge of Italian culture
High proficiency in the Italian language
Opportunities for interdisciplinary study
Overseas study and cultural immersion
Career options in the academic or professional fields
The four-semester, 30-credit program takes into consideration students' different academic and professional goals. It offers two specialization options that revolve around a common core curriculum and culminate with a thesis writing seminar and a Master's thesis.
The first option, focusing on literature and culture, is designed for students seeking the solid academic preparation needed to enter a doctoral program. The second option, with a focus on language pedagogy, addresses either current teachers who seek a graduate degree or those seeking to enter the teaching profession at the secondary level.
The M.A. degree program includes a mandatory semester abroad at an Italian University such as Università per Stranieri of Siena, Università per Stranieri of Perugia, Cattolica of Milan.
Students will work with the program coordinator and/or their advisors to choose the best program abroad that matches their academic and cultural interests.
Our students will have the opportunity of tutoring language students and working with language instructors in order to gain experience in language pedagogy.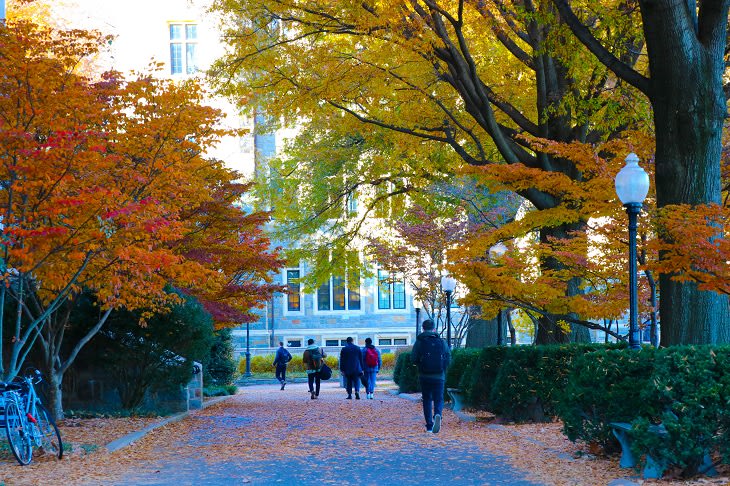 Learning Goals
The M.A. program in Italian Studies intends to provide students with a broad knowledge of Italian culture from a literary, linguistic, and historical perspective; to offer them a solid grasp of major trends in critical and cultural theories and train them to apply these approaches to specific expressions of Italian culture; to provide students with the methodology and research skills to develop interdisciplinary projects in their courses and in their Master's theses; to help students obtain high proficiency in oral and written Italian language, both through core and elective courses on campus and through one semester's matriculation at an Italian university; to help each student acquire or enhance expressive competencies in the domain of Italian culture that he/she intends to select for his/her M.A. specialization.
The program aims to achieve those goals by offering two different specialization tracks, focusing respectively on Italian literature and culture, language pedagogy /second-language acquisition. For each of these two curricular options, study in Italy takes place at specific universities able to offer the best preparation in the field.
Thesis Work Plan
Writing a Master's Thesis is a long-term project that requires independence, intense commitment, careful planning and constant communication between the student, the Thesis Advisor, and the DGS.
Students should become familiar with the research conducted by the faculty members of the department and start thinking of a possible thesis topic even before the beginning of their courses. By the end of the first semester, students are assigned an advisor and begin reading primary and secondary sources in their fields. By May 15th, they must submit a 500-word proposal in which they explain the choice of the thesis topic, provide a preliminary outline of the work, and list a substantial bibliography.
By September 30th of their second-year students must have a title and write a 1500-word proposal. The proposal must be written in both English and Italian. They must turn the proposal into the graduate school using the Thesis proposal form:
https://georgetown.app.box.com/s/6mxrsi5dv6fzqr4l30y0
Students are expected to consult and meet regularly with their advisors, who will foster effective thesis writing techniques, recommend appropriate resources, and establish deadlines for the submission of different sections of the thesis. Students who miss these deadlines or submit substandard work do not make satisfactory progress towards the completion of their degree.
The final manuscript must be submitted electronically to the Director of Graduate Studies and the Thesis Advisor by April 10th. All pages should be numbered, except for the front page and the table of contents.
The front page should contain the thesis title, the phrase "A Thesis Submitted in Partial Fulfillment of the Requirements for the Master of Arts in Italian, Georgetown University," the expected semester and year of graduation, the candidate's name and the advisor's name.
The second page should contain the table of contents. For footnotes, endnotes and citation standards, students should follow a standard scholarly format like the MLA Handbook or the Chicago Manual of Style.
Please refer to the guidelines on the Graduate School webpage:
http://grad.georgetown.edu/academics/dissertation-thesis-information/
Students are also required to give a presentation before a small group of faculty members and peers. During the presentation ("defense"), which should last from fifteen to twenty minutes, students must discuss their methodology, the distinctive features of their work, and the results they have achieved. They may choose whether to use programs such as PowerPoint or Prezi. The Faculty will ask additional questions and evaluate both the presentation and the thesis in order to decide whether pass it and to award the "distinction." In case additional changes are necessary, students must submit the revised version to their advisors to get the final approval.
The research standards and expectations for a Master's Thesis are very high. A student who receives a distinction is supposed to have performed at the highest possible level. The Master's Thesis is expected to provide evidence of original research and strong analytical skills. Students should carefully investigate what the existing scholarship has produced on their topics, and offer innovative and sophisticated arguments in a well-defined theoretical framework.
After successfully defending their theses, students are responsible for turning in the following forms to the Graduate School:
EDT form: https://georgetown.app.box.com/s/rs00kd3iv13j1zyozdo0
MA Thesis reviewer's report: https://georgetown.app.box.com/s/v19fu3d923qynvyc9dq7
MA Thesis cover sheet: https://georgetown.app.box.com/s/jlaoxy8j1lvz0hk797s2
"Examination Report Form (the DGS will obtain this from the Graduate School"
Requirements
The following courses must be completed for the M.A. in Italian Studies:
1st semester:
3 required core courses at Georgetown:
ITAL-489 Texts in Contexts
ITAL-531 Issues and Perspectives in Italian Studies
ITAL-551 Italy and the Idea of Europe
2nd semester:
3 electives at the graduate level during the spring semester in Italy. The Director of Graduate Studies will work with the partner universities to ensure coherence in course selection. Students will only receive Georgetown credit for pre-approved courses and grades of at least 25/30.
3rd semester:
3 Elective courses at Georgetown, comprised of:
2 Electives from the Italian Department course offerings, for example:
ITAL-420 Language and Migration
ITAL-480 Discourse Analysis Narrative
ITAL-533 Art, Opera, and Society
ITAL-550 Italian Women's Historical Journey
ITAL-603 Betrayals of Literary Translation
ITAL-605 Images and Politics: Italian Cinema and National Consciousness
(Course offerings vary from year to year. Click https://italian.georgetown.edu/courses for current Italian course offerings)
1 Elective from the BMW Center, Italian, German, Government or Linguistics Department course offerings, for example:
INAF-445 Europe as World Region
INAF-590 International Relations in Europe
GERM-590 L2 Curriculum Construction: Contexts, Principles, Goals, and Approaches
GOVT-593 Comparative European Politics
LING-496 Intercultural Communication
LING-553 Introduction to Second Language Acquisition and Bilingualism
LING-586 Language & Identity
(Course offerings vary from year to year. Click here for current offerings in all departments.)
4th semester:
Thesis Writing Seminar and the Master's Thesis at Georgetown.
ITAL-750 Thesis Writing Seminar (a core course)
Master's Thesis Writing and Defense
Admissions
To apply use the online application form
Application Deadlines
January 15, 2017 (scholarship deadline)
April 1, 2017 (final deadline)
Application Materials Required
Application form
Non-refundable Application Fee ($90)
Statement of Purpose
Official Transcript (all prior institutions)
Official Recommendations (3)
Writing Sample in Italian, at least 1800 words
The Admissions process may also include a telephone interview.
Mail Official Hard Copy Transcripts to:
Office of Graduate Admissions
Attn: Credentials – (Italian)
Box 571004
3520 Prospect St., NW CB-207
Washington, DC 20057-1004
Last updated Sep 2019
About the School

Georgetown is a major international research university with nine schools, an affiliated hospital and many highly ranked academic programs. Today the university has more than 12,000 undergraduate and ... Read More
Georgetown is a major international research university with nine schools, an affiliated hospital and many highly ranked academic programs. Today the university has more than 12,000 undergraduate and graduate students who take classes at five locations. Georgetown has a large and diverse workforce that employs more than 5,000 faculty and staff members. Georgetown continues to move forward as one of the world's leading universities, building upon its distinctive history, unique values and commitment to justice and the common good.
Read less