Program Description
Create experiences in medial spaces: Installations, Set Design, Play Places and more
Our society is becoming more mobile: Terms like "space" and "distance" are undergoing a fundamental transformation thanks to digital media. Today, there's a whole sector of industry devoted to communicating and producing information, brands, and experiences in media spaces.
The University of Applied Sciences Europe provides you with the skills to transform communication within virtual and physical spaces into inspiring and lasting experiences. In the Media Spaces master's program, you'll learn how to analyze and locate spatial, moving, and non-linear forms of expression and how to apply them to your own spatial concepts. You'll be in the perfect position to develop the complex and advanced design and technological solutions for the challenges of a multi-disciplinary nature thanks to the sound media competence you'll have as a graduate.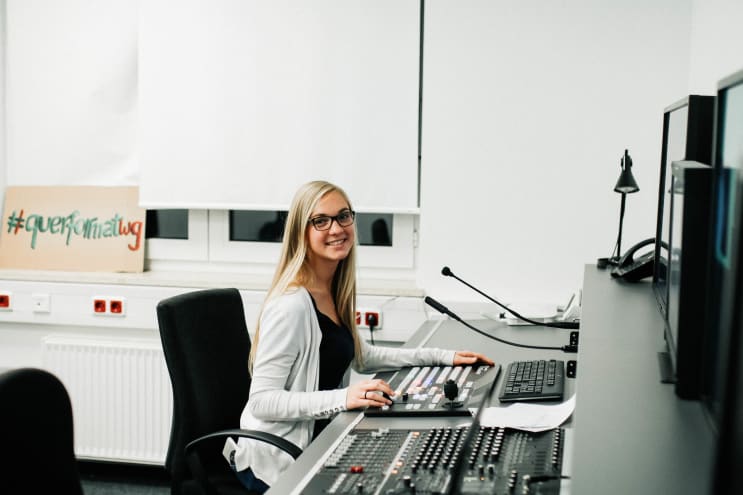 Our university focuses on your development. That's why we teach in small learning groups and in a friendly and personal atmosphere. We'll oversee your individual development process and help you define your talents and strengths while helping you develop your own visual signature. You will be taught by renowned lecturers from the creative industry and study at a campus that is centrally located, equipped with the latest technology (photo studio, VR equipment, print & scan lab, MacPools, etc.) and that is known for its international and English-speaking character.
At the University of Applied Sciences Europe, you even get the possibility to actively shape your studies and your career path. Depending on your personal career goals, you will select your own specializations and choose from a range of interdisciplinary subjects. The programs taught at our university also include practical projects with top partners from the creative industry, field trips, and workshops, which will prepare you perfectly for your dream job.
Facts:
Degree: Master of Arts (M.A.)
Campus: Berlin
Language of instruction: English
Starting semester:

Winter semester: September
Summer semester: March

Number of semesters: 3 Semesters (one semester equals 6 months)
Program type: Full-time, consecutive
Credits: 90 ECTS
Highlights:

Focus on individual development in small learning groups and a personal atmosphere. Creative freedom, professional equipment, and practical projects. Teaching by renowned lecturers from the creative industry.

Tuition fees:

For EU applicants: 11,400 € yearly
For Non-EU applicants: 12,600 € yearly
What makes it outstanding to study at the University of Applied Sciences Europe?
The University of Applied Sciences Europe is state-accredited, has been awarded on multiple occasions, and is one of the 25 best universities worldwide in the international approach.
Here you study in small courses, so you get individual support and personal contact with our professors. All of our lecturers are successful experts in the world of art and design.
The wide range of programs enables you to determine the interdisciplinary courses of your studies and gives you access to the modern equipment of all areas, from photography to game design.
Studying at the University of Applied Sciences Europe in Germany
We put emphasis on internationality. That is why we were ranked among the top 25 performers in student mobility and international orientation worldwide (U-Multirank 2016). Our numerous international students come from all over the world to pursue a highly valued (state and ZEvA recognized) German degree that is entirely taught in English.
Germany, known as the country of innovators, is the perfect place to get your degree. Germany is the largest economic power and the centre of high tech and automotive technologies in Europe. Additionally, Germany is a particularly safe and livable country with relatively low tuition fees and affordable living costs. Furthermore, Berlin is known as Europe's startup capital, a magnet for creatives, and "place to be" for young people and entrepreneurs.
That's why we encourage international students to come here and study with us. You can apply with your national school degree now. We will then take a look at your application and guide you through the process.
Working during your study time
We want your studies to fit perfectly into your life. That's why the courses for the Master's degree students take place on Wednesday afternoon until Friday and sometimes Saturday afternoon during the semester. This is how part-time work and studying become compatible.
Still, in a full-time study course preparation and follow-up work are necessary and need to be considered.
The program - interdisciplinary courses, projects and more
The Media Spaces master's program is a project-based degree program and perfect for students who have completed undergraduate studies at the university level in an artistic, design, or media-related subject area. At the University of Applied Sciences Europe, you'll have the unique opportunity to contribute your own personal design skills and background and make something meaningful out of them – whether in communication design, media design, architecture, stage design, design management, or media theory.
The first two semesters consist of interdisciplinary project-based studies, the theory of various media and process-based events, as well as a catalog of compulsory courses. You will work in a team throughout an entire semester on a joint challenge and go through the typical phases of a project, just as you would in your future career: from research, planning, and concept creation to realization, documentation, and presentation.
The entire 3rd semester is dedicated to your master's thesis. This module includes the completion of your thesis, which consists of a design-in-practice part and an academic part.
The program offers an in-depth, hands-on approach, which creates unlimited opportunities for you to explore new, hybrid ideas and discover new career areas – above all within in the digital media realm.
*Students who are currently completing their bachelor's degree can also apply. Please refer to our admission requirements for more information.
Your career options with a degree in media spaces
Graduates of the master's degree program in Media Spaces are able to analyze and locate spatial, moving, and nonlinear forms of expression and then apply the results to create their own space concept. Thanks to solid competence in media, they are able to develop design-based and technically sophisticated solutions for complex, multidisciplinary challenges.
Furthermore, they have excellent knowledge in methods for planning, organizing, and production technologies, and the means to successfully realize projects. These can range from installations, set design, play places, and moving 3D images to guidance systems, brand presentations, architecture, and interior design to the exhibition and event design, the visualization of "data spaces", and the generation of scientific visuals.
In addition, the master's degree program in Media Spaces qualifies graduates to work in interdisciplinary, intercultural, and international project teams and to lead these, as well as to be an entrepreneur or freelancer in the artistic, design field. It also forms the ideal foundation for a high-calibre, leadership career in the media department at a company or for taking the path of an academic career.
Tuition fees and funding
As a private university, we are funded not by the state, but by tuition fees. For this reason, studying at our university costs more than at a public university. But it's worth it: Our graduates meet the essential requirements of design, and this sets them apart from the graduates of many public universities. Your employment and earnings prospects are greatly improved.
All costs are included in the monthly tuition fee.
We are happy to provide you with information on funding your studies and on any available scholarships. If you have any further questions, our Student Admissions Office can provide you with detailed information.
Apply today at the University of Applied Sciences Europe
You can apply a year in advance for the winter semester, which starts on 01 September.
The admission procedure includes an approximately 45-minute personal interview and a review of your proposal and portfolio. Your knowledge of English will also be tested.
The selection committee reviews your application and documents based on the following criteria (in order of importance):
Content and form of the thesis proposal
The relevance of your bachelor's degree subject to the master's degree program and amount of credits (Equivalent to 210 ECTS credits)
Content, layout, and relevance of the portfolio to the subject
Last updated Sep 2020
About the School
Private and state-accredited: The University of Applied Sciences Europe (UE) educates tomorrow's designers and decision-makers in the areas of business, sports, media & event and art & design. ... Read More
Private and state-accredited: The University of Applied Sciences Europe (UE) educates tomorrow's designers and decision-makers in the areas of business, sports, media & event and art & design. The students become part of an innovative and international network, representing more than 100 nations at the UE campuses in Berlin, Hamburg and Iserlohn.
Read less