Interuniversity Master in Contemporary History (joint with UV, UAM, UAB, USC, UNIZAR, UNICAN, UPV and UIMP)
Home ›
Master ›
History ›
Interuniversity Master in Contemporary History (joint with UV, UAM, UAB, USC, UNIZAR, UNICAN, UPV and UIMP)
Read more about this program on the school's website
Program Description
Type of education: Face-to-face.
Number of new entry places offered: 40
Total credits: 60
Languages taught: Spanish.
Guide price: € 39.27 per credit.
Master's Scholarship: see relevant information here .
About
The Master's Degree in Contemporary History is an official title (nº 4311727 in the Register of Universities, Centers and Degrees), valid throughout the national territory and adapted to the European Higher Education Area. It is granted by the participating universities after submitting the study plan for approval by the Council of Universities and by the corresponding Autonomous Communities. The Master has been verified by the National Agency for Quality Assessment and Accreditation (ANECA), and is subject to periodic checks by this same agency.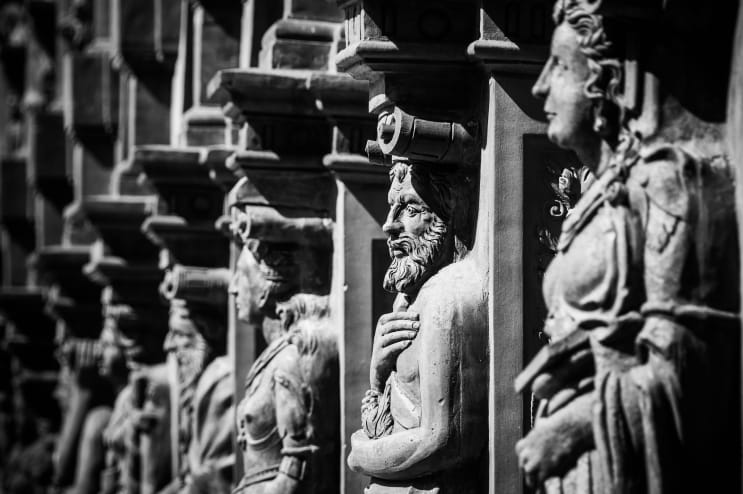 Structure
This university Master is structured in two modules and the Final Master's Project:
Module I: Lines of Research: 10 compulsory ECTS (2 subjects of 5 credits each)
Module II: Topics of Contemporary History: 30 optional ECTS. It offers 85 subjects, divided into 7 subjects, each coordinated by a University:

Subject I: The State and Public Space: 13 coord courses. by the UAM
Subject II: Identities, Nation and Nationalisms: 10 coord. by the UAB
Subject III: Rural Societies, Urban Societies: 14 coord courses. by the USC
Subject IV: Cultural History and History of Political Cultures: 24 coord courses. by the UV
Subject V: History of International Relations: 17 coord courses. by UCM
Subject VI: Social Change and Economic Transformations: 14 coord courses. by the UPV / EHU
Subject VII: Historiography and Policies of Memory: 12 coord. by UNIZAR

Master's Final Project: 20 compulsory ECTS
goals
The Master's Degree in Contemporary History is jointly taught by the departments and areas of Contemporary History of eight universities. Its interuniversity character is justified by the need to go beyond departmental compartmentalization to offer excellent training at the postgraduate level, which can only be achieved by pooling the resources of the main centers of Spanish contemporaryism.
The objectives of this program are to create a school of contemporary historians, in which the necessary knowledge and techniques are acquired in order to undertake investigative work in History, either as a professional historian or in other professional fields such as journalism, museum, cultural animation, teaching, publishing, social and political analysis.
Recipients
The students who access the Master's degree are graduates (or residual graduates) in History, Geography and History or Philosophy and Letters (in one of the History specialties), or in some other related official degree, such as Humanities or Social Sciences . Students with degrees obtained in educational systems outside the European Higher Education Area will need to accredit an equivalent level of training. Those students coming from other degrees or degrees may be required to take some complementary training courses.
Why study this master?
The Master's Degree in Contemporary History is a consolidated and recognized degree, of reference in its specialty on a national scale. His academic and research profile offers the possibility of accessing specialized higher education, oriented towards professional life and recognized in all the countries of the European Union and in many other states. People who have received scientific training have the best training to exercise the most varied professions at a high level. Its main objective is the preparation of researchers capable of making research their main activity (within the framework of the university, research institutes and centers, specialized journals, etc.) or complementary (as a prolongation of professional performance in archives , libraries, museums, cultural centers, teaching in secondary education, etc.). It also aims to provide ongoing training in the field of contemporary history to different professionals in the field of teaching, information or scientific dissemination.
Admission requirements for masters
Non-enabling university masters
Be in possession of any of the following titles:

Spanish official university degree .
Title issued by an institution of the European Higher Education Area (EHEA) and empowering in the country of issue for access to Master's education.
Title

of educational systems

outside the EHEA

that empowers in the country of issuance for access to Master's education,

homologated

or

declared equivalent

to the degree and academic level of Degree or Degree by the

Ministry of Education and Vocational Training

. In case of lacking the mentioned homologation or equivalency, it will be necessary to have

authorization or access permission

granted by this University.

Or be carrying out during the course in which you pre-enroll studies leading to the obtaining of any of the previous degrees and be in a position to prove the obtaining of the same before September 30, 2020 .
In addition, students from foreign educational systems, whose mother tongue is different from Spanish, must prove level B2 of the Spanish language (or higher) .
Specific requirements that any of the requested masters may have. You can consult it by accessing the website of the Master itself.
Last updated Apr 2020
About the School

La Universidad Complutense de Madrid (UCM) es una institución de larga trayectoria y amplio reconocimiento social que aspira a situarse entre las primeras universidades de Europa y a consolidarse como ... Read More
La Universidad Complutense de Madrid (UCM) es una institución de larga trayectoria y amplio reconocimiento social que aspira a situarse entre las primeras universidades de Europa y a consolidarse como centro de referencia para el continente latinoamericano.
Read less