International Masters Program for Managers
Home ›
Master ›
International Masters Program for Managers
Program Description

The IMPM is an International Programme for Managers that leads to a Masters Degree. The core programme is a set of five modules of 10 days each that take place over 18 months, organized by managerial mindsets.
Accompanying these modules are all kinds of intriguing activities, in the class and out: Co-coaching, Friendly Consulting, Dedicated Tables, Managerial Exchanges, and Impact Teams. Attending the five modules and completing the papers and managerial exchange satisfactorily will result in the awarding of the IMPM Certificate.
Those who wish to receive the Masters in Management Degree from McGill University or an MSc International Masters in Executive Management from Lancaster University, beyond the IMPM Certificate, write a Final Paper that allows them to probe more deeply into an issue of key concern to them.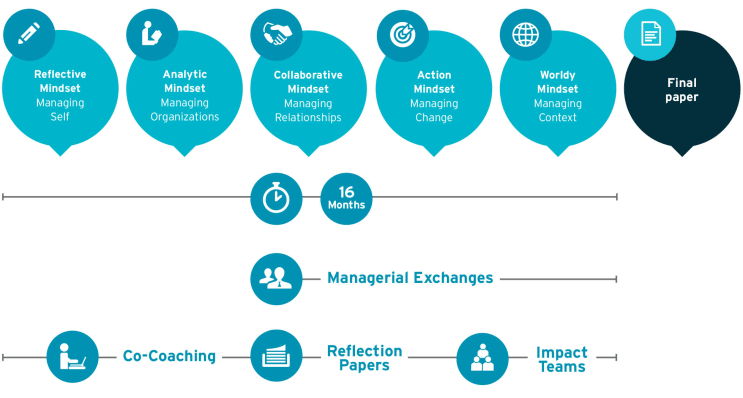 THE FIVE MINDSETS
MODULE 1 MANAGING SELF: THE REFLECTIVE MINDSET
The Lake District of northern England, far from the hectic pace of managing, is the perfect setting for thoughtful reflection on yourself and your experiences as a manager. Participants experience a session on The Nature of Engaging Management (Henry Mintzberg), Ethics and Virtue within the Organization (Lucas Introna), and a walk in the footsteps of Wordsworth before undertaking a cultural audit of a British company. The module is developed and delivered by leading faculty at the Lancaster University School of Management, consistently ranked among the top research schools in the UK.
MODULE 2 MANAGING ORGANIZATIONS: THE ANALYTIC MINDSET
We move to Montreal, one of North America's most engaging cities, where Canada's foremost university, McGill, hosts the second module, on the analytic mindset. Sessions on big data, finance, and marketing, etc. focus on developing an understanding of analysis beyond techniques —and away from both "extinction by instinct" and "paralysis by analysis". Corey Phelps explores competitive strategy and complex problem solving while Henry Mintzberg contrasts adhocracies with bureaucracies and emergent strategies with deliberate ones.
MODULE 3 MANAGING RELATIONSHIPS: THE COLLABORATIVE MINDSET
Not surprisingly, Japan is where we probe into Managing Relationships through the collaborative mindset - across individuals in groups, divisions, in companies and in strategic alliances. In this module, aside from focusing on the different forms of collaboration and alternative models of human behavior, the role of trust and culture in collaboration and how it is created in companies is explored. Taking advantage of the proximity to China and Korea, input from these countries expands the East Asian experience of the participants.
MODULE 4 MANAGING CHANGE: THE ACTION MINDSET
In Rio de Janeiro, at Brazil's renowned at EPABE/FGV school of administration, the class considers not only managing change but also managing continuity. There is no better place than Rio to contrast the "Why Not?" mentality of people who create change with the more common "Why?" mentality of those who resist change. Visits to local organizations and companies illustrate how culture and power affect trust and values in the workplace.
MODULE 5 MANAGING CONTEXT: THE WORLDLY MINDSET
India is the best place to learn about other people's worlds in order to better understand our own. This module, hosted by the Indian Institute of Management Bangalore, (ranked the best business school in Central Asia), delves into all sides of the world around the enterprise: from financial markets and consumer behavior to, championing and sustaining business growth (S. Raghunath), to stakeholder relationships and cultural differences. The experience comes alive through visits to different places that illustrate India's diversity, from a food market to a software campus, separated by just a few kilometers and several centuries.
WELCOMING EXPERIENCED CANDIDATES
If you are seeking an international focus on your career, and have more than 10 years of work experience with substantial and relevant managerial experience, then the IMPM is for you. The entire IMPM premise is based on sharing experiences and insights with peers; participants are therefore typically 35–55 years of age.
IMPM participants are either sponsored by their company; (corporations like Lufthansa, BNDES, and LG have been sending managers for years), or are individuals who have decided that the programme's philosophy and outcomes are what they need to move forward in their career or organization.
Dedicated tables are available for individuals or teams who want to join others from similar types of organizations. Entrepreneurs, members of family-owned businesses, and professionals from different fields will spend time with peers and learn from those facing similar challenges.
Attending as part of a company team, allows managers to learn about the diversity that exists within their own organization. Through the sharing of experiences, these team members gain a deeper understanding of how the entire organization works and are therefore in a good position to implement changes.
MASTERS DEGREE REQUIREMENTS
All activities and requirements will be identical for degree and non-degree participants, except that degree candidates, will submit a major paper after the fifth module.
Masters Degrees are offered from Lancaster University (MSc International Masters in Executive Management) and McGill University (Master of Management). Applicants may apply to either school. A complete list of requirements will be provided when applicants are accepted into IMPM and will include the following:
Masters Degree applicants must normally have an undergraduate degree from a recognized university; a post-graduate degree is, of course, welcomed.
Applicants with an MBA or EMBA will find IMPM quite different and are invited to apply.
Candidates with no degree but who have other relevant qualifications may be eligible.
Intakes
Registration is open for September 20th, 2020 start.
.
Last updated Nov 2019
About the School

McGill University is one of Canada's best-known institutions of higher learning and one of the leading universities in the world.
McGill University is one of Canada's best-known institutions of higher learning and one of the leading universities in the world.
Read less