Integrated MSc-PhD in Molecular & Cellular Neuroscience
Home ›
MSc ›
Biology ›
Integrated MSc-PhD in Molecular & Cellular Neuroscience
Program Description
Neuroscience and brain research
The study of Neuroscience is viewed by many as the ultimate frontier of science. It comprises of a diverse set of approaches, from the study of genes to the study of neurons, synapses, circuits, behavior, and cognition. Neuroscience in the Weizmann Institute embraces research in all of these aspects. The Institute has a large and vibrant community of Neuroscientists, and it is one of the leading centers of Neural and Brain Research worldwide. Using an extensive range of models and state-of-the-art techniques, Neuroscientists at Weizmann strive to understand neuronal function in health and disease.
The Weizmann Institute offers this competitive Integrated MSc/ Ph.D. program (Molecular & Cellular Neuroscience) - an inter-disciplinary and multi-disciplinary training and education for the next generation of Neuroscientists.
The degree is awarded in the Life Sciences.
About this track
The nervous system underlies everything that is human, including sensation, movement, emotion, memory, and consciousness. The molecular and cellular processes that govern the formation of the nervous system, those that are essential for its normal function, as well as the processes that promote its breakdown and degeneration in disease are at the frontier of neuroscience. The Weizmann Institute of Science has a large community of Molecular & Cellular Neuroscientists whose work focuses on precisely these topics. We welcome outstanding students from various disciplines including Life Sciences and Exact Sciences (Physics, Mathematics, Chemistry, Computer science), to apply to this track. The program offers a wide selection of courses in the Molecular & Cellular Neuroscience, covering all aspects– from cellular processes, neurodevelopment to neurodegeneration.
Minimum academic requirements
We welcome outstanding BSc graduates from various disciplines to apply to our cutting-edge direct Ph.D. track in Neural and Brain Sciences. Applicants must hold a BSc degree from an accredited local or foreign institution of higher learning, or other certificate deemed equivalent by the Board of Studies in your field, with a GPA of 85 (or the equivalent). Candidates from non-Israeli universities or institutions of higher learning are required to take external evaluation examinations, at the discretion of the Board of Studies, including GRE: Both general tests and tests in the subject you would like to study. The FGS code for GREs is 3398, and scores must be sent directly from the GRE testing center. TOEFL or IELTS: Only for candidates whose mother tongue is not English. Please note that if you are asked to indicate an institution as a score recipient, the Weizmann Institute of Science TOFEL code number is C087.
Application Process
A selected number of candidates will be invited to an interview based on academic achievements and recommendation letters. Previous research experience is an advantage but not mandatory. Since applicants to the program are expected to come from a highly diverse set of backgrounds, the interview committee is comprised of three to four faculty members from different fields in brain research. The program is highly selective and is limited to a small number of students.
Application deadline
Applications can be submitted between October 1st and March 31st. Late applications (i.e. after the above-mentioned deadlines) are considered in special cases only. Applications by international students received by December 31st will be considered during January, and interviews will be held during early February. Final decisions will be provided by February 28th.
How to apply
Please fill out an online application form. Please note that due to some technical constraints, the form is identical to our regular MSc application form. So, please don't be alarmed and proceed. Please select "Life Sciences" as the Main Field of Study and "Brain Sciences" as the Field of Study. After submitting your application, you will receive an email indicating that the application was received. Within a couple of days, you will receive a second email with a UserID and a password, that gives you access to an online monitoring service where you can check the status of your application.
Curriculum
Please consult the MSc Courses/Rotations Requirments page under Academics.
Last updated Sep 2018
About the School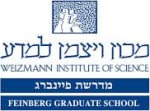 The Feinberg Graduate School (FGS) encapsulates the spirit of inquiry and discovery. Since its establishment in 1958 as the academic arm of the Weizmann Institute of Science responsible for all studen ... Read More
The Feinberg Graduate School (FGS) encapsulates the spirit of inquiry and discovery. Since its establishment in 1958 as the academic arm of the Weizmann Institute of Science responsible for all student and postdoctoral affairs, the Feinberg Graduate School has established its reputation as a multidisciplinary center where students strive to reach the highest levels of knowledge and understanding, under the guidance of creative and original researchers in the natural sciences and mathematics.
Read less