Hospitality and Tourism Accommodation Management
Home ›
Master ›
Hospitality and Tourism Accommodation Management
Program Description
This Master aims to develop students' career as directors, area managers or entrepreneurs, enabling them to acquire the knowledge and skills necessary for decision-making in the tourism accommodation sector. Within the tourism and hospitality sector, knowledge of hotel planning and management is essential.

This Master's Degree aims at
Professionals who wish to enter International Hotel Management and management of Tourist Lodgings.
Graduate and diploma holders who wish to gear their career towards the hotel business and management of tourist lodgings.
Professionals who wish to create their own enterprise-start up (hotels, hostels, bed and breakfasts, etc.).
Programme Duration
1 Academic Year (9 months)
Starting Date
21th October 2020.
Programme Features
Technical Knowledge
Acquire the technical knowledge required for key decision-making in the tourism accommodation sector.
Hotel Management
Assimilate the skills and strategic vision required for managing hotels.
Key Tools
Learn in-depth about the core tools used in Revenue Management and e-Commerce.
Leadership and Team Leadership
Develop the ability to lead teams and manage finances in hotel establishments.
Plan of Study
Methodology
We offer a fully practical and innovative programme based on current contents and real case studies. The faculty is made of graduates, entrepreneurs, tourism experts and sector professionals.
Strategic Management in a Global Business Environment
Corporate Finance and Management Accounting
Systems and Operations
Human Resources Management: Leadership and Teamwork Skills
Principles of Online Marketing, Social Networks and Online Reputation
Relationship Marketing and Customer Experience
Management Communication Skills
Business Ethics and Sustainability
Competitive Strategies in the Hospitality Industry
Properties' Development and Planning New Ventures
Marketing Management for Services
Managing Resources in Hospitality
Revenue Management for Hospitality
International Sales Management
Hotel Management Simulator
Entrepreneurship and Innovation for the Hospitality Industry
Final Dissertation
*Euroaula reserves the right to alter or change the content of this programme at any time.
Admissions' Requirements
Official University Degree
If the official Degree is not from Spain, it will be necessary to translate and legalize it.
In case of not having an official Degree, a document must be submitted with the last studies.
Copy of your passport / DNI (ID)
Motivation letter
Current curriculum vitae
Careers
Hotel Director
Hotel Sub-Director
Tourism Consultant
Entrepreneur
Job Opportunities & Internships
Students of the Master's Degree in Hospitality and Tourism Accommodation Management are eligible to participate in an internship as a traineeship placement on a voluntary and optional basis as long as it is completed during the academic year of the Master's programme.
Our collaboration with HOSCO Hospitality Connection, an international job site specialised in the Tourism area based on a true community of passionate hospitality professionals, allow our students to access to more than 2.500 international job offers and internships per year in more than 850 companies in the Hotel & Tourism industry.
Professional Development
As a hotel director with an undergraduate degree in Tourism and a specialised Master's Degree in Hotel Management, languages are an essential part when evaluating a profile. The hotel director is responsible for planning, managing, implementing and analysing all aspects and services offered by the hotel. According to statistics, a hotel director is one of the best-paid jobs in Catalonia and an average annual salary of 72,500 euros gross.
Resources
Students learn in a 100% digital environment from the get-go of this Master's programme. To facilitate a successful learning experience, our students have:
Access to the University's Virtual Campus
Face-to-face and online tutorials with their teachers
Practical sessions focused on hotel management and travel agency management
Classrooms equipped with multimedia technology
Photocopying service
Study room, library and break areas
Free access to Wi-Fi throughout the school
Accreditation
Get a Double Recognised Degree: issued by the University of Girona and Euroaula School of Tourism Barcelona.
This degree is awarded by the University of Girona (UdG) and it is a UdG-specific qualification issued by the University of Girona Foundation, which is fully recognised. The Master's degree in Business Tourism and Events Management is equivalent to one cycle of non-doctorate postgraduate training at graduate degree level in higher education. (*)
The degree earned by Euroaula, Tourism School Barcelona, is a Euroaula specific title. Euroaula has been training future tourism professionals for over 30 years.
Collaborating Partners
The following companies collaborate with EUROAULA, Tourism School Barcelona and they participate with instruction in our programmes, as well as giving conferences and arranging internships with our students.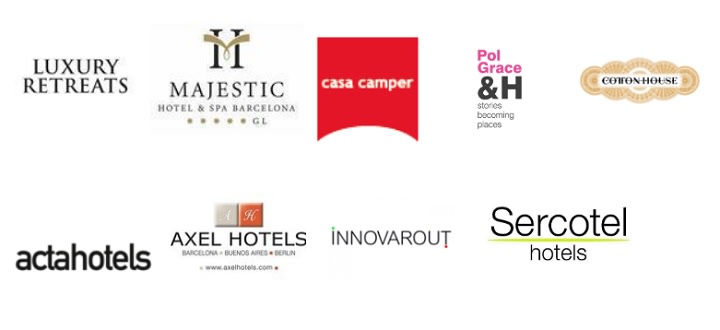 Last updated May 2020
About the School

The EUROAULA University School of Tourism is an institution founded in the year 1987 and specialized in tourism training. Since 1997, EUROAULA is affiliated with the University of Girona, offering th ... Read More
The EUROAULA University School of Tourism is an institution founded in the year 1987 and specialized in tourism training. Since 1997, EUROAULA is affiliated with the University of Girona, offering the Degree in Tourism, the Double Degree in Tourism and Internacional Hospitality and Tourism Management, as well as Masters and Postgraduate degrees. Therefore, those university studies are entirely official and recognized.
Read less